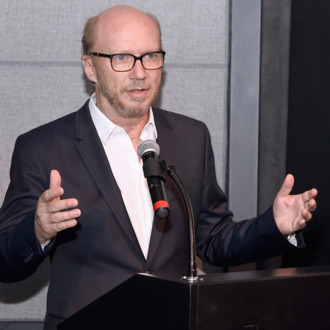 Paul Haggis.
Photo: Jamie McCarthy/Getty Images
Oscar Isaac is having a boom year, with Ex Machina out this spring and the new Star Wars looming in December. This summer, he'll be on the small screen in HBO mini-series Show Me a Hero, as Nicholas Wasicsko, the mayor of Yonkers during a 1980s battle over public housing in the city. Vulture ran into director Paul Haggis, who, along with David Simon, co-created Show Me a Hero, at a screening of Rear Window hosted by the Princess Grace Foundation-USA. We pressed him on what it was like to work with Simon and Isaac. "David's a lovely man. Oscar's a pain in the ass," joked Haggis. "No, he's an incredibly talented actor. I'd just sit back and admire him often. He didn't need much direction."
But more important, how did Haggis get Isaac to shave his glorious, much-beloved beard? "Well, he was playing a real-life character, so he got that wacky '80s hairdo and his mustache," Haggis noted. Oscar Isaac makes sacrifices for his craft, but what about after the work's done? Did he keep that bushy 'stache? "No, it's gone," said Haggis. "It's already gone." Long live the scruff!