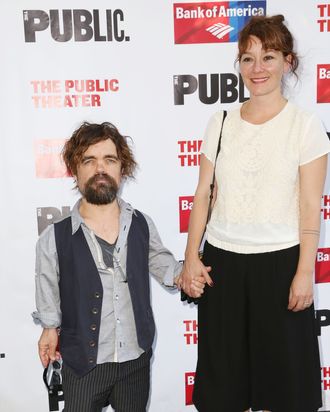 Peter Dinklage was a Breaking Bad fan.
Photo: Walter McBride/Getty Images
While Tyrion Lannister said he wasn't a fan of watching violence as a hobby in last Sunday's episode of Game of Thrones — "There has always been more than enough death in the world for my taste," he told Hizdahr zo Loraq, "I can do without seeing it in my leisure time" — the actor Peter Dinklage is happy to watch it on TV if it's done right. Vulture caught up with Dinklage at the Public Theater's gala at the Delacorte Theater in Central Park on Tuesday to ask him about GOT's violence. "I'm glad you're not talking about the nudity, because nudity is great but violence is an epidemic," he said. "But [Game of Thrones] is this world where the only way they know how to survive is to kill or be killed, so that's sort of it."
What shows does he like watching? "It's all about the writing," Dinklage said. "Breaking Bad was one of my all-time-favorite shows; I liked The Sopranos, and they are very violent. They had very violent elements to them, so yeah, maybe we're attracted to stuff that we can't get away with in our own day-to-day lives; we live out vicariously through other characters." Although, unlike most of us, Dinklage gets to act it out onscreen, of course.