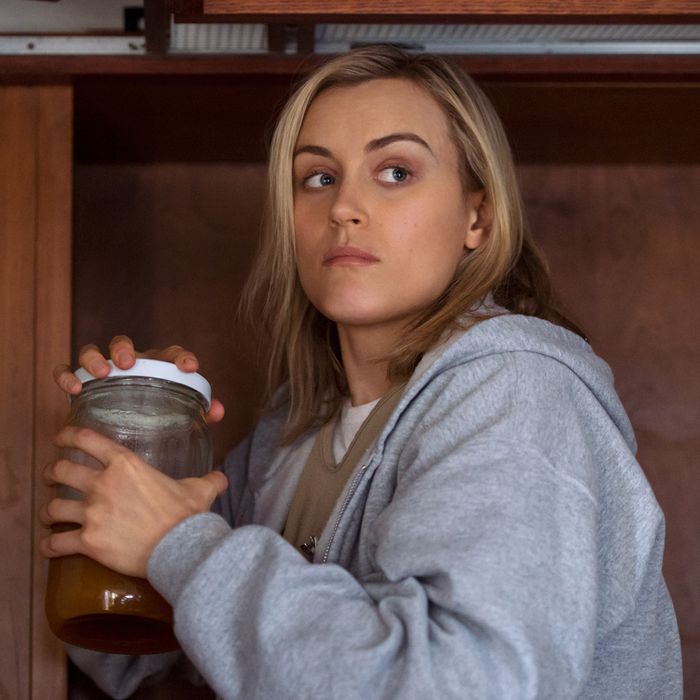 OITNBS3_21OCT14_WHILDEN_D0883.NEF
Photo: JoJo Whilden/Netflix
Orange Is the New Black has gone through a lot of highs and lows. Like any debut season of a new show that gets a lot of hype and lives up to it, viewers consumed the first season in great big gulps, soldiering through love triangles to get to the good stuff — the ensemble. The women of Litchfield Penitentiary and the guards who love and impregnate them are what have kept the show going, but Piper's fish-out-of-water narrative is the reason we're paying attention to any of them at all. In a smart move, the second and third seasons have been wide-ranging explorations of the ensemble, shedding light on their stories, most of which were more interesting than the years-old drug charge that landed Princess Piper in the slammer. As a character, she's shown signs of growth throughout. But has it been enough?
Throughout the show's run, Piper has been painted as a privileged, oblivious woman thrown into a situation where she has to face her own prejudices and preconceived notions of race, class, and social injustice. Taylor Schilling has a face like a newborn woodland creature, all wide eyes and slow, stunned blinking. At first, it's cute to watch her realize the severity of the situation. It's even more gratifying to watch her realize that she's actually, truly stuck. Prison isn't the kind of place you can wink and shimmy your way through. For the first time in her life, the fact that she's a conventionally attractive, well-educated white woman isn't going to be what saves her. Sure, it helps her out in the beginning, but the fact remains that she's a prisoner, just like the rest of them. In this light, her behavior makes her a deeply unsympathetic character. In the wise words of Paula Abdul and an animated rapping cat, she takes two steps forward, followed by two steps back. You want to root for her, because she's the main character, but does she inspire any goodwill? Let's take a look.
Meet Piper Chapman.
The Piper we meet is a self-entitled, spoiled, and whiny woman who wears her privilege like a Prada bag. She does an awful lot that makes her unlikable: Stealing that screwdriver and not owning up to it, treating Suzanne's affection with as much distaste as you would a cockroach you see scampering out of your bathroom, blaming Alex for sending her to prison, and failing to understand the systemic racism that would cause the black women in prison to call basic human rights and health care "white-people problems" during the election for the Women's Advisory Council, which she later becomes a member of without being voted in. She even embarks upon a relationship with Alex and hides it from her fiancé, Larry.
Is she the worst? In short, yes. But the entire point of her character is to be as such, so in a cruel twist of fate, it works in her favor. The interplay between the other characters and Piper's general cluelessness creates dramatic tension and comedic relief, and is the engine on which the entire show runs. Even though the other characters' backstories are more interesting than Piper, her presence as that girl who always raises her hand after the teacher's done taking questions is still a major part of the first season.
Rating: As bad as having to use maxi pads to clean your would-be lover's urine off the floor of your cell. It's gross and distressing, but necessary in order to get through the day.
Piper's Possible Redemption
Our girl starts to come around, perhaps humbled after her monthlong stint in the SHU for beating up Pennsatucky in the yard. There is considerably less Piper to be piped in this season, as the focus widens to include the ensemble more, but she still manages to irk, because hey — the show wouldn't be as good without Piper's slow, come-to-Jesus with herself about why she is the way she is. She manages to get a furlough in what seems like a matter of days. She visits Red's store for her while on furlough, sees that it's closed and has been for a while, then lies to her face about it, because she's "nice." She drinks at her grandmother's wake, which is a definite don't, takes a pee test, and somehow comes off scot-free. And, in the finale, we find out that she uses her garbage pile of an ex-fiancé Larry to rat Alex out.
Is she the worst? While she still makes some questionable decisions and seems to float beyond reproach for actions that others would likely be punished for, Piper isn't all that bad this round. Yes, she lied to Red about her store still being open, but that wasn't a malicious act. Her privilege and general obliviousness to the fact that she is privileged still carries her through, but the harsh realities of prison seem to be chipping away at her resolve. Minus a hundred points for ratting Alex out, though — a selfish, petty act that was more self-serving than anything else.
Rating: As bad as your horribly boring ex-fiancé sleeping with your equally awful best friend. It's enough of a deception to make you rage in therapy for three consecutive sessions, but eventually, you get over it.
The More Things Change, the More They Stay the Same
Piper finally faces the consequences of some of her more odious actions, and it even seems like she's learning. Progress! She owns up to both Red and Alex about her past deceptions. She puts an end to her endless Alex affair and starts something with Stella, the new inmate who is the fire emoji personified. Her dirty-prison-panty crime ring operates under the guise of helping other prisoners out by providing them with respite from the crap food they're eating, but quickly sours when they realize that all they're getting is MSG flavor packets from ramen. She makes some cringeworthy asides about being "gangster," and ruthlessly fires Flaca for attempting to unionize. And, when Stella steals all her money before she's about to get out, Piper plants all the contraband she can find in Stella's cell and gets her thrown into max.
Is she the worst? Piper never learns. She's been the worst from the beginning because she has always thought about herself, with little regard for anyone else. Even though she makes a valiant effort to right the wrongs of her previous actions, she still ends up solidly on the bottom. Alex Vause, one of the more irritating characters on this show, breaks up with her because her insufferable panty crime boss shtick is too much. If Laura Prepon and her terrible eyebrows are sitting across a table from you telling you it's over, I think you need to seriously examine your life choices.
Rating: As bad as sleeping on a metal bed frame due to a prison-wide bedbug infestation. An uncomfortable, arduous, never-ending nuisance that you can't stop thinking about, no matter how hard you try.