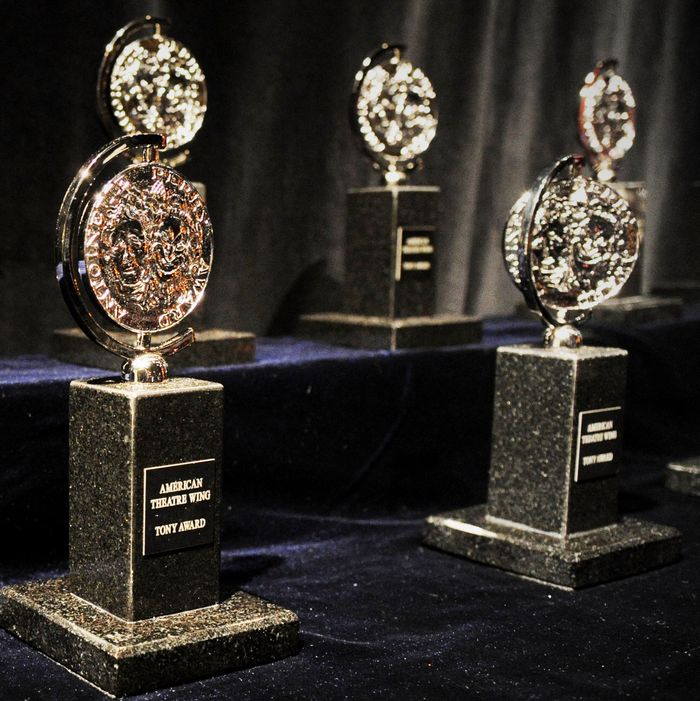 Backstage at the 68th Annual Tony Awards at Radio City Music Hall on June 8, 2014 in New York City.
Photo: Kevin Mazur/Getty Images
The 51 Tony Award nominators typically get a lot of grief from theater types, but they did a good job this Broadway season. Sure, I would have enjoyed seeing Jason Robert Brown's score for Honeymoon in Vegas, or Jake Gyllenhaal's performance in Constellations, or several other unrecognized achievements, recognized. But whom or what would I eject to make room for them? And even if there are a few head-scratchers among the elect, this is probably not the nominators' fault so much as the result of odd category assignments made by a different committee after heavy lobbying by producers. (Beth Malone, excellent in Fun Home, probably belonged in the featured, not leading, actress category, though that would have put her in competition with three of her castmates.) In any case, the resulting nominations are in virtually no instances without merit any more than the absent ones are snubs. It's just the way awards play out, once you accept the impossible assumption that creative work can be meaningfully ranked.
With all that stipulated, I offer my cloudy predictions as to how the awards — which will be handed out on Sunday evening — will fall.
Plays
Hand to God and Disgraced are both exciting if imperfect new American plays that made it to Broadway; that's great news. Wolf Hall and The Curious Incident of the Dog in the Night-Time are both exciting if imperfect new British adaptations of novels that made it to Broadway; that's old news. Nevertheless, because we're still overawed by British stagecraft, The Curious Incident will win. It also plays like a musical and is a hit.
I liked A Delicate Balance more than other critics, but the slate of play-revival nominees is quite strong even without it. Though This Is Our Youth was a fine version of a recent work and the 1936 You Can't Take It With You a comic revelation, the choice probably comes down to the American movie-star vehicle set in Britain (The Elephant Man, with Bradley Cooper) or the classy import that actually is British (David Hare's Skylight). Skylight (see rule above) will win.
Marianne Elliott, who staged The Curious Incident so inventively, will likely defeat Stephen Daldry (Skylight) for direction of a play, though Scott Ellis deserves at least a floral tribute for corralling, all in one season, You Can't Take It With You, The Elephant Man, and the musical revival On the Twentieth Century. Un-nominated Anna Shapiro (This Is Our Youth), Joe Mantello (Airline Highway), and Michael Longhurst (Constellations) might just have aptly populated this category were it not for the prejudice against shows that open early in the season, or at an institutional theater, or both.
Actors and Actresses in Plays
Voters reward flamboyant roles, and they also like to crown unknowns when they're really good, so there's little doubt that Alex Sharp, the kinetic 25-year-old star of The Curious Incident, will take home the leading-actor award. Some say that the hilarious Micah Stock, equally unknown but in a less exhausting role — he basically just carries coats at a party in It's Only a Play — is favored in the featured-actor category. But I think voters will remember and prefer the more emotionally virtuosic performance of Alessandro Nivola, as Bradley Cooper's tortured doctor in The Elephant Man.
Who will deny the Queen of England a Tony Award to go with her Oscar? Though her role in The Audience is largely a stunt, Helen Mirren, much beloved hereabouts, performs that stunt perfectly and will take the prize over her countrywomen Carey Mulligan (superb in Skylight) and Ruth Wilson (likewise in Constellations). Geneva Carr, from Hand to God, and Elisabeth Moss, from The Heidi Chronicles, need not apply. More of a wild card — and a wild ride, with five very different kinds of performances honored — is the featured-actress category. I'm thinking Julie White, so tough and heartbreaking in Airline Highway, will win, but Patricia Clarkson may sneak past her for acing the extremely difficult role of a woman who is attracted to Bradley Cooper.
Musicals
This year's best-musical face-off reminds me a little of 2005's, when a critical darling (The Light in the Piazza) went up against a lay-'em-in-the-aisles musical comedy (Spamalot) and a show that was somewhere in between (Dirty Rotten Scoundrels). Spamalot won, but the 2015 equivalent, Something Rotten!, probably won't, unless the critical darling, Fun Home, and the intermediate other, An American in Paris, cancel each other out in voters' minds. But I sense that Fun Home will carry the day; it's clearly one for the ages while the others are just for a season or two. Either that or voters will divide the spoils, giving the awards for book and score deservedly to Lisa Kron and Jeanine Tesori of Fun Home, but saving the big one — best musical — for An American in Paris.
Though nominators failed to fill the musical-revival category this year — some fans (not I) find the omission of Side Show the committee's biggest error — the three nominees that did make it are quite strong. On the Town, which opened in October, will probably be overlooked. That leaves a matchup between On the Twentieth Century and The King and I. Both excellent, they represent entirely different theatrical values, and when it comes to a fair fight between serious and silly, serious — in this case, The King and I — usually wins. Bartlett Sher, who staged it, is likely to prevail in the tight three-way race with Sam Gold, the director of Fun Home who completely rebuilt his production for Broadway, and the director-choreographer of An American in Paris, Christopher Wheeldon, who, either way, will win for choreography.
Actors and Actresses in Musicals

The leading-actress-in-a-musical category is probably the tightest of all this year, with Kelli O'Hara of The King and I (five previous nominations, no wins) up against On the Twentieth Century's Kristin Chenoweth (two previous noms, one win) and Broadway goddess Chita Rivera in The Visit (nine previous noms, two wins). Voters seem to undervalue O'Hara because she's so excellent so regularly, and I think they'll pass as well on what may be Rivera's final Broadway role, her first having been in 1951. (The Tonys can give her a Lifetime Achievement Award next year.) Chenoweth, who is superb, but strategic enough to show up on Broadway only every five years or so, will win. (She's also, along with Alan Cumming, hosting the telecast, which earns her good-citizenship points.) Three performers dominate the featured-actress category as well, but in this case they're all from one show: Fun Home. Unless they cannibalize each other's votes, allowing Ruthie Ann Miles, The King and I's powerful Lady Thiang, to slip through, I think Judy Kuhn, as the mother, or more likely Sydney Lucas, an 11-year-old phenomenon as the proto-lesbian Alison, will take the award.
The race among leading actors in musicals comes down to two: Broadway newcomer Robert Fairchild, the terrific dancer who stars in An American in Paris, and six-time nominee Michael Cerveris as the radioactive core of Fun Home's nuclear family. Cerveris is favored; this is an award for acting, not dancing. The featured-actor category is less compelling, but I'd be perfectly content if, as expected, Brad Oscar, who stops Something Rotten! nightly as a Shakespearean soothsayer, wins it. His main competition is castmate Christian Borle, who plays Shakespeare himself, and at any rate deserves to win in the category of best codpiece.
Design
The level of design on Broadway is so universally high, there's barely any point in choosing a winner. That said, Bob Crowley dominated the season with his work (both costumes and sets) on three shows: An American in Paris, The Audience, and Skylight. He'll win for An American in Paris's sets (in tandem with 59 Productions, responsible for the gorgeous projections) and for The Audience's costumes, whose lightning-quick changes defined QE II at ages 25 and 88 and everywhere in between. Best costume design in a musical should go to The King and I's Catherine Zuber; best scenic design in a play to Bunny Christie of Curious Incident (in tandem with Finn Ross for the video). The awards for lighting design — truly astonishing this year — will likely go to Natasha Katz for An American in Paris and Paule Constable for The Curious Incident — though I'd like to have seen Japhy Weideman win for his thrilling work on either Airline Highway or The Visit. As for sound design, we apparently do not care about it anymore or cannot be trusted to judge it intelligently, because the category has been jettisoned from the Tonys altogether, no doubt with a boing! effect.
Etc.
Most voters don't really know what an orchestrator does, much less care who is the best one. Certainly the producers of the Tonys show don't, because they've relegated this category, along with all of those for writing and design, to the nontelevised "Creative Arts" portion of the ceremony. (We will likely see ten-second snippets of the winners' acceptance speeches, taped in the hour beforehand, on the air.) This is a crime like defacing a painting on the Titanic: sickening, philistine, moot. I therefore predict, defiantly, that the award for best orchestrations will go to Rob Mathes, who turned Sting's guitar-based songs for The Last Ship into an evening of rich, theatrical music.  
A Note on March (and April) Madness
Not counting weird special events involving magicians and pop groups, 35 productions opened on Broadway during the 2014–2015 season. Slightly more than half of them did so in March and April, in anticipation of the Tony Awards cutoff of April 23. This frenzy does not help the theater industry as a whole; when there are as many as six premieres in a week, the debutantes inevitably cannibalize each other's press and buzz and, most important, audiences. (Even if core Broadway fans can keep track of it all, how many can afford it all?) In this environment, big shows risk underperforming, and smaller or quieter ones tend to sink faster than they might otherwise.
Still, producers of both types seem to feel they have little choice but to cling to their March and April dates. Much like producers of prestige movies opening in December in anticipation of the Oscars, they want a shot at the prizes that can help a middling show turn into a hit or a hit into a blockbuster. Productions that open earlier in the season are said to be at a disadvantage. A quick look at the numbers at first seems to prove the point: Of the 106 total Tony nominations this year, 82, or 77 percent, were associated with shows that opened in March or April. The disparity is especially noticeable in the musical categories, in which all but a handful of the nominations were from shows that opened after March 1. The only category that seems to have defied the pattern this year is best revival of a play. The Curious Incident opened in October and received six nominations; You Can't Take It With You opened in September and received four.
But if the relationship of opening date to awards haul appears firm, that doesn't mean it's causal. Is it not possible that Tony-bait shows in essence self-select for the end of the season? In other words, do producers and theater owners instinctively schedule the strongest shows for March and April, leaving the fall and winter to those that are, on average, less stage-worthy?
To find out, I did a thought experiment, flipping the order of the season on the pivot of March 1. I imagined everything that opened after that date had actually opened before it, and vice versa. The effect was, surprisingly, very small: a shift of perhaps six nominations, only one in a major category. (The Last Ship, had it opened in March instead of October, might well have been nominated for best musical instead of The Visit.) The other switches altered only a few acting or creative nominations of the type that mean little for ticket sales, no matter how much they mean to the individuals nominated. So it seems to me that the excellence of most shows good enough to be nominated will generally be recognized regardless of opening date. Helen Mirren would have gotten her nomination even if The Audience had opened during a blackout in mid-July.
That apparently hasn't altered the plans of Shuffle Along, which has already announced its opening on April 21, 2016 — next year's Tony cutoff date. Of course, upcoming new musicals will need every advantage they can get, with Hamilton sucking all the air out of the season. It opens August 6.