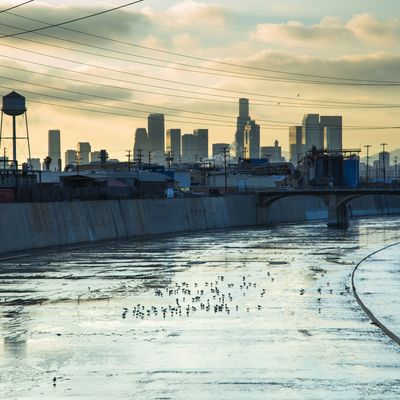 The Los Angeles River as it flows through Vernon.
Photo: Hal Bergman/Getty Images
Back in 2014, Nic Pizzolatto teased the second season of True Detective by saying he was trying to capture the "psychosphere ambiance" of Southern California, telling the TCA he was hoping to set the season in "the places that don't get much press and where you wouldn't normally set a television show." Well, he found it — True D's second season is set in and around the fictional town of Vinci, a business community on the fringes of Los Angeles that, judging from Sunday night's season premiere, appears to be corrupt to its very core. Pizzolatto didn't have to delve deep into Lovecraftian mythos for his inspiration this year; as he told Vanity Fair, he only had to look a few miles south of Downtown L.A. to find the city of Vernon, an industrial wasteland where the corruption charges outnumber people.
As the L.A. Times' history of the city puts it, criminality has been baked into Vernon's DNA since the very beginning. The community was co-founded by a Basque immigrant named John Baptiste Leonis, who around the turn of the previous century incorporated a patch of sparsely populated farmland near the rail lines in the hopes of turning it into a mecca for manufacturing. The city lured business interest with low utility rates and sparse regulations, and Leonis promoted the town as a haven for boxing, gambling, and drinking. Vernon, in essence, became the exact type of place L.A. noir was made of — and Leonis ruled over it like a petty dictator. As one political rival told the Times in 1925, "In that town, you do not file papers at the City Hall. You simply hand them to John and he puts them in his pocket. If he is in favor of the proposition, it goes through; if he is opposed, that's the last you hear of it."
Vernon only includes a small handful of residences — its population has hovered around 100 — most of which are owned by the city, allowing the local bosses to create a powerful network of political patronage. With taxes from businesses flowing in, they were also able to redirect the city's funds into their own pockets. After surviving corruption charges that brought down four high-ranking members of Vernon's oligarchy, Leonis died in 1953 a very rich man, and his grandson Leonis Malburg inherited both his fortune and his political influence; he was elected mayor in 1978 and didn't leave office for another three decades. (Vernon had no competitive elections from 1980 to 2006.) Malburg pops up in True Detective as the obvious inspiration for Vinci's seedy mayor, who lives in posh digs in Beverly Hills. In real life, Malburg was convicted of voter fraud in 2009 after it came out that he had been falsifying his Vernon address and really lived in a Hancock Park mansion he'd inherited from his grandfather.
Malburg's conviction came amid a flood of corruption charges for Vernon's elite — city administrators were found to have spent public funds on lavish trips for themselves, on top of the million-dollar salaries they were already receiving — and in 2011, State Senator John Perez launched a bill to de-incorporate the city and absorb it back into the city of Los Angeles. The effort failed after Vernon politicians promised a spate of reforms, including pay limits for government employees and public investment in neighboring communities. A year later, with the state auditing Vernon's finances, former administrator Eric Fresch was found dead on Angel Island in San Francisco Bay, an incident that may have inspired the death of Vinci city manager Ben Caspere in True Detective. (The Marin County coroner's office later determined Fresch's death was the result of an accidental fall, which seems unlikely to be the case on True D.)

Today, Vernon is home to companies like Tapatío hot sauce and True Religion jeans. Its Wikipedia summary is unintentionally poetic:
Meatpacking plants and warehouses are common. As of 2006, there were no parks.
Despite city officials' claim to have cleaned up the city in the wake of the failed de-incorporation campaign, Vernon's lack of environmental regulations is still wreaking havoc on its neighbors: For years, residents in East L.A. fought to close an Exide battery plant in Vernon that was emitting lead and arsenic into the surrounding area; after more than a decade of fines, the plant was finally shut down for good in March.
But if Vernon officials are upset about the city's reputation, they don't seem to mind True Detective bringing the city's sordid history back into the spotlight. In fact, they even let HBO shoot scenes in the city limits. "True Detective will have some settings that look like the city, sound like the city and feel like the city," Vernon spokesman Frederic MacFarlane told the Times. "But it's not going to be the city of Vernon."