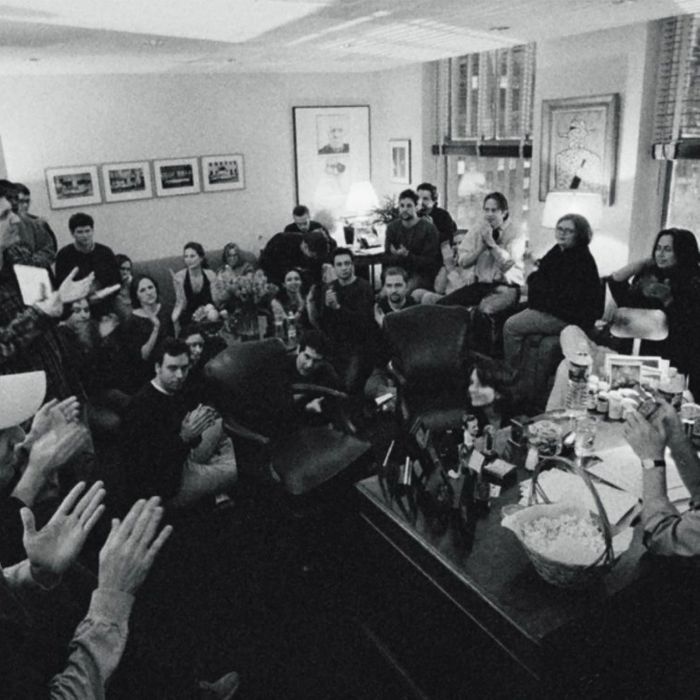 Bao Nguyen's Saturday Night Live documentary Live From New York! isn't an exposé, or an introduction. It's not even really a celebration. No, it feels more like a reminder – which begs the question of who its intended audience might be. Erstwhile SNL fans may mildly enjoy it as a quick jaunt through the show's notable but familiar backstory, with pit stops at high points and controversies along the way. More serious fans may find themselves frustrated at going over stories they've already heard in greater detail a million times. Those unfamiliar with or averse to SNL won't be convinced by the film – it's too cursory, too frivolous to make a case for the show's importance as an American institution, even though it insists on it.
Nguyen opens with a montage of early-season cast members (John Belushi, Gilda Radner, Bill Murray, etc.) goofing around, picking their noses, and otherwise prepping before the camera rolls. But unfortunately, very little of his film is about what happens behind the scenes. The not particularly bold thesis here is that SNL, as Andy Samberg puts it early on, "is a part of American culture — it reflects it, but it also influences it." So we get a brisk journey through the show's 40-year history with that in mind, with emphasis on political and cultural events and figures. We see Chevy Chase as a pratfalling Gerald Ford, while Jimmy Fallon reminds us that Ford wasn't really clumsy at all: He fell once, Chase ran with it, and now people think that Ford, one of the most athletic and fit presidents the U.S. has ever had, was a klutz.
Predictably, the film spends time on the show's often-astute mockery of various political debates over the years. We also get extended reflections on the show's role in the aftermath of 9/11, much of it via the self-serving talking head of Rudy Giuliani (who — let's be fair — delivered one of the best lines of any SNL intro ever, when he responded to executive producer Lorne Michaels's "Can we be funny?" with "Why start now?"). And yes, we get a lot of Sarah Palin, and Tina Fey as Sarah Palin. Watching it all again I couldn't help but wonder: Is this stuff at all interesting to somebody seeing it now for the first time, in edited form? Divorce SNL's humor from the live-performance, you-are-there immediacy and the real-world context that are the show's hallmarks, and it all feels significantly less funny. Never mind that, though. It's time to cut to the next culturally/politically significant bit.
The film was made with the assistance of much of the show's cast and crew — the talking heads can sometimes seem endless — but to its credit, it's not a whitewash, nor does it always offer the party line. Julia Louis Dreyfus, who was cast on the show when she was 21 years old, pops up to say that, yes, there was quite a bit of sexism on SNL. Tina Fey, on the other hand, says that the sexism wasn't particularly overt, but that "when the makeup of a room is 70 percent male as opposed to 50-50, different things are going to play." Original cast member Garrett Morris recalls how he had difficulty getting cast even as a doctor on the show because he was black. Nguyen also makes sure to address the more recent controversy of the show's lack of African-American women. The highlight of the movie comes when we see Leslie Jones's infamous 2014 monologue about how she would have had a better sex life back during slavery. Nguyen shows us Jones's emotional reaction backstage immediately after the show: "I wrote this joke in my living room, in pain, and it just made 4 million people laugh!" she yelps, tearfully — a remark that gains poignancy and irony when the backlash hits and the hot takes come rolling in.
Live From New York! is harmless, but it should have had more moments like that Leslie Jones bit, ones that conveyed the high-wire rush of creating this imperfect but often wildly successful production week to week while trying to stay relevant. Late in the film, Nguyen gives us some extended backstage footage of the taping, with actors and stagehands scrambling to get the next skit ready. The adrenaline is palpable, and finally, we're seeing something new: the sweaty, urgent agony of entertaining the masses in real-time. We're also seeing the movie that Live From New York! could have been – instead of the glorified DVD extra that it is.