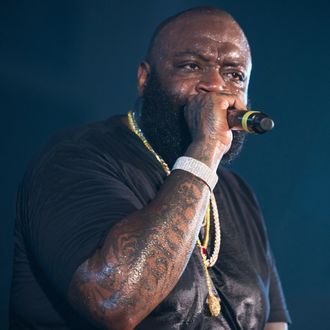 Rick Ross.
Photo: Marcus Ingram/Getty Images
For the second time this month, Rick Ross has had to take a trip to the Fayette County jail — only now the charges are far more serious. According to local news station WSB-TV, both Ross (whose real name is William Roberts II) and his bodyguard were arrested in Georgia overnight on outstanding warrants for aggravated assaulted. The charges reportedly stem from an incident that happened two weeks ago and involves Ross and someone working on a property he purchased in Fayette County, whom he allegedly pistol-whipped. Both Ross and his bodyguard have been charged with kidnapping, aggravated assault, and aggravated battery. The circumstances of some of those charges are unclear at this time. On June 10, Ross was also arrested for marijuana possession and charged with a misdemeanor.
Update: Rick Ross has been denied bail and is currently being held in Fayette County Jail, reports Billboard. According to court records, Ross is being accused of forcing a man into his guesthouse, beating with him a handgun, and forcing him to answer questions at gunpoint. The victim reportedly sustained chipped teeth and a mangled jaw that has left him unable to chew food.