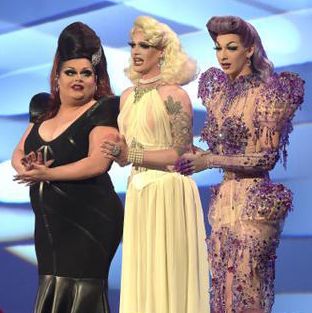 After a rocky road, season seven of RuPaul's Drag Race has finally crossed the finish line — and a spectacularly mediocre finish, line at that! As uneven as the entirety of the season was, it's no surprise that the finale served as a basic mirror for much of what plagued the series all season long. Still, every finale is a celebration, and keeping that in mind, let's mix up the typical recap formula and focus on what matters: the queens.
RuPaul
Stunning as always, RuPaul conducted the evening's festivities with aplomb, looking sterling in silver and never missing her chance to play to the crowd. But as glorious as RuPaul is, there's just no getting over how fundamentally flawed her show's finale system is. As I complained about in my last review, two weeks ago, when last the show was relevant, the current system is a momentum-killer to the extreme, leaving such a lag between competition and completion that when former contestants are brought out, all the audience can think about is how much they miss them and how desperately they wish they were still in competition, not to mention not quite being able to remember why they were eliminated at all. Plus, while it's clear that the studio audience is getting a lot out of the live show, the energy never manages to reach the audience watching from the comfort of their couch, making the lack of investment all the more stark.
These complaints would be one thing if it weren't completely clear that RuPaul calls the shots on everything involving her show, a state of affairs that's typically amazing and leaves me wishing RuPaul called the shots on everything in my life. It just makes it all the more curious that she doesn't do anything to adjust such miscalibration. As bad as it is, the live finale/live crowning means that we never get a proper reunion show because the three remaining queens are still (nominally) in competition.
More than that, the finale gets redundant, with Ru's one-on-one interviews with the top three queens seeming largely to consist of rehashed conversation from her one-on-ones with the exact same people in the episode from two weeks ago. To add insult to injury, Ru also insists throughout the taping that she's yet to make up her mind regarding who would be crowned the winner, something that, while it could never be proved, just seems like a big old lie, making RuPaul not just the hostess with the mostest but the liar with the pants on fire.
Basically, RuPaul is the best, but this finale is a mess.
All the Other Queens
It's hard to even mention everyone else who appeared on the show, be they the returning queens from season seven or all the past contestants and winners in the audience, but as a rule, the return of beloved former queens is the highlight of a RuPaul's Drag Race finale. This year was no exception, with the standouts being:
Raja, season-three winner (still my favorite queen), appears in the audience sans drag.
Miss Fame, who returns to the stage looking fierce, but more important, bearing a very handsome-looking chicken.
Latrice Royale, season-four contestant, throws shade at Max's accent from the audience and then riffs with RuPaul, providing one of the high-water marks for the evening.
Kennedy Davenport killing the runway dead with her look. Dang.
Season-six winner Bianca del Rio's show-stopping silver skin look is to die for (and those dudes from Mad Max would probably agree).
Katya continues to be amazing, self-deprecating, and all around great, and her win for Miss Congeniality is more than deserved.
Ginger Ming
Ginger finished the season strong with a great final lip-sync that calls up visions of gospel choirs and going to church in the best possible way. Of the three finalists, she probably would be my choice to take the crown, if only because she and Violet seem quite evenly matched, and Ginger, at the very least, would be a different direction for the title to explore, something that has always seemed a bit like a consideration (for right or for wrong) in the past. Ginger also gets a tender message from her dad, which is lovely, as well as being reminded of how shady she could be, particularly on Untucked. It's curious how this is brought up, as it seems like a story line that was leaned on more heavily as the season unfolded, in direct contrast to how Violet's shadiness was portrayed, wherein it was a fault she overcame. It says a lot about how reality is massaged in the editing room. Still, Ginger had a great season and was an able competitor who looked great last night.
Pearl
Pearl was Pearl, a curious, great-looking queen whom I've never quite understood the appeal of. Her lip-sync is appropriate, if not inspired, and her performance abilities are just not at the level as the other two finalists. Her looks are solid, though too easily shown up by whatever Violet decides to wear. Probably not a great idea to go corset against the corset queen. But ultimately, Pearl is sweet and funny and genuine and an all-around good queen, even if she's not a great queen. She should be very proud of what she accomplished this season and how she was able to come back from seemingly insurmountable levels of malaise.
Violet Chachki
What is there to say about season-seven winner Violet? Her lip-sync last night, burlesque-themed, was absolutely flawless, and one of the best performances in Drag Race history, most likely. But it was also vaguely predictable. Violet, for whatever reason, was never really called on the carpet over her reliance on body-ody-ody, an element that again takes center stage during the finale. Her costuming was stunning, which is a great credit to her as a queen, as she designs clothing. And all things considered, Violet is a strong choice for season-seven winner.
Then why do I still feel so uninspired by it? In all likelihood, it's because Violet's greatest asset is her indomitable, high self-esteem, an attribute that is a profound gift, especially in light of how other queens (see: Katya) were completely hamstrung by their inability to believe in themselves. But that self-esteem also makes Violet a little untouchable, unapproachable, and difficult to relate to. Queens like Katya are undeniably messier and less poised, but they're also more relatable. Should having recognizable human foibles be necessary for becoming America's next drag superstar? Of course not. But they sure make it easier to root for a person.
Still, long live Queen Violet, winner of RuPaul's Drag Race season seven.
Winner: Violet Chachki
Runners-up: Ginger Ming, Pearl
Miss Congeniality: Katya
Line of the Night Honorable Mentions:
"Let me say, I'm a size 22. No matter how the light hits me, I'm going to throw shade in one direction or another." —Ginger defends her shady ways.
"Within a few hours I was inundated with messages from young, gay boys …" "Looking for sex." —RuPaul tries to finish Pearl's mom's sentences.
"If you can't hate yourself, how the hell are you going to hate anyone else?" —Mimi Imfurst is finally making sense.
"I've only been doing this for seven months, and I'm going to win!" "And they might!" —Mrs. Kasha Davis throwing finale shade.
"There was something in my brain that said,'She wants to kill you!'" "I did want to kill you." —RuPaul tries to assuage Katya's brain.
Winner:
"I've been able to travel the world, spread my hate, do my thing." —Bianca del Rio on all the opportunities afforded to her during her reign.