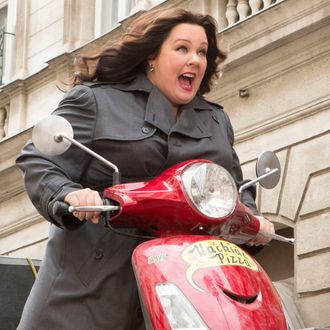 Photo: Larry Horricks/Twentieth Century Fox
Spy, the Melissa McCarthy espionage comedy, sneaked past San Andreas at the box office, earning the top spot for the weekend. It brought in $30 million, shushing people who think female-led films don't do well at the box office. (Yes, those people still exist.)

Meanwhile, last week's winner, Dwayne Johnson's earthquake disaster epic San Andreas, made $26.4 million, bringing its domestic total to $99 million. It will, within a week, become Johnson's highest-grossing film in which he plays the lead, unless Americans collectively boycott movies altogether.
Pitch Perfect 2 keeps singing, and apparently (tone-deaf) people keep listening, as it earned another $7.7 million, raising its total to $161 million domestic and a hearty $250 million worldwide. It's now the third highest-grossing American musical film, after Chicago ($170 million) and Grease ($188 million).
George Miller's Mad Max: Fury Road has now earned $300 million worldwide. Brad Bird's Tomorrowland, however, only made $7 million, bringing its total haul to $77.5 million domestic and $169.7 million worldwide. That, against its $190 million budget (not including advertisements and publicity), is bad.
Entourage, the film continuation of the frat-boys-in-Hollywood TV series, made $10 million, but earned scathing reviews.
Finally, Cameron Crowe's Aloha faltered for a second week, earning $3.3 million. The $40 million rom-com has now earned a total of $16 million.