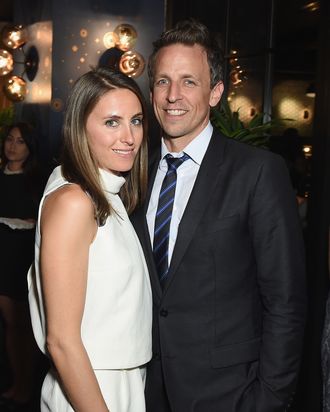 Seth Meyers with his wife, Alexi Ashe.
Photo: Dimitrios Kambouris/Getty Images
Seth Meyers's late night show has become a campaign pit stop for Republican hopefuls, with appearances logged by everyone from Carly Fiorina to Ted Cruz. But there's still one blonde-haired white whale he's hunting. "I love Trump. Trump would be really fun," Meyers told Vulture on Thursday night at a screening of Cartel Land hosted by the Orchard and the Cinema Society at the Tribeca Grand. "We've had some issues in the past … we need to work through some stuff and I think doing it on television would be a lot of fun."
In August of 2014, Trump tweeted that Seth Meyers was a "total joke" and "very awkward with almost no talent." The Washington Post theorized that Trump was still sore over some jokes Meyers cracked at the 2011 White House Correspondents Dinner, which included zingers like "Donald Trump often appears on Fox, which is ironic, because a fox often appears on Donald Trump's head." And "Donald Trump has been saying that he will run for president as a Republican. Which is surprising because I just assumed he was running as a joke." Of course, Trump is running again, not as a joke, but as a Republican, and if he wants a shot at the presidency he might want to get on Meyers's good side.