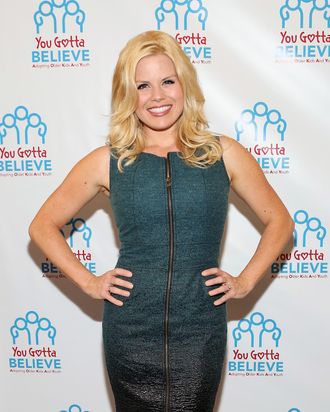 Your next bombshell?
Photo: Monica Schipper/Getty Images
Last week, Universal announced that Bombshell — the musical contained within Smash — was going into development to become an actual musical following the success of its one-night-only concert. Vulture caught up with Megan Hilty, who played Ivy Lynn, the blonde ingenue vying for the role of Marilyn Monroe on the show, to ask if she would consider going in for the part. "I'd love to do it. It's an opportunity of a lifetime," Hilty told us at Voices for the Voiceless, a benefit concert raising money for foster children where she would be performing onstage. "It would be perfect for me, in my opinion. I mean, I know the songs and I love singing them."
So true! Later that night, Hilty even belted out "Second Hand White Baby Grand" from the show as though to prove the point. Maybe we can consider the clip below her audition?