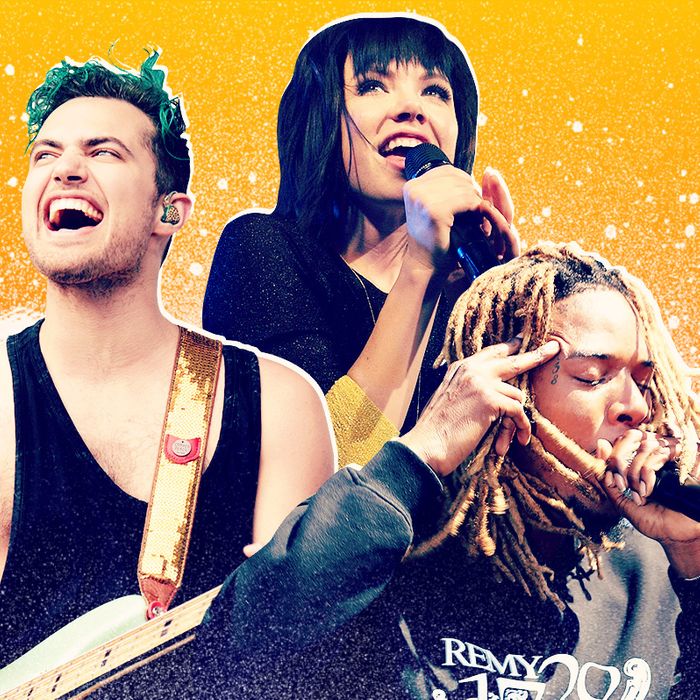 Photo: Scott Dudelson/FilmMagic, Jo Hale/Redferns via Getty Image and Manny Carabel/FilmMagic
Hillary Clinton, come quick! Rick Perry wants to enter his new rap-country song into the Song of Summer race. Help!
Yes, our initial Song of Summer list was long and comprehensive because we wanted to be fair and balanced, but also because nothing has that "Umbrella"-level oomph this year, so we needed to cast a wide net. Alas, some of those songs are clear losers. "Pretty Girls" is hot garbage, and according to some teens over on BuzzFeed, Maroon 5 is for moms, so they have to go, too. Below is a revised Song of Summer list to mull over — still no "cookout music" from Kanye West, though. These songs are not ranked, but we've included Billboard chart placements where applicable.
Fetty Wap, "Trap Queen"
No. 3 on Billboard Hot 100
This song is about love and cooking crack. It's also this year's front-runner.

Carly Rae Jepsen, "Emotion"
She may never re-create the magic that was "Call Me Maybe," but she comes close with this one.
Taylor Swift feat. Kendrick Lamar, "Bad Blood"
No. 2 on Billboard Hot 100
It's Kendrick Lamar's first appearance on a No. 1 single, which is reason enough to keep playing this song all summer.
Jamie XX feat. Young Thug and Popcaan, "I Know There's Gonna Be (Good Times)"
Every year needs a strong indie candidate. Between this and basically every song on the new Tame Impala record, we have plenty to choose from.
"Shut Up and Dance," Walk the Moon
No. 4 on Billboard Hot 100
Here is a great example of how a healthy dose of momentum can lead a song to great success over time. Yes, this peppy, '80s-inspired anthem is over a year old, but it has only just now hit the Top 10, thanks to a slow build among fans.
"Hold My Hand," Jess Glynne
You may remember Glynne's voice from last year's "Rather Be" by Clean Bandit. She's back with a new solo track that has already made its way to the top of the charts in the U.K. and will no doubt make its way onto your summer playlist once it receives a big push Stateside. It's an undeniably catchy, feel-good pop tune that channels '90s R&B in the best possible way.
"Uptown Funk," Mark Ronson
No. 5 on Billboard Hot 100
"Uptown Funk" has been murdering the charts all year, nearly unseating "One Sweet Day" by Mariah Carey as the single with the most consecutive weeks at No. 1. It's still going strong and could easily catch a second wind. It will definitely be a popular request at wedding receptions.
Wiz Khalifa feat. Charlie Puth, "See You Again"
No. 1 on Billboard Hot 100
The Furious 7 box-office buzz has died down, but this song, off the film's soundtrack, continues to enjoy a steady position at the top of the charts.
Nicki Minaj, "The Night Is Still Young"
It's one of the most radio-friendly songs off of her latest album, and now it has a hot new music video to go along with it.

"Want to Want Me," Jason Derulo
No. 7. on Billboard Hot 100
This song is the correct amount of corny.