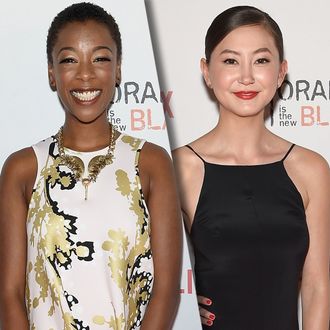 Poso?
Photo: Getty Images
The following post contains season-three spoilers.

The third season of Orange Is the New Black saw the once-bubbly Brook Soso fall into a deep depression — even attempting to commit suicide. There was hope at the end in the form of Poussey, the lovelorn, possibly alcoholic inmate who saw through Norma's personality cult. During the finale, Poussey brought Soso into the fold and — was it just us? — teased a possible romance brewing between the two. Vulture ran into the actresses Kimiko Glenn (Soso) and Samira Wiley (Poussey) and asked them for their opinions on a Soso-Poussey relationship.
"I sure hope so," Glenn told us at the New York premiere of The Overnight when we posed the question. "I don't have any friends, so anything I can latch onto at this point, I'm like, 'Yeah.' Plus, Samira's hot, so I'm into it. If there's anyone I'd be a lesbian for." (A lot of people seem to share this sentiment.) What does Wiley think? "I'm interested in Poussey finding love next season," she told us at Logo's Trailblazer event. "However that manifests itself within the writers' pens, I'm happy." Can we get an online petition going?