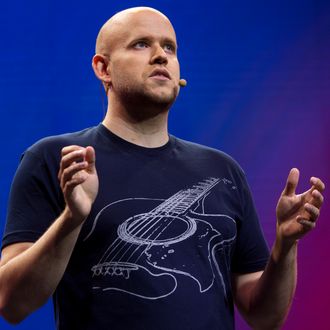 Daniel Ek, co-founder and chief executive officer of Spotify.
Photo: Victor J. Blue/Bloomberg Finance/Getty Images
Since 2010, when it launched here in the U.S., Spotify has been the industry leader in the music-streaming business. Now it's on the defensive. Following the Apple Music announcement during WWDC 2015 in San Francisco this week, Spotify released a rebuttal of sorts in the form of a blog post outlining its growth.
According to the post, the company has reached 20 million paying subscribers, up from 10 million a year ago, and 75 million users worldwide. Spotify provided new figures about artist payouts and royalties as well. A "global superstar" would have earned approximately $7.7 million in the last 12 months and, if growth continues, will earn close to twice that amount next year. (Note: These are the numbers for the total payout, which means they are likely being divided between the artist, label, and publisher.)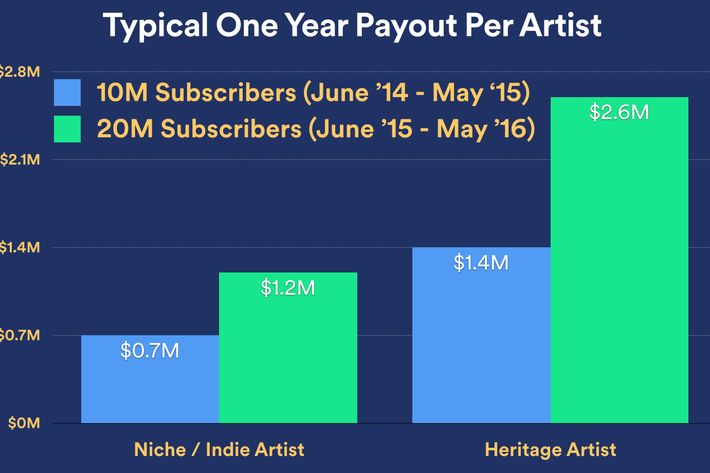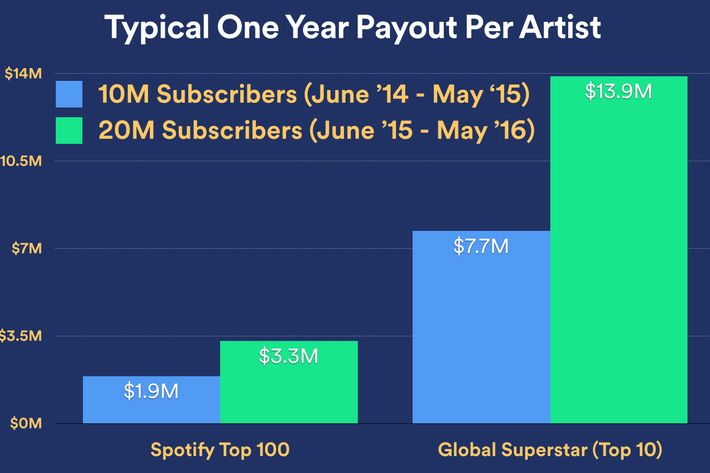 Still, there is reason for Spotify to panic. As Annie Lowrey wrote earlier in the week, Apple has a seemingly endless pile of cash to draw from:
Apple has vastly more [money] than any of the competitors mentioned, including Google. Take current industry-leader Spotify. Last year, its revenue grew a whopping 45 percent to $1.3 billion. But the company still ended up about $200 million in the red, as its spending on product development and an international expansion swamped its income. Those losses are manageable for the moment, given investors' willingness to plow money into the rapidly expanding business. But they might not be forever, particularly not if other cash-rich companies look set to force Spotify to keep running in the red. And there is no business on earth that could do that like Apple could: It currently has $178 billion-with-a-b in cash on hand, sitting idle, seeking businesses to plunder and rivals to destroy.
(Earlier this week, Spotify also announced that it had raised $526 million in fund-raising.)
Not to mention that a source at Apple tells me the company believes Sweden is the most important market for the future of music streaming, and plans to pursue growth there aggressively. Sweden, of course, is Spotify territory.
This week, Spotify CEO Daniel Ek, who fired off a low-key shady, two-word subtweet during Apple's WWDC presentation, is scheduled to speak at the inaugural Symposium Stockholm, a multi-day conference for creatives co-founded by Ek and Ash Pournouri. The conference closes with a hot-button discussion about the future of streaming music. Ek will undoubtedly argue that Spotify is here to stay, even if skeptics disagree.