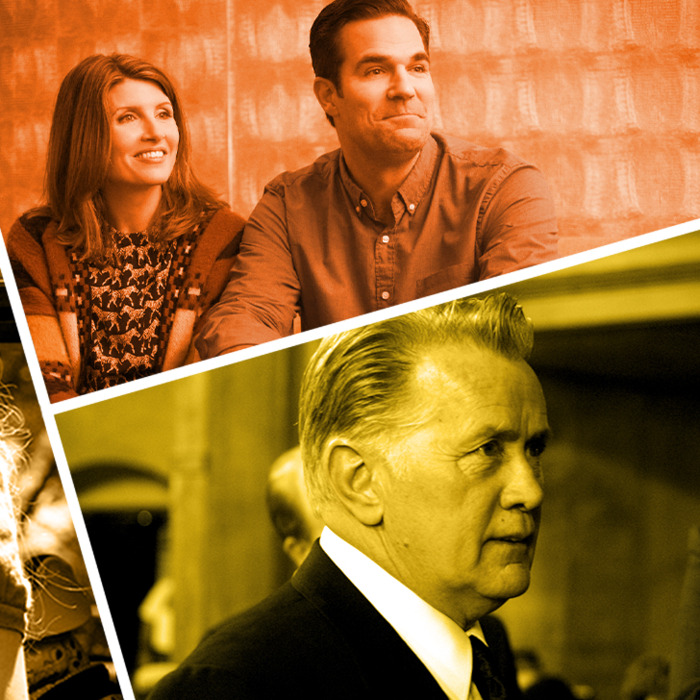 Photo: HBO, Amazon and NBC
Welcome back to Stay Tuned, Vulture's TV advice column. Each Wednesday, Margaret Lyons answers your questions about your various TV triumphs and woes. Need help? Have a theory? Want a recommendation? Submit a question! You can email staytuned@nymag.com, leave a comment, or tweet @margeincharge with the hashtag #staytuned.
What do you think are the best episodes of TV that can be judged independently from their shows? As in, the show itself might be good or bad, but the episode is fantastic. I nominate "Two Cathedrals" from West Wing. —Hannah
I think picking "Two Cathedrals" is sort of cheating: Lots of episodes of West Wing could be deemed "the best," though I agree that "Cathedrals" is generally at the top of people's lists. I prefer "Manchester Pt. 1" and "Manchester Pt. 2," honestly, and I rewatch "17 People" way more than I rewatch "Two Cathedrals." My go-to favorites are probably "Debate Camp" or "Game On," even though I don't think those are the "best" episodes.
The quintessence of what you're looking for is the Big Love episode "Come Ye Saints." Big Love is a mixed bag and could sometimes feel like a tonal mishmash, but "Saints" has a focus and momentum that serve it very well. The family — all the families? — are on a road trip, and everyone's getting antsy and claustrophobic, especially Sarah (Amanda Seyfried). There are some parts of Big Love that didn't always seem real, but "Saints" absolutely does, in all the harshest ways.
You could take or leave the rest of Lost and still get a lot out of the pilot or season four's "The Constant." House's season-one episode "Three Stories" is still fabulous. Sports Night's "Sally" gets me every time. Scrubs' "My Philosophy" ends with a musical number that I think about surprisingly often given that the episode aired over ten years ago. Finally, I nominate "Postmodern Prometheus" from The X-Files. You could fully hate every single other episode of the show and still find joy in the Great Mutato, I just know it.
I'm a fairly recent TV obsessive. Right now, I'm keeping up with 30-plus current shows (for pleasure and for work), but I've seen almost nothing made before 2007. No Sopranos, no Friday Night Lights, no Deadwood or Gilmore Girls, let alone any of the deeper cuts you mention in your column every week. I desperately want to catch up on all the classics, but I'm afraid that if I commit to watching 144 hours of Buffy the Vampire Slayer, I'll miss out on next season's equivalent of Jane the Virgin or Silicon Valley. How do I keep my commitment to current TV and find time to sit down and watch The West Wing? —Chloe
Chloe, you should watch The West Wing immediately. (And if you need help filling in the rest of your to-do list, here's a good place to start.)
Step one here is to give yourself a break: There's no way to watch everything. Even the idea of going back and catching up on older shows is a relatively new one, and the access to and volume of the back catalogue grows each day. So don't think so much about what you're missing, and just enjoy what you actually like.
Step two: Expand the TV hours of your day. If you have to keep up with TV shows for work, that means you should be able to watch TV shows at work. (I hope? Don't get in trouble.) Do you usually listen to the radio when you get ready for work? You could probably squeeze a sitcom in there instead. Obviously the true dream is to somehow get a TV into the shower, and if you accomplish that, please let us all know how you did it.
Strategy-wise, I'd slightly prioritize new shows over old shows; that way you never have a huge backlog. There are only 18 half-hour eps of Silicon Valley right now; you can knock that out on an underscheduled Thursday. Buffy's gonna be more of a process. You also don't have to finish everything. If you run out of steam on Gilmore Girls, just stop; it'll be there for you if you want to go back. Same for WW. You can definitely skip episodes of The Sopranos (though you should watch the finale, just for cultural literacy).
I've realized that the more "feel-good" TV I watch, the better my mood. There's just something about letting go of cynicism, even if temporarily, that feels so liberating and even kinda rebellious. We had a good run, Orphan Black and House of Cards, but now I'm gonna smile, and not feel a smidgen guilty about it. I've recently enjoyed Jane the Virgin, Drop Dead Diva, Younger, and Parks and Rec, and just finished a Hart of Dixie binge to fill a Gilmore Girls–size hole in my life. Any recommendations of what to watch next to keep this optimism afloat? —Caralyn
Bob's Burgers is one of the least cynical shows I've ever seen. I think people sometimes assume that because it's part of Fox's animation block that it's akin to, say, Family Guy, but that is false. It is absolutely a feel-good show. Broad City has a real us-against-the-world vibe, and the kind of radical acceptance its main characters have for one another is something we can all aspire to.
Switched at Birth? The Fosters? I feel good after those. Many teen and teen-oriented shows will probably fit the bill: Joan of Arcadia, Life Unexpected, Privileged, Reaper, Everwood, Felicity, Beautiful People, 10 Things I Hate About You, Greek, The Middle Man, Bunheads, Huge. Start with Greek, truly one of the underappreciated treasures of our time.
Sunshine shows probably also fit the bill: Chuck, The O.C.? Royal Pains? Several USA shows would probably get the job done: Burn Notice, White Collar, In Plain Sight, Covert Affairs. Offbeat family comedies, too: Everybody Hates Chris, Raising Hope, My Name Is Earl, Malcolm in the Middle, Playing House.
More recently, the show that has made me feel the best is Catastrophe: It's more, er, mature that most of the other shows on this list, but it's similarly hopeful about the world. It's bawdy and raunchy, but ultimately, it's a show that says, "You know, you can be a little fucked-up, and circumstances can be real fucked-up, but you could still truly fall in love." If that's not a feel-good message, I genuinely do not know what is.