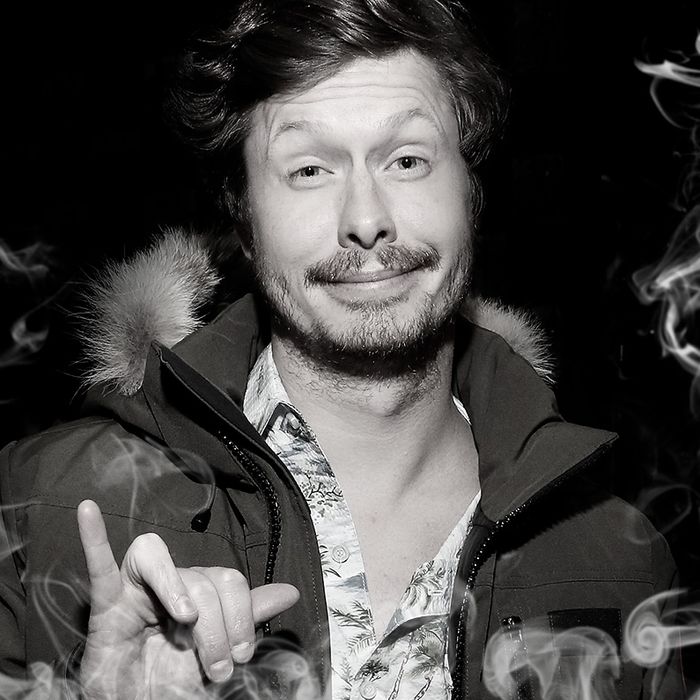 Anders Holm of Workaholics.
Photo: Illustration by Maya Robinson and Photo by Taylor Hill/Getty Images
All this week, we've been exploring the role of marijuana in popular culture. When it came time to assemble a guide to the best entertainment to consume after getting lifted, we figured: Who better to poll than those people who entertain for a living? So we asked a handful of actors, writers, comedians, and musicians, all of whom are familiar with the ways of the weed, what they enjoy when high. As it turns out, it's the same dumb shit as everyone else.
Miles Teller
I used to smoke weed ALL the time. It started in high school, but mostly in college. We used to watch Tim and Eric Awesome Show, Wonder Showzen, Robot Chicken, and play a lot of video games. Once I moved to California, I stopped smoking as much. I started to, but I was just way too high. When you're in college you can not answer the phone or not go to class, but when you start working, you gotta be on top of your shit. I had to chill out.
Rob Thomas and Marisol Maldonado
Rob Thomas: People should go back and revisit Mr. Show, especially now that Bob Odenkirk is having his resurgence. I don't think enough people now realize how genius that was.
Marisol Maldonado: It's Pulp Fiction for me.
RT: Yeah, Pulp Fiction for you, nonstop. She'll watch it a thousand times.
MM: Over and over. If I'm high, that's it.
Jack Amiel
If you can't do heroin and cocaine while you're watching our show as a sign of solidarity with our lead character, then obviously you're not putting in the sort of effort that warrants your Cinemax money. But what would I watch on pot? I enjoy Silicon Valley, or any show where they restore a car in England. I swear to God, two greatest things in the world. Oh, and Family Guy.
Michael Begler
I don't do it as much anymore, but when I did, I liked to get stoned and go to art museums. You don't know how great the Museum of Modern Art can be until you're seriously fucked up. I remember an amazing time looking at a Giorgio de Chirico show and actually understanding it. You know? But that's the thing. Then you go home and you forget.
Abbi Jacobson and Ilana Glazer
Abbi Jacobson: I feel like animation is the way to go.
Ilana Glazer: Fucking Adventure Time, for sure.
AJ: I just feel like it's sort of amplified when you're stoned.
IG: Planet Earth is fucking incredible.
AJ: Oh yeah, animation or, like, stuff about the world. Cosmos.
IG: I like Planet Earth at my parents' house. They have a great TV.
AJ: That kind of stuff more than, like — I'm not going to watch a drama.
IG: No. That gets anxiety-provoking.
Adam Pally
I spend so much of my day under the influence, it's hard to pick out a specific show or thing. You know what — I ate a pot cookie on a plane and watched Birdman. Which I had seen before, but when you're kind of focused in like that, it's a different experience. I found it to be very chill.
Catherine Reitman
Not that I'm condoning it for anyone else, but for me it's all about the movie Clueless. That just feels like checking out and having a good time. It's just a couple actresses, including Alicia Silverstone in her element, with incredible quotes. It measures L.A. pretty appropriately, too. Beautiful L.A. story.
Anders Holm
The Oliver soundtrack, probably.
Adam DeVine
I listened to Nas's Illmatic. I had never really listened to the album, and then one day I was really stoned and this girl who I smoked weed with was like, "It will really open up your third eye," and I'm like, "I'm outta here, hippie!" and I took off and I truly heard every word he was speaking and I felt like I was in the streets with him, with young Nas. Then all of a sudden I'm wearing leather shoes and all black errything. [Devine is wearing all black and leather shoes.]
Bobby Moynihan
Right now, Horatio Sanz's podcast. I'm going to go out on a limb and say Horatio may be a stoner himself. Listening to it makes you feel wonderful. It sounds like an old radio show with music, and I really enjoy it. I've loved him as an improviser — he's one of the funniest improvisers in the world. So to get to hear him do that on a weekly basis, on his own terms, is wonderful. I love it.
Colin Quinn
When I was growing up, we would watch SCTV — Second City TV. Unbelievable. It really fed the vibe of being stoned. We were only like 16 or 17, so we'd get the joke, and then we were like, "Oohhhh." I don't know if we would have gotten it as much if we were straight. We were kids. You really see it for what it was. As for recent stuff, I don't know, Lord of the Rings? That would probably be a good one. I haven't gotten stoned in a hundred years!
Steve Guttenberg
There's only one. The Big Lebowski. End of story. I might run for office, so I can't admit to having smoked, but people tell me that's the best movie to get stoned to. It's just brilliant, and it has Sam Elliott — and any movie with Sam Elliott is worth watching.
Ziggy Marley
Hip-hop, reggae, any one of those. Anything. Or my father.
Pete Davidson
I like to listen to podcasts. I listen to Joe Rogan's podcast, Bill Burr has a great podcast. There's another one with Jazon Manzoukas and Paul Scheer called "How Did This Get Made?" It's about movies that are so bad. Podcasts are so much fun to listen to while you're stoned.
Jess Glynne
The Black Messiah album by D'Angelo. It's the new album — if you want to chill out and listen to someone who is just genuinely talented. Black Messiah, it's amazing. It's like I've always loved D'Angelo, and I am a big R&B/soul girl. When I listen to that, it's like … ah.
Colin Jost
I so rarely smoke weed, but one time I did and Kenan and Kel was on TV, and it felt like some sort of alternate reality. I was seeing my officemate with Kel, just hanging out. This was like a year ago. I was on vacation in Puerto Rico and watching this and I was like, is this really happening? Then I was like, that's a pretty good sketch. I think I told him. He probably gets that every week from someone — "Hey, what's up, I was up late watching you." And he's like, "Yeah, the show was on for like ten years, that's me."
Morris S. Levy
The Three Stooges are always the best, whether you're sober or stoned. Especially when they did the 3-D show. I saw it about ten years ago at a midnight showing — I would recommend that.
Michael Che
I like watching like cartoons. I always liked Looney Tunes and stuff like that because you don't need a long attention span. You can kind of just let it fly.
Allen Stone
Emily King's Seven. She's an artist from Brooklyn and is easily the most underrated unknown R&B singer of my time. Her record Seven really is my favorite record to blaze to.
Jim Norton
I don't smoke pot anymore, but I'm going to say the best movie to watch when you're high is A Clockwork Orange. Brilliant colors, really good violence, great classical music. And a giant plastic dick that smashes somebody. So, yeah, I'd say A Clockwork Orange. Back in the day, me and my friend Billy used to get stoned and watch Sesame Street because we loved those little space guys that would eat the phones. Those guys, "Yipyipyipyip." Remember those little guys? The phone would ring in their little stomachs? No one doesn't love Sesame Street, but it's better when you're high.
Reporting by Sean Fitz-Gerald, Adrienne Gaffney, Kylie Gilbert, Trupti Rami, Caroline Ryder, Valentina Valentini, Jennifer Vineyard, and Kara Warner.