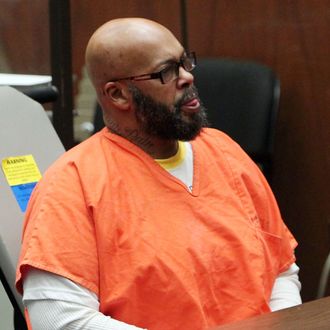 Suge Knight.
Photo: Photo by David Buchan/Getty Images
Suge Knight, Dr. Dre, Ice Cube, Cle "Bone" Sloan, and Universal Studios are being sued by Terry Carter's widow for the wrongful death of her husband, Entertainment Weekly reports. Lillian Carter filed the suit Wednesday in L.A. and wants unspecified general and punitive damages, as well as funeral and court costs. She claims that Knight "carelessly, recklessly, violently, and negligently" drove his car into her husband earlier this year at a Straight Outta Compton promotional shoot, and that the other parties named should have prevented the incident because they knew that Suge-Dre drama was bound to happen, thanks to a long-standing, post–Death Row Records feud between the two music moguls.
The fatal collision happened earlier this year at Tam's Burgers — also reportedly named in the suit — after Dre made it clear he didn't want Knight anywhere near Straight Outta Compton's set, according to the suit. "This lawsuit concerns the tragic tale of how reckless corporate greed, disguised as the quest for authenticity, (led) to a foreseeable altercation that resulted in the death of a successful businessman," the complaint reads, according to Variety. Knight has pleaded not guilty to killing Carter and is being held without bail. This is the first time someone has legally attempted to loop the producers of the forthcoming biopic into the culpability of Carter's death.