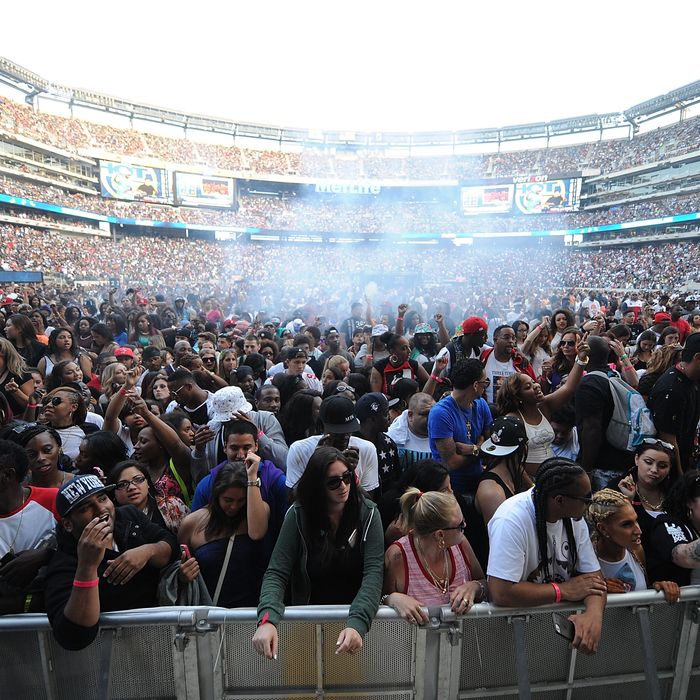 Let's clear the air about this year's Hot 97 Summer Jam Festival: It did not end in chaos. By the time I left, I was surrounded by beaming teenagers who looked like they just had the time of their lives after watching Meek Mill bring Nicki Minaj onstage to close out the night.
The conflict happened on the other side of the gate. Everyone inside the Met Life stadium in New Jersey enjoyed the show, and I don't blame them for being ambivalent about the riot. Summer Jam is one of the only places hip-hop fans in New York can go to celebrate the music they love on a large scale. It's like Mecca, and given how many hip-hop and rap fans there are in the area, the result is a pretty clear supply-and-demand problem.

Summer Jam was born in 1994, at a time when there weren't many venues for hip-hop and rap in the city. Not much has changed. There are hundreds of music festivals in the tristate area, but Summer Jam is the only major one dedicated to hip-hop, rap, and R&B. The Brooklyn Hip-Hop Festival, by comparison, has about 20,000 attendees. Summer Jam is well over twice that size. For these people, it's one of the most important events of the year because in many cases, it could be fans' first and last opportunity to see some of their favorite artists perform live.
Summer Jam organizers know this, and have responded to the issue by cramming the bill with numerous unannounced special guests every year. In 2001, Jay Z brought out Michael Jackson. This year, Fabolous invited a jaw-dropping list of '90s hip-hop favorites, including members of the Wu-Tang Clan and Remy Ma. Nicki Minaj made an unscheduled appearance with Meek Mill. Artists also use Summer Jam to announce, promote, and debut new material. It's both a reunion and a coming-out party.

But why does Summer Jam have to be the only game in town? How long can it keep up with these expectations? Organizers are trying to do too much, in one day, and for too many fans. Inevitably, people get turned away, or worse. This wouldn't happen if Summer Jam didn't have to meet the demand alone. Fans and artists want, deserve, and need more alternatives. Or, at the very least, better crowd control.