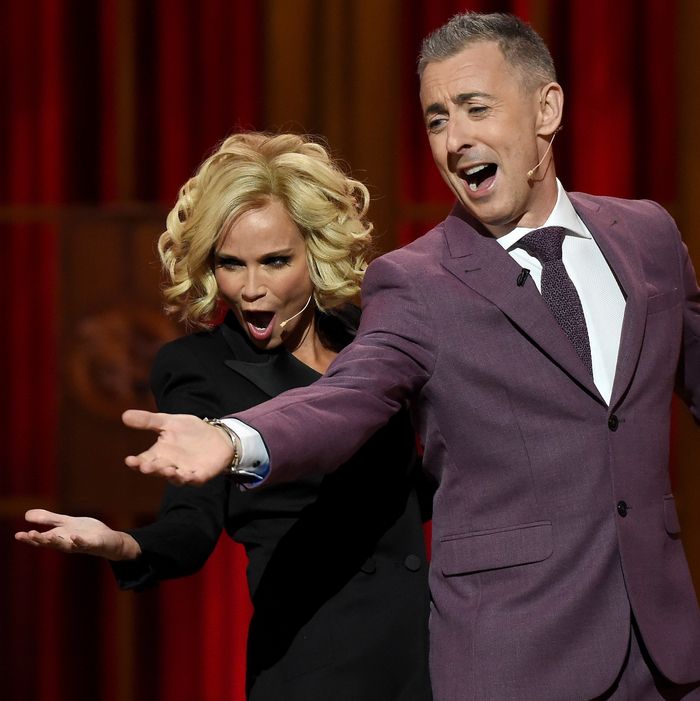 Photo: Theo Wargo/Getty Images for Tony Awards Productions
Time moves slowly in Tonyland; from one year to the next you can pretty much expect the same turnout of stars, the same proportion of gold to cheese. In that regard, the 2015 edition did not disappoint. Some jokes bombed, some numbers rocked, some dresses flattered, some winners babbled. But at least one thing seismically different transpired during last night's telecast: not so much the huge wins by the musical Fun Home, which some of us predicted, but the excerpt that its producers and creators chose to offer. Instead of misrepresenting the musical with one of its funny, catchy numbers, or freaking everyone out with one of its dark, regretful arias, they sent 11-year-old Sydney Lucas onto the stage of Radio City Music Hall, into the homes of however many million were watching on CBS, to sing "Ring of Keys." That's the song in which Lucas's character, the prepubescent Alison Bechdel, life-changingly identifies with a butch deliverywoman she sees at a diner. Socking it directly into the eyes of whatever slice of America actually follows the awards, she was part of something unquestionably new, not so much because of the moment's proto-lesbian content as because of its joy. Take that, dancing cats!
Lucas didn't win the award for best supporting actress in a musical (that one went to Ruthie Ann Miles, lovely as Lady Thiang in The King and I) but she was nevertheless one of the evening's big winners. Here are some of its other successes, and fizzles:
BIG WINS
Fun Home's five awards (best musical, director, score, book, and leading actor) were matched on the play side of the ledger by The Curious Incident of the Dog in the Night-Time (best play, director, leading actor, set design, lighting design). Though none of the latter group were surprises, the nods should guarantee Curious Incident's rare status as a nonmusical work that plays (and runs) like a musical.
As the "I" in The King and I, Kelli O'Hara finally won for best actress in a musical after five previous nominations. To do so, she had to prevail over two other Broadway monuments thought to be in a too-close-to-call race with her: Kristin Chenoweth (On the Twentieth Century) and Chita Rivera (The Visit). I suspect this was a case (and there were others, too) in which the statistical noise of the small voter pool was as significant as the perceived differences in quality among the performers. On the other hand, The King and I also won as best musical revival over On the Twentieth Century, so voters, faced with two excellent options, may have been expressing an unconscious preference for the show that is likely to run for a long time. (Twentieth Century must close July 19.)
A statistical anomaly may also have sent the award for featured actor in a play to Richard McCabe, excellent as Prime Minister Harold Wilson in The Audience. We already knew the category was tight; a kink in the Tony rules put six actors instead of five in contention, indicating a tie among the nominators. Less of a surprise — in fact more of a preordained decree — was Helen Mirren's win for playing the queen herself. As Susan Blackwell noted in our liveblog last night, this leaves Mirren a mere Grammy away from an EGOT. ("#AudioBook #GetItGirl," blogged Blackwell.) Mirren not only prepared but also memorized her speech, which seems to be an English thing; Americans apparently prefer to jabber incoherently or, in the case of Ruthie Ann Miles read (while crying) from a cell phone.
Expectedly and deservedly, David Hare's Skylight won as best revival of a play; most of the design awards went as predicted as well. I was, however, a bit surprised by Annaleigh Ashford's win for her daffy performance in You Can't Take It With You, which opened in September (and closed in February), thus defying the conventional wisdom that performances from early in the season don't get remembered come June. Christian Borle, too, was a surprise, as best actor in a supporting role in a musical, beating off (so to speak) his Something Rotten! castmate Brad Oscar. I guess Shakespeare in an enormous codpiece had that prize all sewn up.
BIG LOSSES
The sweeps for Fun Home and Curious Incident, along with the good showing for The King and I, left little room for the rest of their fields. An American in Paris did manage to win in four of its 12 categories, but two were for design and one for orchestrations. (The other, deservedly, was for Christopher Wheeldon's choreography.) Still, the show has been selling well enough to suggest that a long run is feasible. Same with Something Rotten!, despite netting only Borle's award out its ten nominations. Wolf Hall (one out of seven), On the Twentieth Century (zero out of five), and The Elephant Man (zero out of four) were already closed or are closing soon.
But several other disappointed shows, which may have been betting on some Tony love or exposure, will have a hard time moving forward. The Visit and On the Town, both struggling at the box office, were completely shut out: zero for four and zero for five, respectively. Hand to God, also zero for five, is going to have to be very clever about its marketing if it hopes to achieve the audience it deserves. Notably, none of these three showed well during the ceremony. Hand to God barely showed at all, as nonmusicals were once again given approximately the same amount of time on the telecast as a demented uncle at a wedding. (After a laborious introduction, viewers at home saw maybe ten seconds of B-roll for each nominated play.) On the Town's beautiful staging was reduced to an indecipherable frenzy onscreen, and The Visit represented itself with a medley of numbers that featured Rivera with a cane plus two eunuchs in yellow shoes. You could hear America saying, "Huh?"
In fact, most of the evening's musical numbers looked bad. (The winner in the awfulness competition had to be Finding Neverland, which was shut out of wins because it had helpfully been shut out of nominations.) Perhaps next year, producers will take cues from the two excerpts that unambiguously worked: that simple version of "Ring of Keys" from Fun Home and — surprise! — Lisa Howard's rendition of her 11 o'clock number from the critically slammed (and Tony-ignored) It Shoulda Been You. Smartly introduced and packaged, the song probably looked and sounded to potential theatergoers like what Broadway is supposed to be. She may have bought that show a summer's worth of sales.
THE TELECAST
Hosts Kristin Chenoweth and Alan Cumming aimed for and sometimes achieved a Tina Fey–Amy Poehler vibe, acknowledging the fun and the stupidity of the proceedings all at once. Though probably just as scripted as their predecessors Hugh Jackman and Neil Patrick Harris, they are better comedians, and made a lot of their shtick look spontaneous. The result was an evening that welcomely felt more like the theater, including its warmth and snark, than usual, which is to say, less like the Oscars.
Working behind the scenes in the other direction — trying to make the Tonys more like the Oscars — was Anna Wintour. Along with the costume designer William Ivey Long and her stable of favorite couturiers, she swept in to restyle the red carpet and its fashions; in previous years, apparently, theater celebrities offered America a Bosch vision of hideous people in nauseating tatters. (It's true that a lot of attendees looked extra-great this year, especially those "dressed by" Zac Posen.) Wintour's influence could also be felt in the insipid pre-show, which in emulating the "Who are you wearing?" M.O. of Hollywood made the theater seem just as mercilessly middlebrow and commercial as the movies. I learned, for instance, that "skin is a big trend." Good to know.
But let's close the show on a high note, shall we? Unfortunately it's a high note not many people would have heard. As has now become a mortifying tradition, the "creative arts" awards — for design, for orchestrations, for choreography, score, and book of a musical — were given, along with other apparent trivialities, just before the telecast or during its commercials. As any of the best actors and producers of the best shows will tell you, these are the categories that create, especially in musicals, the fundamental circumstances for all the others. This year, their banishment was especially galling because something historic happened when Fun Home nabbed two of them: For the first time, the winners for best score (music by Jeanine Tesori and lyrics by Lisa Kron) and best book (by Kron) were both women. Astonishingly, Tesori is the only female composer to receive multiple Tony nominations for writing a full Broadway score; this was her fifth. (Hat-tip for that datum to The Interval.) Both women gave extraordinary speeches that America needed to hear; Tesori pointing out — ironically, under the circumstances — that girls hoping to do extraordinary things, have to "see it to be it." Kron's speech movingly compared the theater to a house that has more rooms than you think it does. And yet, apparently, not quite enough.