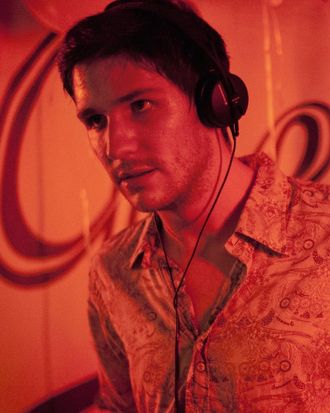 Paul, the DJ and main character in Eden.
Photo: Broad Green Pictures/Courtesy of GC Cinema
'Tis the season of barbecues, and caipirinhas in lawn chairs, and firecrackers on the roof, and dancing in your backyard until the neighbors call the cops. For all this sweaty fun, you'll need a soundtrack.
Enter Sven Hansen-Løve, the co-writer and inspiration for Eden, a "shimmering memoir" of a film tracing 20 years in the life of Paul (Félix de Givry), a semi-successful Parisian DJ who had the misfortune of coming up in the late '90s at the same time as Daft Punk. (Think an electronic dance music Inside Llewyn Davis with those robots as the spectre of out-of-reach success rather than Bob Dylan.) Sven, brother of director Mia Hansen-Løve, lived some version of that life, and the film plays out like the peaks and valleys of an endless night of clubbing. It begins as a portrait of the burgeoning Parisian EDM scene, where Paul finds a niche in the underground revival of disco-based dance music inspired by Larry Levan's Paradise Garage (known as French house or "French Touch," among other names), and morphs into a ruminative exploration of what it means to keep pursing an artistic lifestyle long after the drugs have stopped being fun and the market has cannibalized what you love. A colleague of mine, who, like me, spent much of the 2000s writing about nightlife, walked out of a screening visibly shaken. "I think I just realized I've been going to the same party for ten years," he said.
Melancholy is part of the flow, too, according to Sven, whose DJ career has been revitalized by the film. (Check out his own songs here.) "A good mix is like a journey," he says. "The important thing is to set the mood and to go in the direction you want to go. It's not about playing the big tracks or the songs that everybody loves. And I love when it's eclectic, when it's moody songs contrasted by some that are rather uplifting, so at the end the idea is that everybody feels good and regenerated."
The playlist he's created for Vulture is a callback to the outdoor raves at P.S. 122 in Queens that he (and Paul in the movie) used to spin. But it's also meant to work at a daytime gathering of your friends. Song order isn't definitive, though Sven does suggest ending with Chic's "I Want Your Love," as remixed by Dimitri From Paris. "It's very positive and has feel-good vibrations, and it works very well for the end," says Sven.
You'll also notice a Daft Punk song, "Veridis Quo," in there. Sven and Mia were good friends with the duo before their massive success and robot helmets, and still keep in touch, which is how the filmmakers were able to secure that track and two others for the soundtrack for only $3,700. Daft Punk also consulted on the script, which includes a moment that really happened, where a bouncer who didn't recognize them kicked them out of the Paris nightclub Silencio for being underdressed.
Not all of Sven's tracks were available on Spotify, so we've included links to fill in those gaps. If this whets your appetite for more French house, Sven suggests going down the rabbit hole of suggestions from Spotify or the message boards of Beatport, Traxsource, and Resident Advisor, as well as hitting dance floors like Cielo and Le Bain in New York. Just, in the end, he urges, do you. "It's about being open-minded and creating a mood that is unique, that is only your style, and that people would enjoy."
Below, Sven Hansen-Løve's sweaty garden party mix and why he picked each song:
Jamie xx, "All Under One Roof Raving" (Instrumental) (XL Recordings)
"He's a really important artist nowadays. He's really big now and he has just released an album and he's also part of the duo, the xx. I really love that song. It's very deep and original song and it's not a house song; it's more a broken beat song."
Snacks, "Purdie" (Prosumer Remix) (Magic Jams)
"Because I like the remixer, and I think it's an original and funny song."
Death on the Balcony, "Addict for Your Love"  (Heb Kandi Records)
"It's a cover of an R&B song but in a more electronic and modern way."
Louie Fresco, "Hateration" (MK Remix) (Mexa Records)
"I'm a big fan of MK since 20 years and that's one of his latest mixes. It's a cover of an R&B song, of Mary J. Blige, but you cannot even recognize her voice, because it's really done in a very special way."
Mozambo & Basic Tape, "Bright Side" (Featuring Julia Church) (Crosswalk records)
"It's a crossover song between a pop song and a house song — a little bit more mainstream and pretty recent. They're from Paris. For me, a lot of the American contemporary, mainstream stuff sounds a bit commercial and I don't think it's bad, it's just that I don't see myself in this music. It's not my type of music. It's very different from the music I used to love, because I like underground deep stuff. But this song I just heard one or two months ago and I really like it."
Poolside, "Do You Believe" (Future Classic)
"That's a sound we call New Disco. It's influenced from old disco but made in a more contemporary way, so the beat is really slow. It must be very slow, but it's very uplifting and very full."
Savoir, "Malala" (Plastic World)
"That's like the Mozambo, a cross between a house song and a pop song. Also it sounds like indie pop a bit, but I really like it. And they use this African instrument, the marima, really well. I've been playing this song for months."
Joy Wellboy, "Painkiller Nights" (BPitch Control)
"It's a New Disco song, which is a sound that comes from Sweden and Denmark: Young people that really like the old disco sound but they make something fresh of it."
Seb Wildblood, Leo Naylor, "Barcelona" (Skint records)
"It's really like a pop song with just an electronic vibe, slow. It's really slow and moody and underground, and I like the vibe of it."
Daft Punk, "Veridis Quo" (Virgin Records)
"It's not your classic Daft Punk song. It's a bit different from their other songs, and it's really moody and melancholic and very inspiring in the same way. That's why I think I love it and my sister was also crazy about that particular song. The first time I heard the song was at a [listening] session in Paris for Discovery, their [2001] album where they played it in a planetarium under the stars."
Chic, "I Want Your Love" (Dimitri From Paris remix) (Rhino records)
"It's a disco classic, but it's a really fresh new version that Dmitri From Paris has made. He specializes in great remixes of old disco songs."