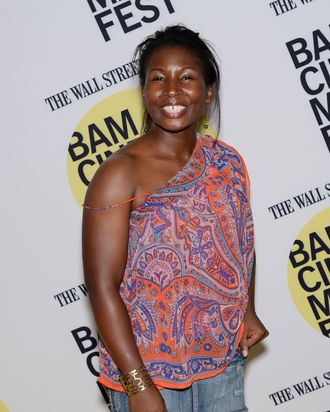 Lolita Foster, out of blue.
Photo: Andrew Toth/FilmMagic/Getty Images
"My job is so weird," Officer Maxwell says as Daya is giving birth. The lovable Litchfield guards of Orange Is the New Black have had to deal with a lot of weird in season three, with an influx of new, inexperienced guards adding to their regular prison blues. Vulture caught up with Lolita Foster, who plays Officer Eliqua Maxwell, at last night's premiere of Unexpected at BAMcinemaFest hosted by Sabra Dipping Co., to talk about keeping a level head amid the prison breaks and romances between inmates and officers. Spoilers ahead.
I want to nerd out about this past season of Orange Is the New Black. There's so much guard action in the story line. I feel like your character is among the more levelheaded of the guards, especially when you consider all the inappropriate behavior between guards and inmates this season.
I think before I went in this season I thought that Maxwell didn't care what was going on. She cares a lot. She cares about doing a good job. So when she sees these people coming in and making a mockery of something she holds so precious, that offends her. So I think that in going into that situation, she needs to keep a level head so that she can rise above the mess that she sees around her.
Yeah. Even when Daya is giving birth, Maxwell is the guard on duty and says that she has the weirdest job.
Yeah, and she kind of loves it. And kind of hates it, but kind of loves it, too. But I think that's with every job. There are some aspects of it that you really enjoy, and some of it really makes you angry.
When the inmates ran out to the lake, I thought about the two inmates, Richard Matt and David Sweat, who escaped from a New York prison.
[Laughs.] I am keeping a close watch on that. I was talking to someone who was like, "He just needs to go up into upper New York and live off of peanut butter and Gatorade and just go into random houses." And that's what they found in one of the houses: peanut butter.
Do you think Caputo would have went after those two?
No, I think he would have been like, "Just forget about it. Let's cover it up." [Laughs.] "I don't want to get in trouble over it."
There are some guard-inmate romances that started up this season, too. Like Healey and Red have this weird tension, and I can't quite figure out if Red's playing him because it goes back and forth so much.
I think that whenever you're in such a closed environment like that, you kind of fall into relationships — you know, something that you might not have on the outside. But everyone is enjoying that kind of camaraderie, and I think that you know something that might not occur on the outside, because these are people you interact with day in and day out, it would occur on the inside.
Do you think that the guards realize how inappropriate these relationships are? Like Healey gives Red breaks. And then there's Doggett and that new guard.
This certainly explores more of the underbelly of what's going on, but I think that things like this happen. Like the instance in [the recent prison break], they were going to kill the husband, and she was going to run away with both of men.
It's madness.
It is madness.
At least Maxwell is keeping a level head.
Well, so far, so good. [Laughs.]