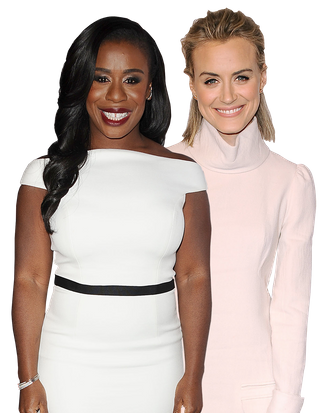 Photo: Jason LaVeris/FilmMagic
When I saw Uzo Aduba at Netflix's press junket, she was talking in the hallway with a toothpick in her mouth, just like Vincent D'Onofrio, who was there to do press for Daredevil. We were waiting  for her co-star, Taylor Schilling, who took the spare moment she had in between interviews to go change before her flight to L.A. It was March, months before the third season of their show Orange Is the New Black would actually touch down, where they would appear on your screens as Litchfield inmates Piper Chapman and Suzanne "Crazy Eyes" Warren. While they surmised what we could expect from their characters, they couldn't talk about the plot. (So: No spoilers!) Instead, they reflected on how the show has been part of a vanguard revolution in media within just a couple of years. After all, it was just about four years ago when Schilling was on Mercy, which only lasted a season, and Aduba was doing Godspell on Broadway. "That's amazing, how much life can happen in four years, Uz," said Schilling. Aduba replied, "It's crazy."
Uzo Aduba: Vincent D'Onofrio gave me that toothpick, which I will now put down, because I have to talk.
Vincent D'Onofrio just had the toothpick? The entire time?
UA: Yeah, he has a bunch of them. We were just talking and chewing on toothpicks.
Taylor Schilling: You and Vincent D?
UA: Yeah, Vinny D, we were doing a little of this action. [Moves the toothpick around in her mouth.]
TS: He's amazing.
UA: Oh yeah, he's awesome.
Hi!
Aduba and Schilling: Hi!
You both grew up in the same area around Massachusetts before moving to New York. Are there any moments you remember from when you first moved here?
TS: I remember there was one night when I was young …
UA: [Sings Les Misérables' "I Dreamed a Dream"] And unafraid … [All laugh.]
TS: I'm giving you the tame version of "Taylor takes the bite out of the Big Apple at 18."
UA: Yes, get it.
TS: There was this one moment: It was probably three of four or five in the morning, and somehow, me and my motley crew from college managed to get up to the rooftop of this very fancy hotel and watch the sun come up over the skyline of New York City. I had this really visceral sense of, I want this, and I think I can do this. I can do this. And there was this profound sense that every building was full of people and that we were all sharing this space, and everybody was searching and wanting. I felt so connected to this city and so connected to myself. Granted, it was probably illegal that we were on some hotel rooftop, there's that as well.
UA: I'm a big walker in the summer, spring, and fall. It's one of my favorite things to do in New York City. I would walk into the city over the Queensboro Bridge, and by the time I finished that walk, any thought or thing that needed answering had been completed and answered by that time. When you're walking over it, you can see the East Side, and all of the buildings look so massive as you're taking in the city. It's humbling, almost like, thank you for sharing this. I love this, I love New York City.
Let's talk about the third season of Orange Is the New Black. So, since Jason Biggs won't be on, it seems like Piper is losing her connection to the outside. Is Piper going to be cut off entirely from the outside world?
TS: Certainly with the people she surrounded herself [with] before she got to prison, they really have no context or concept on who she is now. As she shifts, her relationships are morphing at rapidfire speed. I think that she's experiencing these seismic shifts constantly and consistently. It's nearly impossible for her relationships to keep up when she doesn't even know who she is.
And we left Suzanne in a state of disarray because, while Vee was diabolical, she also provided a lot of love.
UA: Absolutely. We'll definitely get to see how she handles the wreckage after the storm and how she puts those pieces back together, and whether it actually ends up looking like a vase or something else once she has assembled them. And not just for her, I think that's true for a lot of the characters, and what is required in order to do some of that rebuilding, if it is at all possible.
Will season three be as cohesive as season two? Because season one felt very expository, and then season two felt like a very cohesive chapter. I guess I was wondering if that would sort of follow suit, in that sense.
TS: That's a really interesting question. I love the way you just articulated your experience of season one and season two. I haven't heard that. [Aduba laughs.] I think that's actually really true. Because it's like the first time we're all in the world and we're all telling a story together. I'm totally onboard with that.
UA: Nailed it.
Crushed it.
TS: In a similar way, season three mirrors that in some respects. There are some themes that carry through on a macro level, the individual stories and dynamics, so it's fun to see a through line played out. We're already part of the world, we understand everybody, we're intimate with them, so we can really play now. This is the juice. We can just dance.
Vincent D'Onofrio was telling me how he sees doing a Netflix show like doing a 13-hour movie, because you sort of have the entire arc laid out, you don't have to worry about getting picked up for a full season. You also don't have to churn out 22 episodes per season, which just sounds bonkers now.
UA: It does. [Laughs.]
TS: I did that one year [for Mercy], and now I'm like, I can't even believe it. It's amazing that people do that.
How do you feel that affects your working process?
UA: I think it would be like anything that is long-form, maybe a film or doing a play in that way, where you know that we're going to tell one full story. But the show is very cinematic in its scope in that way, I think. And I think even that's because the writers can write with a freedom of not having an expectation of whether they'll be picked up or get a full season. We can tell a thorough and a full story, which is useful to the actor because then you're not beholden to things like numbers. You're not beholden to things like, "Well, we've got to get this, we need to fit in these sort of stats," and you're really just invested in the completion of this one story.
TS: I totally agree. In addition to all of that, it's a really exciting experience. It's just different from the one season of the network-TV show I did, because everyone's cognizant of how it's going to be viewed. There's a real understanding and respect of the thing as a whole. I think that's what makes it cinematic, playing with the character over a full, fluid dynamic, and complicated arc as opposed to sometimes the more jagged arcs of traditional TV, where the episodes have to stand on their own at some point. There's no onus on these episodes to be self-contained, so you can really stretch out into 13 hours.
You sort of see network TV changing and shifting into more of that mode, I think.
UA: Yeah, I think what's interesting is that it seems audience or viewers are willing to take the journey, it seems now with television viewing or streaming viewing, you don't have to write to a commercial, you don't have to write to a singular contained episode. They will follow you for 13 hours. Jenji [Kohan] made a really great point: She said in writing in this way, you can have a character like Miss Rosa come in and have all of four lines in season one, but because of the way people are watching the show back to back, they can track someone like her. So that in season two they can follow it and see that relationship she had with Piper [since] day one still exists even though we haven't seen her. Here we are now, season two, seeing her again, that kind of thing, which I think is interesting.
Arguably, Orange Is the New Black changed the game in a lot of ways, both for Netflix and television, for what we're talking about, for how storytelling is done. And also for diversity and representation. Are you still too "in it" to reflect?
TS: It's so interesting … It was only two and a half years ago when we started?
UA: Yeah, I just said that, it's going to be two and a half years.
TS: When this script came, everyone was like, "What is Netflix?" "It's a little bit strange, but Kevin Spacey's doing a show over there, it'll be cool." And, I mean, we all love Weeds and Jenji's a really phenomenal storyteller, but Netflix was not a selling point — that was a liability. [Aduba moans in agreement.] The fact that it was a streaming thing. It was like, "What are we making, a web series?"
It's only been two years, and now, all of a sudden, we're at the beginning of something, and it's only two years old! And it's just amazing to watch how quickly things move, you know. Yeah, like a little two-year-old baby is now the elder, the elder of the tribe.
Do you feel different at all?
UA: To kind of, I hope, answer your question, yes, we hear that, and if the show has in some way contributed to that cosmic shift in the landscape, we're all grateful, just as people who enjoy television and as artists who like to see as many ranges and colors of things happening as possible. But the show just means something different for us. When we go to work, that's where we see our friends, that's where we get to see the people who changed our lives. My life. You know what I mean? In a way that audiences will never understand.
TS: It's a really personal experience. I feel like we all met at different times when kind of on the brink of different things. It was a very important personal moment for a lot of us in different ways. The experience from the inside is so vastly different than what it is, it's such an important element in my life on such a bigger and much larger scale than, you know …
UA: It's like our families. We hear you, I think we're trying even to get the shock of, "Can you even believe …"
TS: "… People watch it." [Aduba laughs.]