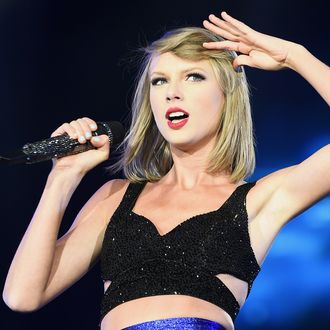 Photo: Robyn Beck/AFP/Getty Images
Taylor Swift is withholding her hit album 1989 from Apple's streaming service Apple Music, which launches on June 30, because she doesn't like how the company is treating artists, according to CNN.
Apple will give users a free three-month trial of Apple Music, which they consider vital in acquiring new customers (Apple is a company, after all), a decision Swift doesn't dig.
"Apple Music will not be paying writers, producers, or artists for those three months," she wrote in a Tumblr post. "I find it to be shocking, disappointing, and completely unlike this historically progressive and generous company." She goes on:
This is about the new artist or band that has just released their first single and will not be paid for its success. This is about the young songwriter who just got his or her first cut and thought that the royalties from that would get them out of debt. This is about the producer who works tirelessly to innovate and create, just like the innovators and creators at Apple are pioneering in their field…but will not get paid for a quarter of a year's worth of plays on his or her songs.
Swift removed all of her songs from Spotify last fall, a move that some considered to be a PR stunt. The thousands of teenagers who subsequently downloaded torrents of the album instead of buying a physical copy declined to comment for this piece.