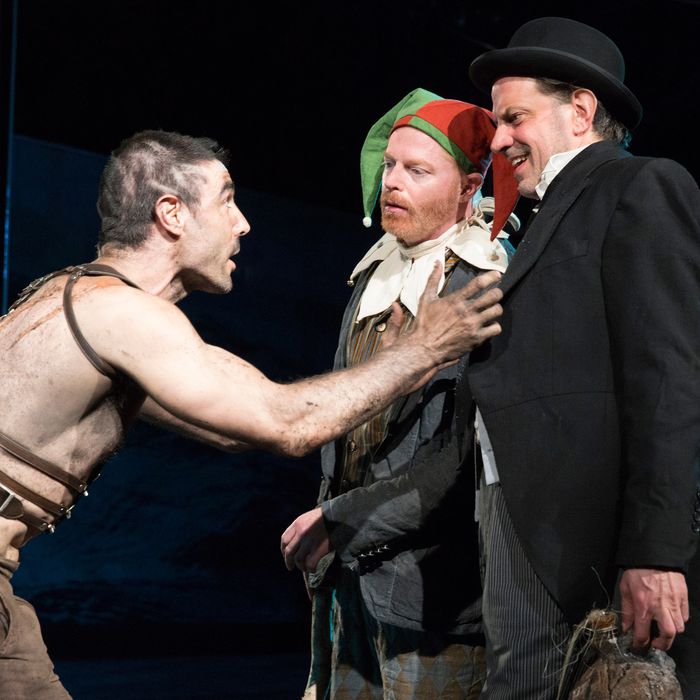 THE TEMPEST By William Shakespeare Directed by Michael Greif Featuring Jordan Barrow, Louis Cancelmi, Francesca Carpanini, Nicholas Christopher, Jesse Tyler Ferguson, Chloe Fox, Rosharra Francis, Thomas Gibbons, Frank Harts, Sunny Hitt, Brandon Kalm, Olga Karmansky, Tamika Sonja Lawrence, Rico Lebron, Danny Mastrogiorgio, Tim Nicolai, Matthew Oaks, Charles Parnell, Chris Perfetti, Rodney Richardson, Laura Shoop, Cotter Smith, Sam Waterston, and Bernard White Scenic Design Riccardo Hernandez Costume Design Emily Rebholz Lighting Design David Lander Sound Design Acme Sound Partners and Jason Crystal Soundscapes Matt Tierney Hair and Make-Up Design J. Jared Janas Original Music Michael Friedman
Photo: Joan Marcus
The weather, that diva, is often a co-star at the Delacorte Theater, but rarely so aptly as at a recent preview performance of The Tempest, when the air seemed pregnant and thunderstorms were forecast. Storms are, after all, how the play begins, and their cleansing fury remains a powerful metaphor throughout its tale of vengeance transmuted into mercy. Riccardo Hernandez's backdrop of churning blue-green waves therefore suggested brutality but also relief; it was so humid out, I wanted to jump in. And though it was probably just as well that the actual clouds never burst open that night, it was less than satisfying that the Public Theater's production never did. This Tempest was becalmed. 
Many Tempests are: It's a deceptively difficult play to pull off. Coming nearly at the end of Shakespeare's stage career — only Henry VIII remained to be written — it contains some of his most beautiful language and profound moral inquiry but also a heightened theatricality that begs the most imaginative treatment. Aside from the storm, there are spells, fairies, monsters, stooges, disembodied voices, goddesses, and even a sort of masque. At the center of them all is Prospero, the marooned mage whom many have seen as the author's farewell self-portrait, ready to settle some scores and hang up his cape. Others have discerned an image of Shakespeare in the Prospero who, as a loving father, is eager to provide for his daughter, Miranda, while he still can. (Shakespeare left the bulk of his estate to his daughter Susanna.) Both Prosperos are there in the text, along with many others, but a staging that isn't large enough in its invention cannot make room for them all. Surprising to say, Michael Greif's production, with its exhausting percussion soundscape, its mostly flat and obvious design, and its comic relief that's neither, barely makes room for one. 
That's a big problem for a play whose effect, like that of most wizard stories, depends on an audience's willingness to suspend its disbelief regarding the jury-rigged rules of the game. (If he's so magical, why didn't he just solve his problems years ago?) Sam Waterston's Prospero is clear and intelligent and, in his interactions with Miranda (Juilliard student Francesca Carpanini), warmly paternal. But despite his many years on the stage — this is his tenth play at the Delacorte alone — he is too unvaried, especially vocally, to fill the amphitheater or the role. Even when angry, he's as reasonable as a tax-preparer. Nevertheless, his Prospero seems like a hellion by comparison to his muted sprite, Ariel. As played by Chris Perfetti, Ariel comes across as a younger brother of Bill Hader's Stefon strung out on molly, an effect enhanced by the leather chest harness Emily Rebholz has dressed him in. The outfit may be meant to signify Ariel's indenture, but mostly it makes him look like he's auditioning for the bus-and-truck of Cabaret. (Louis Cancelmi, a particularly feral Caliban, also wears a harness; most of the rest of his costume is mud.) Meanwhile, Jesse Tyler Ferguson, as the shipwrecked jester Trinculo, seems to have pulled his nelly act out of Paul Lynde's closet. 
Stale choices like these — not to mention unspecial effects like the pro forma storm and the skimpy masque — sap The Tempest's power. It's not that the story isn't cleanly told; it is. I'd definitely recommend the production over an annotated paperback to tenth graders encountering the play for the first time. But Shakespeare's uncanny investigation of love and freedom, and the way they are often both conjoined and opposed, cannot strike home unless an audience is at the same time elevated, even thrilled, by what it sees and hears. A mild, equable Prospero does not need to learn from Miranda and Ariel that independence is what ultimately makes them human (or nearly). There's little in the canon as powerful as the moment when Prospero forgives his brother, who many years before the action usurped his crown and left him for dead on an unseaworthy ship. "The rarer action is in virtue than in vengeance," he says, understanding that letting go of even a rightful fury is also a form of liberation. 
You do get this message in the park production, but it's garbled and tinny, as if from a radio playing on the Great Lawn. Perhaps, as is often the case, the company just needed more rehearsal and the designers a bigger budget; outdoor acting and spectacle-making are notoriously difficult to calibrate. Still, we should not excuse too much. Prospero, matchmaking for Miranda, explains that he must make the wooing difficult "lest too light winning make the prize light." So, too, The Tempest.
The Tempest is at the Delacorte through July 5.