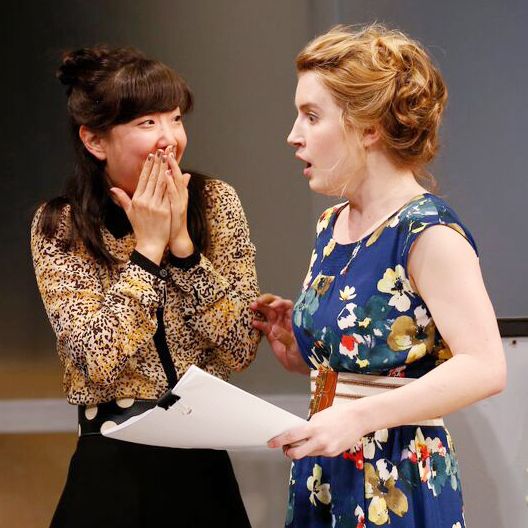 "There are aspects of the play we kindly ask you not to reveal in your review of Gloria." So read the email from the press agents for Branden Jacobs-Jenkins's new shocker at the Vineyard. 
Under ordinary circumstances it would be a perfectly reasonable request. But no Jacobs-Jenkins play (among them, recently, Appropriate and An Octoroon) is an ordinary circumstance: He is a genre-subverting provocateur who deals in discomfort as others do in bon mots. In Gloria especially, he toys with audience expectation as a form of drama in itself, regardless of content; indeed, much of the content is of very little consequence. Still, it's difficult to know what I may safely report. Avoiding all danger zones would leave a rather banal scenario: Three twentysomething editorial assistants gripe amusingly about the degradations of magazine work while mostly avoiding any. The college intern who fetches the Vitamin Water wonders how he might avoid their cynicism. A disillusioned fact-checker ("I'm 37 and all I have is a B.A. in French!") asks them to pipe down. A severe Debbie Downer of a copy editor wanders repeatedly past their carrels in a waffle-weave cardigan while clutching a large bag to her chest. She's Gloria. 
Now my job is done. And yet, I would be remiss if I did not let on — major spoiler alert! — that something else happens. For the sensitivos among you, a category in which I include myself, I feel obliged to add that it's something quite terrible involving an extended act of bloody violence, realistically depicted and impossible to unsee.
This spoiled me, but I'm not really spoiling it. For one thing, Jacobs-Jenkins constructs the play so that its very banality leaves you with no doubt that something extreme is going to happen. (It's like The Condé Nast Witch Project.) He lays clues that, in your dread, you can't fail to pick up long before the characters do. And then, too, the violent act is only half the story. Two more scenes follow up on its horror at two different removes: eight months and then "years later." And though these scenes could also seem banal — the first takes place in a Starbucks, the second in the office of a TV production company — the banality is entirely changed, colorized, by the expectation that Jacobs-Jenkins is setting you up again. If you found the gore difficult, the rest of the play, however bloodless, is nevertheless just as unbearable. 
Unbearability turns out to be uninteresting. (Is a bad headache interesting?) If there's anything truly virtuosic about Gloria, it's the way Jacobs-Jenkins wrings emotion (or at least shivers) out of purely formal manipulations. His longtime interest in melodrama is fundamental to that effort. Appropriate, a play I found repellent, was so over the top in its buried-family-secret dramaturgy that I expected organ music to punctuate the proceedings. On the other hand, in An Octoroon, based on an actual melodrama from 1859, Jacobs-Jenkins found deeply satisfying ways of reinvigorating the form by interbreeding it with racial satire. Gloria is a less successful experiment, but it is no less intelligent for that. Jacobs-Jenkins's dialogue, always piquant, here sounds even more acutely observed, especially in delineating the petty thoughtlessness of people with a little power and the tangled petulance of those without it. There are also flashes of unaccustomed emotion. At the heart of the Starbucks scene — which is otherwise a mildly satirical argument about who owns the rights to the tragedy — is a memory monologue, beautifully delivered by Jeanine Serralles as a former editor at the magazine, that takes Jacobs-Jenkins into realms of feeling unmitigated by archness in a way I've never previously experienced in his work. But then, in the following scene at the production company, he seems to leap hastily back to his comfort zone. How Hollywood degrades the event further by packaging it for TV is not only disappointing as a dramatic device (it's hard to laugh by this point in the play) but also just plain stale. 
It may well be that Jacobs-Jenkins is using the staleness deliberately, that he wants you to choke on your giggles. The whole play has that cart-before-the-horse feeling, as if written backward from its effects to its means. Lots of self-referential winks and thematic echoes attempt to cover for this, but they feel inorganic. (The music that punctuates the show is the "Gloria" section of Bach's B Minor Mass.) And because the characters and their interactions seem like the products of reverse engineering, invoked merely to score authorial points, the six actors, stuck somewhere between realism and satire, are mostly unable to land their roles solidly. (All but one are double- or triple-cast, which doesn't help.) Even the staging, by Evan Cabnet, on Takeshi Kata's chic but awkward sets, seems designed to accommodate the violence — in effect to "glorify" it — rather than tell the story of people whose lives it changes or ends. 
That feels almost immoral to me, which is why I haven't felt obliged to observe the no-spoilers request as strictly as I might. But I'm not writing off Jacobs-Jenkins, who deserves to experiment big and fail. Still, if he's not to become in his drama what he calls one of the characters here — an "emotional terrorist" — he'll need to stop fiddling with form and genre as a way of compensating for the real difficulty of drama: not killing people, but creating them.
Gloria is at the Vineyard through July 18.