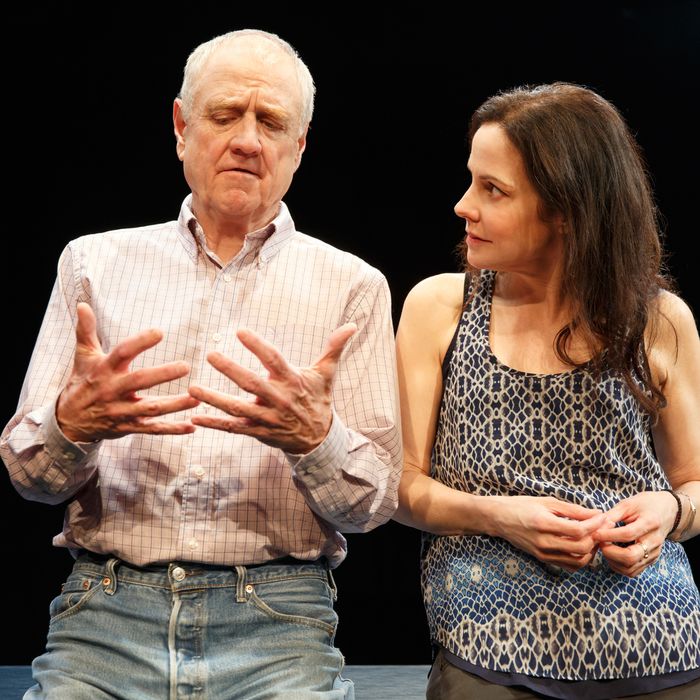 Denis Arndt and Mary-Louise Parker, in Heisenberg.
Photo: Joan Marcus
With a title like Heisenberg, and a plot that begins with a smooch between an old man and a much younger woman, Simon Stephens's terrific new play might seem to be a cross between Nick Payne's Constellations and Craig Lucas's Prelude to a Kiss. Like the former, it takes a mainstay concept in contemporary physics and applies it to relationships; like the latter, it imagines the ripple effects of a surprise encounter whose nature is never fully explained. Also like the latter, it stars Mary-Louise Parker, who (after a few costume-drama misfires) is once again beyond terrific in a role that suits her talents perfectly. Georgie, a New Jersey transplant in London, is (or appears to be) an obnoxious oversharer with boundary problems, a cousin to Cecily Strong's "The Girl You Wish You Hadn't Started a Conversation With at a Party" character on Saturday Night Live. When she meets Alex, a 75-year-old Irishman, at St. Pancras station, she very quickly moves from mistaking him for her late husband to denying the existence of that husband to calling Alex a "patronizing fucker" in a way that makes it sound like a nice thing to be. But despite her constant hilarious misconnections and hairpin contradictions, she's no caricature; Parker quickly sketches, and over the course of the play's 80 minutes depicts so fully it hurts, the ocean of sadness on which Georgie madly paddles. What we don't know, as she manipulates Alex into a relationship he may or may not want, is whether that sadness has turned her into a fibber, a fantasist, or a flat-out scam artist.
As Alex, Denis Arndt, a West Coast actor less known on New York stages, is every bit Parker's equal. To the extent Alex is the audience's representative — wondering, along with us, who this chattering madwoman is — he might easily fade into mere reactivity; he has maybe half as many lines as Georgie, and seems incapable of uttering an imprecise thought, let alone a lie. But Arndt's Alex banks his own series of surprises and apparent contradictions: He is a butcher by trade, a dancer by passion, a loner "quite skilled at masturbation" who nevertheless knows the value of taking a chance. Though his sadness, clearly as deep as Georgie's, has led him to the opposite end of the character spectrum, he is too empathic not to recognize in her psychiatric cabaret a profound kinship of suffering.
Under Mark Brokaw's exquisite direction, the two actors could not be better. The rest of the production frames them beautifully, too — which, in this case, means minimally. The set consists of two blue tables and two chairs on an otherwise empty playing space between two banks of audience. Parker and Arndt themselves move the furniture around to form a park bench, a shop counter, or a bed as required. The production is so stripped of theatrical froufrou (the actors walk onstage to start the play while a house manager is still delivering the cell-phone speech) that your focus is immediately directed to the bodily physics of Georgie and Alex, banging around the space and each other like electrons. (The playwright's adaptation of The Curious Incident of the Dog in the Night-Time, now on Broadway, often achieves a similar effect, albeit with a multi-million-dollar price tag.) Soon it's difficult not to see the title metaphor everywhere: in Georgie's apparently multiple realities, in Alex's uncertainty about her, and in the play's dissection of the concept of personality, which Alex vehemently rejects:
Personalities are just the sum of the individual things that people do. And the path that connects between them. They're never fixed. They can always change. They mean nothing.
The play's creeping metaphorism didn't bother me in itself, but it does suggest its one flaw: If we in the audience immediately see that Georgie's the kind of woman a sane person stays away from, why doesn't Alex? But then Heisenberg  — Werner Heisenberg, that is, the uncertainty pioneer — might tell us that we cannot measure Georgie while watching her, and even Einstein, the piker, understood that objectivity is relative. Life, says Heisenberg, is misapprehension. Which is liberating in one sense, and scary in another. The play, beautifully, is both.
* * *
The Twentieth-Century Way — the title comes from an old euphemism for fellatio — has a great story behind it. In 1914, in Long Beach, California, two actors, Warren and Brown, were hired to entrap gay men in public restrooms and bath houses, marking their victims' penises with an X in indelible ink to serve as evidence. But the playwright Tom Jacobson is not content to leave it at that. Perhaps sensing that the energy that once propelled gay themes in the theater is now dissipating, he proceeds to dress the tale in an endless series of Stoppardian scarves. So what we actually get in this co-production between Pasadena's Theatre @ Boston Court and our local Rattlestick Playwrights Theater is a different pair of actors, also called Warren and Brown, who some time later are marooned in an existential no-man's-land that may be an audition or may be a sting. The two enact a theatrical competition (Warren works from the outside in; Brown from the inside out) that involves their taking on multiple roles in the 1914 tale. The near seductions of the past quickly get confused with near seductions in the play's present tense and, eventually, the near seductions of 2015, which leave little to the imagination.
If only Jacobson had. The Twentieth-Century Way won both a PEN Center USA Award and a 2010 New York Fringe Festival prize for overall excellence, so his dramaturgical Escherisms must be appealing to somebody, but I found most of the meta-shenanigans annoying and, oddly, over-literal. Because the 1914 betrayals and seductions were, on the other hand, quite touching, I just kept wishing Jacobsen had stuck with that, and left his Stoppard pretentions at the stage door. But apparently the 21st-century way is self-gratification.
Heisenberg is at City Center Stage 2 through June 28.
The Twentieth-Century Way is at the Rattlestick Playwrights Theatre through July 19.