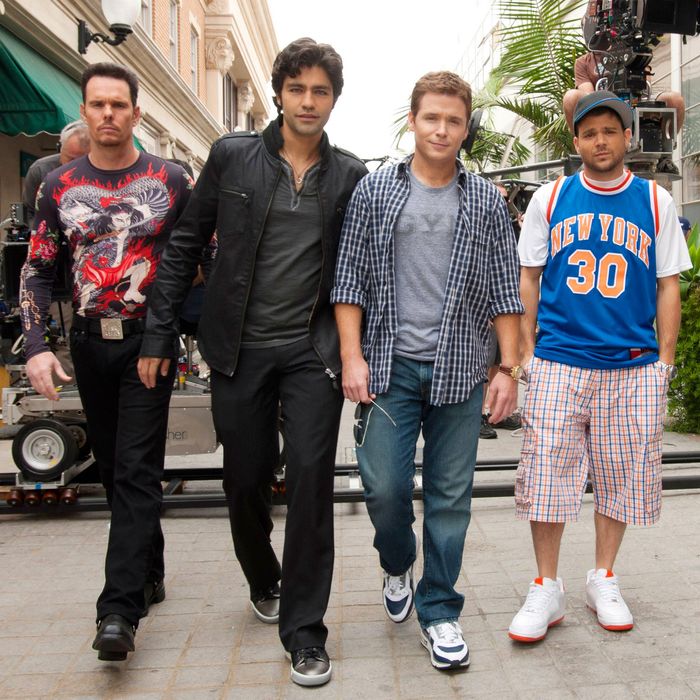 ENTOURAGE, (from left): Kevin Dillon, Adrian Grenier, Kevin Connolly, Jerry Ferrara, 'Out With A Bang', (Season 8, ep. 802, aired July 31, 2011), 2004-11. photo: Claudette Barius / © HBO /
Photo: HBO/Courtesy Everett Collection
Last weekend, comedian/former writer for Happy Endings and Brooklyn Nine-Nine Gil Ozeri watched every single episode of Entourage in a row without sleeping. This is his story.


Shhh!! Do you hear that?
That's the sound of me crossing another incredibly stupid item off my bucket list.
This past weekend, in an act of horrifying absurdity, I decided to watch every single episode of HBO's Entourage in a row, without a break. 96 episodes. No sleep. Just me, Vinnie, and the boys, keeping each other company for 47 hours straight. Oh, yeaaah!!!
Why would I ever do something that wonderfully dumb?  Well, to tell you the truth, I had done one of these binge-marathons before with Two and Half Men, and it turns out, it was actually super fun. And since the Entourage movie had just come out, it seemed liked the universe was almost begging me to do it again. And guess what? I had a blast: A silly, dark, delirious two-day trip down Queens Boulevard.
So here's how it went down. Funny or Die got me a huge "Entourage-style" house in the Hollywood Hills and we live-streamed me watching every episode in a single sitting.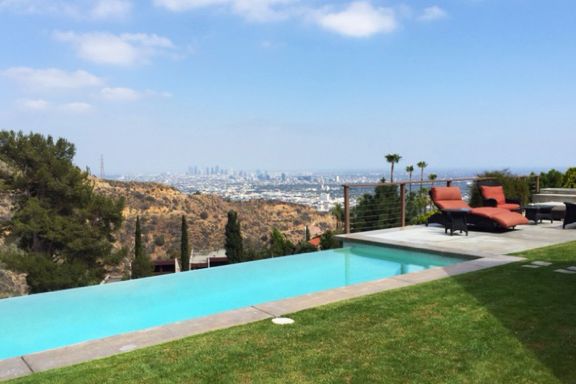 Joining me as co-hosts were my good friends Adam Pally (Mindy Project, Happy Endings) and John Gemberling (Broad City, Marry Me). We also had over 50 guests and tons of fun bits, like this adorable guy.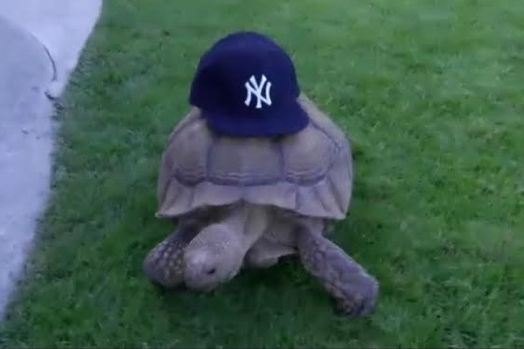 Now, before I continue, I should warn you to take everything I've gleaned with a grain of salt. For a good majority of the marathon, I was beyond exhausted. My brain felt like gelatin. All in all, I stayed up for a total of 57 hours. So please, allow room for error.
Here, without further ado, are my takeaways from the marathon.
1) Three-Dimensional Women Are Not the Focus of Entourage 
I know, I know, how groundbreaking! But it still surprised me how not the focus women really were. You're probably already aware that aside from the occasional girlfriend who "got in the way of the boys' smokin' n' screwin'" there were not many decent roles for women on Entourage. The exceptions were Debi Mazar (whom I love) as Vince's publicist, and Perrey Reeves as Ari Gold's wife, who was — no joke — not even given a name until seven years into the show (up until that point she was just called "Mrs. Ari"). Very cool.
Well, during the marathon, we jotted down some statistics. These ranged from the pointless (every time the boys drink tap water — 10 times) to the very pointless (every time Vinnie wears a graphic T-shirt with a bird on it — 5 times).
But the most interesting stat, was how many times women talked to each other on the show. The number is staggeringly low — 8 ½ times. That's right, the number of times that two or more women actually had a conversation with each other (a single back and forth dialogue) was only 8 ½. That's over the course of the entire series. And the longest convo I remember happening between two women was when they discussed having a threesome with one of the boys.
By the way, you might be wondering, Why the ½? It was a conversation between two women, but they were separated by a closed door. A female P.A. knocks on a dressing room door, and asks a woman inside the room if she's ready to go on a talk show, and that woman responds yes. That was the whole exchange.
2) The Entourage Theme Song Is Beautiful … When Sung by Children.
I decided to hire a children's choir and have them sing the detestable, grating Entourage theme song originally performed by Jane's Addiction. Oh, and I also asked them to add 10 extra oh yeaaahs at the end, just cause. The choir is called Musyca. They're perfect.
3) Infinity Pools Aren't As Glamorous As They Seem on TV.
On Friday night, I thought it might be a good idea to watch an episode or two from inside the infinity pool at the house. We set up a TV outside and I hopped in. Huge, huge mistake. It was cold outside, the pool wasn't heated, and the water was a freezing nightmare.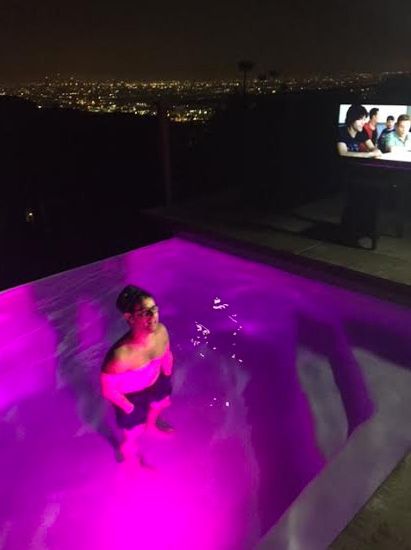 4) Johnny Drama Really, Really, Really Loves to Cook Breakfast.
Times Drama cooked breakfast for the boys: 29 1/2
Times Drama ordered breakfast for everyone: 1
Times Drama just talked about breakfast: 1
Times Drama was angry that someone else cooked breakfast instead of him: 3
Times Drama cooked breakfast once for a horse: 1
Times a dead bird fell in Drama's breakfast: 1
5) Real Life Entourage Is Scarier Than TV Entourage.
Late on Saturday night, after 30 hours without sleep (and a late-night party), we were visited by three guys we'd never met before. They had been invited without my knowledge. It was a guy named Hamster from Mark Wahlberg's crew in the Entourage movie, Chris Gronkowski (Rob Gronkowski's brother — who's in the movie as well), and their friend. They joined me and some other guests on the couch and you could feel the mood had changed instantly. Since they had a connection to Entourage, we thought that they might be there to mess with us. It was genuinely creepy. We eventually realized they were just drunk, but that didn't make things any better. Chris Gronkowski, who is a gigantic human, was totally wasted. The other guys were fine, but Chris was inappropriate to my sister (who was watching on the couch with us). John Gemberling pointed out that this is what it would probably be like to be friends with the Entourage crew in real life. I agree.
6) It's Hard to Concentrate During a Party 
Vin and the boys are always partying. We felt like we should too. Except I didn't get to participate, because I had to watch TV! For an hour and a half, a party raged behind me while I had to endure more episodes of The Kings of Queens. There was smoking, drinking, a D.J. blasting music, and people dancing and grinding against me. Now that I'm hearing that, I guess it doesn't sound that bad.
7) Everyone on Entourage Is Vince.
In Doug Ellin's version of Hollywood, Vince and his entourage always win. We started out tallying the number of times things end up going well for the boys. It happened so often, though, that we decided to stop keeping track. I noticed that the characters on the show don't really grow either, they just get more successful. Better jobs. More wealth. More women. Turtle sort of starts to lose his charm, what makes him unique, when he's just as successful as Vince. By the final season, pretty much everyone in the cast is a Vince. And he was the least interesting character! So what we have here is a town full of winners, full of Vinces, a Hollywood afterlife where everyone's successful, everyone's having sex or being sexy, there are a million famous people hanging out and clinking glasses and everyone's always killing it at their careers. So nothing real ever happens? I guess you could say the show is escapist junk food, but it's hard to want to be part of the gang when they're always super excited about "making moves 24/7" and "banging chicks." Who wants to aspire to be them? Do they even have families? Have they ever celebrated a holiday? I bet if you asked E what Thanksgiving was he'd just stare blankly in your face and his nose would start to bleed.
8) Your Baby Bros Have Your Back.
Just like Vinnie had his entourage, I had mine. A bunch of friends came to visit me, partake in the madness, and keep me sane. Some of my personal highlights:
• Adam Pally acting confident about something and it turning out to be bullshit. There were at least 15 times when Pally arrogantly acted like he knew something and he turned out to be completely wrong.
• John Gemberling's JonBenet-tions: John Gemberling is a portmanteau machine. John kept combining words throughout the entire marathon. He called them JonBenet-tions. He also made a JonBenet-tion with JonBenet-tion and Jamba Juice — JambaJu-tions.
• Tommy Pistol. Tommy is an adult film star and a really nice dude who stopped by to do a bit at the Entourageathon. He was supposed to play Vince and pleasure himself every time Vince was on camera, to point out how often Vince was having sex. He ended up just hanging out and talking to us about how the porn industry works. Probably a smarter idea.
• Singing with everyone kept my spirits up. It was Mark Wahlberg's birthday on Friday. We had a cake and sang Happy Birthday to him at least 10 times. The best part was that it ended with the words, "And Mandy Moore!!!" in place of "And many more…"  We also sang a version of "Tomorrow" from the musical Annie, but replaced the lyrics with "Rob Morrow" (who was an actor on Entourage) – "Rob Morrow, Rob Morrow, we love ya, Rob Morrow, you're always on Entourage!"
• Ben Schwartz visiting. Ben visited me early in the mornings and in order to keep me awake, he would force me to sing and dance and mess with me. At one point, for half an hour straight, he kept saying "Gil?" and I couldn't stop responding "Yes?" I was very tired.
8 ½)  Animals Hate Entourage.
I counted this as a half because it's an observation about animals and not humans. Saturday morning, a bird flew in the house and took a shit on one of the cameras. Seems like a sign to me. Or maybe that means animals hated the Entourageathon? Possibly. We were making fun of how many of them were on Vince's shirts.
***
So yes, I learned 8 ½ amazing things. Before the marathon, I remember actually enjoying the first couple of seasons of Entourage (the production, the acting, etc.), but I felt like it eventually went off the rails. It got repetitive, there was an overkill of male wish-fulfillment, and they celebrated excess and douche-bro culture. It became the thing it started off satirizing. Rewatching now, I could see how other people might think the show was fun, but this time around, the monotony really stuck out to me. And maybe my opinion was affected by watching every episode at once, but there's only so many times I could sit through the same scene of two people having a long conversation on their Blackberrys about Vince doing or not doing the goddamn movie.
Either way, I had a crazy, sick time, baby bro! It was always more about the marathon than the show itself. There were more moments which I won't fit in here, but I had a blast with all my guests, including Jon Daly, Jack McBrayer, Lauren Lapkus, Chelsea Peretti, Brett Gelman, Matt Walsh, Mindy Kaling, Tracey Wigfield, Nick Kroll, Brandon Johnson, Paul Scheer, Thomas Middleditch, Joe Mande, Josh Fadem, John Levenstein, Curtis Gwinn, Seth Morris, Ali Waller, Scott Aukerman, Brian Huskey, Jonah Ray, Steve Agee, Dave Holmes, Paul Rust, Lesley Arfin, Shelby Fero, Johnny Pemberton, Pete Holmes, Jake Fogelnest, Megan Neuringer, Allan McLeod, Wendy Molyneux,  Billy Zane, Michelle Collins, Eric Appel, Zack Pearlman, Eugene Cordero, Emily Strachan, Dan Klein, Kelly Hudson, Alexandra Ozeri, Casey Gullickson, Jensen Karp, Gabe Delahaye, Ben Rodgers, Andy Secunda, Jason Berger, Anthony King, Kate Spencer, Pam Murphy, Caitlin O'Connor, D'Arcy Carden, Doug Mand, Dr. Drew, Johnny Bananas, Tommy Pistol, Kristen De Luca, Mary Elise Hayden, Malea Rose, and Tommy Pistol. Thank you to them and a huge thank you to everyone that watched. If you want to see Entourageathon in its entirety, the link to the live-stream is below. For more clips from the marathon, and for more updates, you can follow me on twitter @gilozeri.
Editor's Note: Currently the videos are not working on every browser and platform. Funny or Die is working on it.