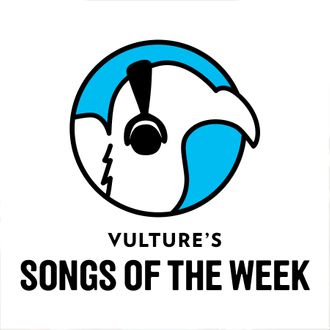 Every week, members of the Vulture staff highlight the best new music of 2015. We do not discriminate; as long as the song is worthy of your ears and attention, you will find it here. Read our picks below, share yours in the comments, and subscribe to the Vulture 2015 Playlist for a comprehensive guide to the year's best new tunes.
Willis Earl Beal, "Flying So Low"
"People had all these ideas about what I was supposed to be," Beal said in a statement with the release of the first single off his upcoming new album, Noctunes. "I had only ever wanted to make lullabies." If you've heard Beal's voice, this would instantly make sense. It's warm and rich, like what gravy looks like on television. So, consider this a warning: Don't listen to this, unless you work at one of those places that has hammocks in the office. —Jesse David Fox (@JesseDavidFox)
Beirut, "No No No"
Do you like music that sounds like Beirut? Then have you heard Beirut? You'll love it! —JDF
Leon Bridges, "Smooth Sailing"
Some music is written in our DNA. "River" by Leon Bridges is one of those songs. It's like we are hardwired to respond to it — emotionally, spiritually, and musically. Bridges's debut is one of the most hotly anticipated of 2015, and this week he dropped the new track "Smooth Sailing." It's got the throwback, 1950s soul vibe the Texas crooner has perfected, but with a funky backbeat. Bridges returns to New York this month for two sold-out shows. Hopefully you snagged your tickets early. —Lauretta Charlton (@LaurettaLand)
Donnie Trumpet & the Social Experiment, "Windows"
Ever since Donnie Trumpet & Social Experiment, a.k.a. Chance the Rapper's band, released their album, Surf, late Thursday night/Friday morning, I've had it on constant repeat. Partly because it is very good. Partly because I just want to live in it. Though this is not a Chance solo record, this is undoubtedly the world created by the rapper who once covered the theme song to Arthur. Over the course of his two acclaimed mixtapes, Chance made music about facing hard times with big-eyed hope. So, though Surf is music to hold hands in a circle to, it is never far from sadness. This is the second song in Chance's short career named "Windows," and it is a hell of a metaphor for trying to ignore problems that are just outside yourself. "Careful" is repeated over and over, as if a mantra. The music starts sparse, and minimalist, but builds to something almost tribal: Chance finds strength in the support. People have questioned Chance's decision not to capitalize on his considerable buzz by releasing a solo album. "Windows," his favorite song on the record, is the answer. —JDF
Flume feat. Andrew Wyatt, "Some Minds"
It takes far too long for the avalanche of synths to finally break on this song, the first new non-remix from Flume in quite some time. But when it does, it's a breathtaking surge of electricity — a reminder that Flume is still one of Australia's best imports in recent memory. —Dee Lockett (@Dee_Lockett)
Florence + the Machine, "How Big, How Blue, How Beautiful"
At long last, it has arrived!!! (Side note: The horns at the end of this song remind me of Black Adder.) —LC
Girlpool, "Cherry Picking"
I don't know what it says about the state of music that my two favorite albums this year so far are an independently released passion project from Chance the Rapper and his friends, and the debut album from a duo of L.A. teens co-signed by Willow Smith. To me, it says there's still a lot of soul left in the music industry beyond that small purview of Tidal and the streaming wars we get so caught up in following. That's the hope I hear in Before the World Was Big, at least. —DL
It Looks Sad., "Creature"
I am content with my status here as the boy who cried "guitar-tone." The production on this song is so freaking huge, with the guitars sounding like 50 guitars and two organs. Though they are from Charlotte, they sound British, in that it sounds like a shoegaze version of those early Kings of Leon singles that were huge in the U.K. —JDF
Lil Mama, "Sausage"
She can dance, she can sing, she can rap, and her lip gloss is still poppin'. Yes, New York's bite-size block-party queen is back with her first track in years. It's about one of your favorite breakfast meats, and it's delicious.—LC
Meek Mill, "Check"
Dreams Worth More Than Money may still have an open-ended release date hanging over its head, but if Nicki Minaj's new boy toy can keep pulling the trigger on this kind of heat, I won't complain. (It's a better apology than Sorry 4 the Wait, that's for sure.) —DL
Prinzhorn Dance School, "Reign" (Shit Robot Remix)
I somehow thought this dark and mesmerizing Brighton-based duo was named after the German psychiatrist and art historian, Hans Prinzhorn, who collected art created by mentally ill patients. It's not. It's the musical moniker for Tobin Prinz and Suzi Horn. We've written about them before. The band returns with the new album Home Economics. The lead track, "Reign," remixed here by Irish DJ Shit Robot, is a thumping industrial cut for all you club kids. —LC
Savannah Outen, "Boys"
Does YouTube star Savannah Outen trot out that same tired boy-obsessed trope Meghan Trainor (and so many other young female pop stars) are often forced to write — or just sing — about, on her new single? Yep. Is it a complete ripoff of Queen Britney's "Boys"? Mhmmm. Should you expect to hear it all over the radio this summer? You betcha. —DL
Do you like good music? Of course you do! Subscribe to Vulture's 2015 Playlist to hear the new music we're listening to every week.