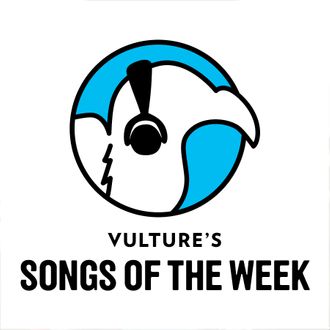 Every week, members of the Vulture staff highlight the best new music of 2015. We do not discriminate; as long as the song is worthy of your ears and attention, you will find it here. Read our picks below, share yours in the comments, and subscribe to the Vulture 2015 Playlist for a comprehensive guide to the year's best new tunes.
CFCF, "Radiance and Submission"
There's something special about a dude who shamelessly plugs that New Age lifestyle in his Twitter bio. Canadian electronic producer Mike Silver offers an excellent exercise in ambient listening. Take a deep breath, summon your mantra, repeat. —Lauretta Charlton (@LaurettaLand)
The Internet, "Special Affair"
The Odd Future alum embraces her sexuality on this steamy new bedroom jam. She's a grown-ass woman, and she's not afraid to talk dirty. —LC
Jay Rock, "Money Trees Deuce"
What happened to Jay Rock? For a time, he was primed to be the face of TDE, until Kendrick Lamar became King Kendrick. Even with one of the biggest — and most quotable — features on Kendrick's acclaimed debut, fame hasn't come easy for the Cali native as work with his Black Hippy collective has largely stalled (thanks to Kendrick and Schoolboy Q's solo success). Perhaps tired of waiting for his turn, Jay Rock returned this week with a sequel to his "Money Trees" verse in which he addresses the delay. (There's "always gonna be obstacles," he explains.) It might be time to start demanding Top Dawg give us Rock's next album. —Dee Lockett (@Dee_Lockett)
Muse, "Mercy"
Muse has returned to their rock sensibilities after dabbling in EDM on their last two albums. In the song "Mercy," they cry out for, well, mercy "from the powers that be." It's all, oh, we're all controlled by the plutocracy. Puppet metaphors are used. But if you liked "Madness" from The 2nd Law, you'll like this. Other standouts on the album include "Defector" and its titular song "Drones," a choral elegy that really belongs in one of Eric Whitacre's virtual choirs. —Eric King (@erickingdavid)
Shura, "White Light"
Some areas of pop are starting to rediscover what made the '90s so great, while others are still getting a feel for their inner Le Freak. Shura, the British singer responsible for one of the year's best songs in "2Shy," is one of the latter. Somehow, her newest release, a sprawling seven-minute celebration of decades before her time, is even better. Drop this at your next get-together and watch what happens when it hits its stride about six minutes in. —DL
The Weeknd, "I Can't Feel My Face"
It was only a matter of time before the Weeknd fully made his crossover into Bruno Mars pop-star territory, and it appears that time is nigh. Yesterday, Abel Tesfaye debuted his latest single (which leaked a couple of weeks ago) on one of the biggest stages of his career to date at Apple's Worldwide Developers Conference. At this point, Abel just isn't playing fair: "I Can't Feel My Face" is now the second impressive song we've heard that'll presumably appear on his forthcoming sophomore album, including "The Hills." And it comes after months of heating up the charts with his Fifty Shades striptease, "Earned It." Now he's officially entered the Song of Summer race by teaming up with pop hit-master Max Martin. As that name suggests, it's strikingly more uptempo and Michael Jackson influenced than the dark erotica he's generally known for and, as such, he'll likely catch a lot of flack from his Day One fans. But screw 'em, because "I Can't Feel My Face" feels more like a natural evolution of his (often repetitive) sound than a contrived label scheme. —DL 
Titus Andronicus, "Fatal Flaw"
Give musicians from New Jersey enough time and they'll eventually just become a Bruce Springsteen tribute act. (See: Antonoff, Jack.) If you want to have some fun, I suggest you try singing "Tenth Avenue Freeze-Out" over the top of "Fatal Flaw": It'll work just as well as you'd imagine. What I am trying to say is this song is as fun as standing back-to-back and sharing a microphone looks. —Jesse David Fox (@JesseDavidFox)
Todd Rundgren, Emil Nikolaisen, and Hans-Peter Lindstrøm, "Put Your Arms Around Me (Stereolab/The High Llamas Remix)"
If you are feeling slightly unnerved about how best to approach this project, you're not alone. It's a lot to take in, but this new remix feels like a good place to start. —LC
Travi$ Scott featuring Future and 2Chainz, "3500"
There was a time when all I felt for the new class of weirdo rappers — Travi$ Scott and his friends Rich Homie Quan and Young Thug — was indifference. I've since been put off by those last two, while my attitude toward Travi$ has greatly improved. Last year's Days Before Rodeo mixtape, the prequel to his highly anticipated debut album, Rodeo, indicated something smarter than Instagram gimmicks at play, particularly in the menacing "Mamacita." (There's a reason he's made fans out of the likes of FKA Twigs, Kanye, and Drake.) And I can't think of anyone else who could make me miss 2 Chainz. —DL
Widowspeak, "Girls"
In an announcement for the band's upcoming full-length All Yours, Molly Hamilton of Widowspeak writes that this new song was inspired by feeling insecure about — maybe even threatened by — younger peers, and why it's important to learn how to get over yourself. (Working on it, girl!) But that's not the only reason this new track is great. Cue the harmonica. —LC
Do you like good music? Of course you do! Subscribe to Vulture's 2015 Playlist to hear the new music we're listening to every week.