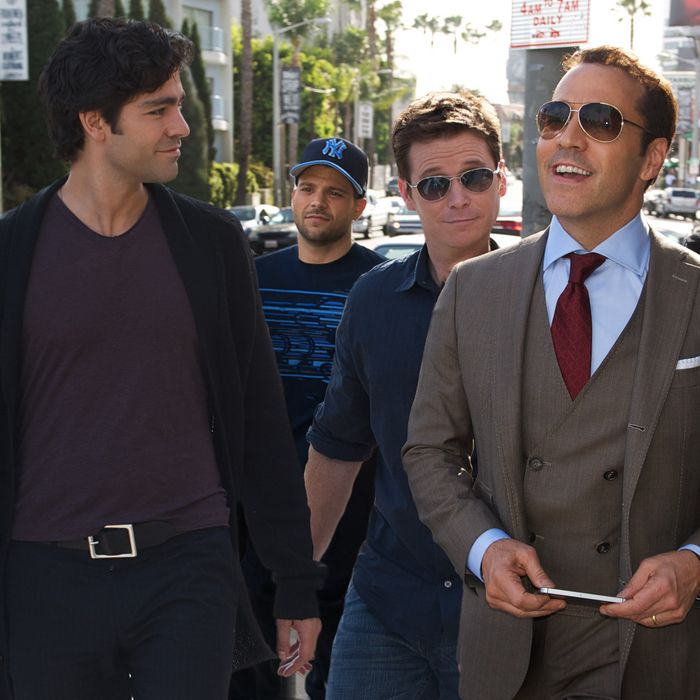 Photo: Claudette Barius/Warner Brothers
As it turns out, the ghastly ghoulies in the recent Poltergeist remake aren't the most terrifying things to come out of the TV and invade multiplexes this summer. That dubious honor goes to Entourage, the big-screen spinoff of HBO's most successful alpha-male bro-comedy (sorry, How to Make It in America), which arrives in theaters this Friday. It's been four years since Vince, Drama, Turtle, and E (don't forget E!) literally flew off into the premium-cable sunset, so the arrival of Entourage provokes almost as many questions as the final scene of The Sopranos did: Will Turtle become a successful restaurateur? Did Vince actually get married? WILL HE MAKE THE MOVIE? Does Ari Gold still treat Lloyd like shit? Will Bobby Flay walk the Entourage red carpet? (Is Bobby still such a weird kisser?) Does Ari's wife actually have a first name? And again, WILL VINNY MAKE THE MOVIE OR NOT?
But the most important question is this: How in the world did the Entourage movie get made? The four-year process of bringing the boys back together for one last ride turned out to be as convoluted and dramatic as, well, an episode of Entourage. Here's a chronicle of Doug Ellin's arduous climb in bringing this long-gestating summer sequel to life:
2008: While working on Entourage's fifth season, the boys look at another HBO show turned film — specifically, the just-released Sex and the City film — and start to get some very, very vague ideas. "We all went, 'Hmmm, maybe we could do something like that,' you know?" Kevin Dillon, who portrays possibly the show's only lovable character, Johnny Drama, claims in a recent Hollywood Reporter profile, revealing that he never watched Sex and the City but that "We thought maybe we could do a film as well."
August 7, 2010: In the middle of Entourage's sixth season, HBO programming president Michael Lombardo tells the Television Critics Association that the network's ordered a shortened final season of Entourage to air the following year. He adds that series creator Doug Ellin might write a follow-up film after the series concludes, but that Ellin is in the process of pitching other projects to the network, too.
Late August 2011: While doing press for his role in Spy Kids: All the Time in the World, Jeremy Piven claims that the cast is ready and willing to make a movie after the series' conclusion, placing the onus on Ellin: "They're basically like 'Write this movie' and he needs to pick it up. We need to get on this guy."
September 10, 2011: A day before the finale airs, Entourage lead Adrian Grenier states that the film is "100 percent" happening.
September 11, 2011: The final episode of Entourage airs.
September 21, 2011: Entourage executive producer Mark Wahlberg gives an interview to People in the very Entourage-esque location of the Palms Place Hotel and Spa in Las Vegas; he tells the paper that the film "better happen" and that "we're working on [a movie] as we speak."
December 11, 2011: Piven appears on The Talk to promote the terrible alternate-universe-Entourage drama I Melt With You and is asked again about the status of the Entourage movie. "So the movie's going to happen?" Sheryl Underwood asks, with Piven replying in a 90-degree pivot from Wahlberg's previous affirmations, "That's the rumor right now."
January 11, 2012: "People were complaining the episodes were too short," Wahlberg offers to GQ on the impetus for making an Entourage movie while promoting his latest actioner Contraband. He claims that "we're actively trying" to make the film and waiting on Ellin to begin writing the script, describing his cinematic vision for the endeavor as "a 90-minute movie of sheer craziness — the guys getting back to just being about the guys, you know? Lose the ladies. Go crazy. Give people what they want."
June 13, 2012: Wahlberg claims that the Entourage film will be set in an "exotic location." No word as to whether Ellin's script has actually been finished, though.
August 1, 2012: Lombardo and HBO programming co-president Richard Plepler tell the Television Critics Association that Ellin is "on page 65" of the Entourage film script and is "excited about it," but "it's not a done deal just yet. After we take a look at the script … we still have to make deals with the cast and see if this is something we want to do."
September 12, 2012: A year and a day after Entourage ceases to exist as a TV series, Deadline reports that — praise Lloyd — Ellin is pretty much finished writing the film's screenplay. He claims in an email to Deadline's Nikki Finke that Wahlberg has been "promising to kill me if I don't write faster. Everytime I see him, Mark says, 'I've made five movies this year. Get going!'" (Side note: If you read that quote while doing a decent Wahlberg impression, it's pretty believable.) Ellin says the film will pick up six months after the show's season finale left off, and attributes the delay to fatigue following the conclusion of Entourage (as well as several failed projects that were in development for HBO).
January 29, 2013: Warner Bros. officially green-lights the Entourage movie, with no set start date. "Getting everyone in the same place has been tough," Wahlberg tells MTV the following day, reiterating his desire to make sure the Entourage film is as bro-tastic as bro-ically possible: "I always just wanted to get back to where it was just about the guys. We had a lot of strong female characters, and I love those characters, but it really was always about the guys."
April 18, 2013: "I have to ask: are the rumors of an Entourage movie true?" asks "StoneRenegade" during a HuffPost Live interview with Grenier. "Yes, it's true … it's true, I'd say yes. The answer's yes," says an unsure-sounding Grenier. "Making movies is hard, so it's gonna take some time. I know you're anxious — I am, too." His anxiety is understandable: As of the interview, Grenier's last high-profile film role — romantic interest Nate, in The Devil Wears Prada — took place seven years previous.
August 11, 2013: "Hey @mrdougellin Twitter is dying to know. Are we doing the Entourage movie or not?" That tweet's from Kevin Connolly — he who plays Entourage's perpetually beleaguered, aspirant beta-male manager E — rather confrontationally directed Ellin's way. Ellin's response is short and telling: "trying to get everyone on board. Ain't easy."
September 1–10, 2013: Ellin fields a series of fan questions regarding the Entourage movie where he claims the film is "not on my hands," "seems impossible" to make, "not optimistic but still hoping" it'll be made, and that the likelihood of its existence seems "less and less likely every day." "Maybe Billy Walsh will direct it," he cheekily replies at one point, referring to the series' enfant terrible faux-auteur fictional director.  
September 11, 2013: Two years after the finale airs, the hammer drops: "Page Six" reports that the film was scheduled to shoot in May of that year, but contract negotiations are holding it back. Piven signed his contract a few weeks before the "Page Six" article, but the rest of the cast — specifically Grenier and Jerry Ferrara, who portrays perpetual pop-culture punch line Turtle — are still holding out.
October 15, 2013: Wahlberg is asked at LAX by TMZ when the movie's being made. "As soon as them guys stop being so greedy," he says.
October 18, 2013: In what is possibly the most Turtle-esque move he's ever pulled, Jerry Ferrara tells TMZ in response to Wahlberg's claims that he'd do the Entourage movie for free if need be. The same day, Grenier posts an impassioned statement to Instagram that includes the phrase, "I take my role as Vince on the show & off very seriously," which is hilarious.
October 28, 2013: VICTORY! The cast have worked out their pieces of the Entourage movie's $30 million pie. "It's a go. love you all," Ellin tweets, along with a cast photo that features Dillon wearing a hideous shirt.
November 20, 2013: Ellin takes to Twitter again to reveal the film's start date for shooting: January 16, 2014.
January 2014: Wahlberg be damned, the pesky female characters of Entourage are locked in place, as Perrey Reeves and Constance Zimmer are booked to reprise their roles as "Mrs. Ari" and movie exec Dana Gordon, respectively.
February 19, 2014: A month after Ellin's initially announced release date, Entourage finally starts filming.
February 25, 2014: Just over a month after shooting begins, Warner Bros. gives an official release date for the film: June 12, 2015. A legion of men's body-spray marketers and energy-drink street-teamers light candles and solemnly mark the date on their calendars.
March 11, 2014: Shooting is temporarily delayed (and a few plot points are shuffled around) after Connolly breaks his leg while playing football on set. These fuckin' guys, man.
January–April 2014: It wouldn't be Entourage without a ton of celebrity appearances and cameos, and thus a wave of castings hit the trades: Haley Joel Osment! Billy Bob Thornton! Bow Wow! Kid Cudi! Martin Landau! Emily Ratajkowski! Pre-Deflategate Tom Brady! Thierry Henry! Liam Neeson! Piers Morgan! Russell Wilson! Ronda Rousey!
March 28, 2014: … And there's casting news from the adult-film industry, too, as actresses Lilly Banks, Maia Davis, Spencer Scott, and Anna Morna are all confirmed to appear as well. "It was a great experience," says Morna, who shares a scene with Osment and Piven in the film.
October 24, 2014: Perhaps scared off by the prospect of opening against the potential juggernaut Jurassic World, Warner Bros. decides to move the release date for Entourage a week early, to June 5.
December 23, 2014: It's a Christmas Eve Eve miracle: The teaser trailer and first poster for Entourage are unveiled, along with the poster for Vinny Chase's movie-within-a-movie, Hyde. (The latter poster looks hilarious.) Additionally, it's revealed that EDM superstar Calvin Harris co-stars with Vinny in Hyde (confused? me too), entering Entourage in the competition for the Most EDM Movie of 2015 (a competition it will soon lose).
January 11, 2015: But wait! The movie's not done yet, as the cast is caught on the Golden Globes red carpet shooting last-minute footage with Al Roker (of course), marking the closest the Entourage movie will come to being involved with an awards ceremony in 2015.
March 24, 2015: A full-length trailer for Entourage is unveiled, as well as the revelation that the entire cast dies at the end of the film (just kidding). The movie looks … like a feature-length version of an episode of Entourage. Go with what you know, am I right, boys?
April 21, 2015: Entourage's release date is moved up two days to June 3, avoiding another potential box-office competitor: the Melissa McCarthy action-comedy Spy.
April 27, 2015: The first in a series of totally sick branding opportunities arrives with a Johnnie Walker promo featuring Johnny Drama that has not one but TWO twist endings.
May 14, 2015: Less than a month before Entourage's big-screen debut — bro, you stoked? BRO?!?! YOU STOKED?!?! If you weren't, maybe this short-film-cum-advertisement for Cadillac starring Jeremy Piven in a hilariously bad wig changed your mind.
May 20, 2015: A few weeks out, and the long road to bringing Entourage to the big screen is pretty much finished — or is it? "Warner Bros. is ready to move ahead with the script," Ellin tells The Hollywood Reporter about plans for — brace yourselves — ANOTHER Entourage movie. "But I'm not thinking about it till I see if people are into this one."