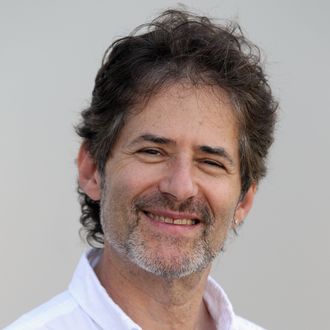 James Horner.
Photo: Sean Gallup/2011 Getty Images
James Horner, the revered Academy Award–winning film composer behind the scores for such powerhouse pics as Titanic and Braveheart, died Monday in a plane crash near Santa Barbara, according to multiple reports. He was 61. An avid pilot, Horner was flying his single-engine S312 Tucano before it went down around 9:30 a.m. (He was the only person onboard, and he was feared dead after his reps were unable to reach him.) The county coroner's office did not initially release the pilot's name, but The Hollywood Reporter and Variety later confirmed suspicions of Horner's death, the former citing a social-media post written by Sylvia Patrycja, his assistant.
"We have lost an amazing person with a huge heart, and unbelievable talent," Patrycja wrote on Facebook on Monday. "He died doing what he loved." The Federal Aviation Administration and National Transportation Safety Board are still investigating the crash, the L.A. Times reports.

Horner's first passion was music, and he was a prolific force in Hollywood. He composed for more than 100 films, and most notably won two Oscars for his work on Titanic — one for the score and another for the mega-hit theme song, "My Heart Will Go On." Horner nabbed several other nominations and kudos over the course of a nearly four-decade career, lending his talents to such films as Apollo 13, Aliens, Avatar, A Beautiful Mind, Jumanji, The Amazing Spider-Man, and Southpaw, among others. Born in L.A., Horner took up piano at an early age and moved to London to train at the Royal College of Music, before returning Stateside for undergraduate studies at USC and post-graduate work and a brief career in academia at UCLA. He got his start in Hollywood with AFI shorts and Roger Corman films, before climbing his way up the ladder to genre films and blockbusters. His trophy case also holds two Golden Globes and several Grammys. Celebs and industry-ites who worked with Horner took to Twitter late Monday to memorialize his life:
"My job … is to make sure at every turn of the film it's something the audience can feel with their heart," Horner told the L.A. Times in 2009. "When we lose a character, when somebody wins, when somebody loses, when someone disappears — at all times I'm keeping track, constantly, of what the heart is supposed to be feeling." RIP, Horner. He's survived by his wife and two daughters.

Here's Celine Dion singing "My Heart Will Go On," which Horner co-wrote with Will Jennings and went on to become 1998's best-selling single:
Update: Horner's reps at the Gorfaine/Schwartz Agency also confirmed his death later on Tuesday with a statement, via Entertainment Weekly:
It is with the deepest regret and sorrow that we mourn the tragic passing of our dear colleague, long-time client and great friend, composer James Horner. … Our thoughts and prayers are with James' family at this difficult time, and also with the millions of people around the world who loved his music. A shining light has been extinguished, which can never be replaced. It has been an honor and a privilege to have worked with James since the inception of our agency. For more than three decades, his unique creative genius made an indelible imprint on each of our lives and on those of the entire Hollywood community. There is not a person in our GSA family who wasn't touched by the power and reach of his music, and who isn't diminished by his loss. … [W]e take comfort in the belief that in his last moments, James was doing something from which he derived such great joy. His spirit will continue to soar, and he will be with us always.