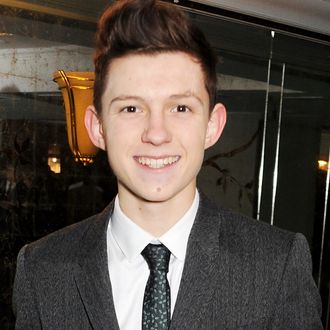 Your next Spidey.
Photo: Dave M. Benett/Getty Images
Nineteen-year-old British actor Tom Holland, or candidate No. 2, has been selected to play the next Spider-Man, following "a series of complex screen tests," Marvel announced Tuesday. The film will be directed by Jon Watts, who made Cop Car, starring Kevin Bacon, and will be released July 28, 2017.
Holland might be best known so far for his work as Thomas Cromwell's son in Wolf Hall, but he'll also be appearing this winter in Ron Howard's In the Heart of the Sea as a cabin boy who survives a whale-induced shipwreck alongside Chris Hemsworth, who can give him tips on how to lead a Marvel franchise. Sorry, other white-boy contestants, maybe you should have uploaded some Spider-Man stunts onto your Instagram.