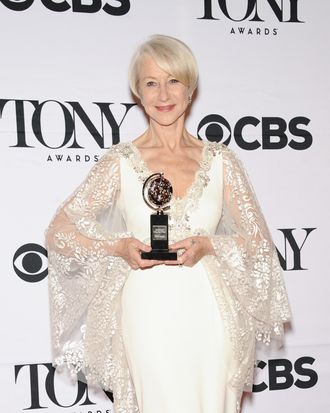 Helen Mirren, a G away from EGOT.
Photo: D Dipasupil/Getty
After winning her Tony Award on Sunday, Helen Mirren strode into the press room carrying a cocktail, which she handed to a staffer before navigating the steps to the stage, muttering, "Stairs, heels, drink. Lethal combination." The cocktail, she told Vulture, was a vodka gimlet. "It's really good!" And so the evening began, from the Anna Wintour–approved, greenery-laden red carpet to O+M's legendary Carlyle after-party, which was so big that it overtook not only a large 22nd-floor duplex suite but also the hotel's Bemelmans Bar, Café Carlyle, and even the lobby itself. Vulture took notes from behind the scenes at the 2015 Tony Awards, where Helen Mirren professed her desire for an EGOT and Darren Criss tried to start a beef with Alex Sharp.
Helen Mirren totally wants that EGOT.
Upon being reminded that with her Tony win for The Audience Helen Mirren is now only a Grammy away from EGOT status, she said, "I know! I really want a Grammy! It's terrible, isn't it? I do. I'm going to have to do an audiobook of some sort." She says she has no plans to do that at the moment, but: "I'm thinking about it!"
Annaleigh Ashford wore good-luck underwear.
Back on the red carpet, Masters of Sex star Annaleigh Ashford wished herself awards-night luck in a funny way: "I changed my underwear," she laughed. "I did go through a whole thing where I was like, should I wear Spanx? But I didn't have to with this dress, so that was great." The strategy seems to have worked, as she took the prize for featured actress in a play for You Can't Take It With You.
Kelli O'Hara is Susan Lucci no more.
The journalists gathered in the press room actually burst out in cheers when Kelli O'Hara won the Tony for her role in The King and I, her first win after six nominations. "Wow, thank you," she said once she took the stage. "I've never been to one of these things. What do I do?"
Darren Criss sent Alex Sharp a six-pack of (nonalcoholic) beers.
At the Tony Awards Gala at the Plaza, we spotted Sharp sitting at a table with his Tony statuette and asked how he planned to celebrate. "Well, I've been sober for about six months, because this part is so strenuous that I have to protect my voice," he said. "I'm going to break my sobriety, that's how I'll celebrate. It's probably only going to take one beer and I'll be toasted." Darren Criss passed by and heckled Sharp: "Boo! Your play sucks, nobody saw it!" "Shut up, you Neil Patrick Harris wannabe," Sharp shot back. A burgeoning Broadway feud? Not quite. "Darren Criss is a legend," Sharp said. "He sent me — because I've been sober, he saw that in an interview — he sent to my dressing room earlier today six amazing nonalcoholic beers. So he's such a lovely guy, that was an amazing act."
Criss later told us it was an artisanal German beer called Clausthaler. "It's excellent, and so I thought of Alex, and I knew he was going to win tonight, so I sent him a case this morning as a preemptive you're probably going to win, so cheers!"
Darren Criss has had to cut back on drinking, too.
Criss explained that because he, too, is doing a physically demanding role in Hedwig, he has cut back on the spirits. "My father actually tricked me the other day, because he's had to stop drinking, and he's a big beer fan," Criss said. "I went over to the house in San Francisco, and I said, 'Dad, you're drinking.' And he said, 'Yeah, I'll have a beer with my son.' I go, 'All right, cool. Are you sure this is okay?' And he's like, 'It's fine.' So I have this really nice glass of beer, just beautiful beer, and he's like, 'I gotcha! That was nonalcoholic.' I was, like, 'What?! No! Dad, I never thought I would see the day that a Criss would drink a nonalcoholic beer. Like, what world is this?'"
Michael Cerveris has no idea what he said in his acceptance speech.
Most of the cast of Fun Home arrived at the Carlyle around 3:30 a.m., including Michael Cerveris, who took home the award for best lead actor in a musical. "By the time my category came around, I had no idea what to expect, and I was ready for anything," Michael Cerveris told us. "But apparently not ready, because I don't even know what I said. I have to go watch my DVR to find out what I actually said. Except that I brutalized Robbie Fairchild's name, and I adore him as a dancer and performer and actor, and I feel terrible about that."