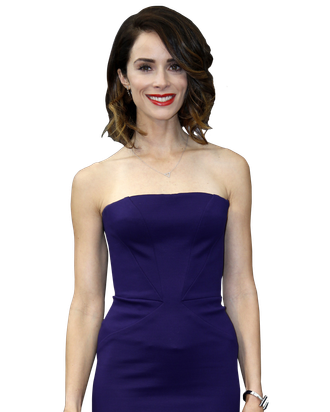 Photo: Valery Hache/AFP/Getty Images
Abigail Spencer is lost in Provence. "I don't know what happened," says the actress, who's in Europe for a TV festival, via cell phone. "The French GPS in the car took us to the middle of nowhere." Spencer clearly knows where she's going in her career, however: She's got key roles in two of the summer's most anticipated shows: HBO's True Detective and Sundance's Rectify, which returns July 9. Spencer discussed playing Gena, the ex-wife of True Detective's troubled cop Ray Velcoro (Colin Farrell), their complicated backstory, and how she got the part.
How did you work out the schedules to do both True Detective and Rectify?
Honestly, I don't even know how that happened. It was kind of magical. [Executive producer] Nic Pizzolatto offered me the part. He thought of me for it, and he's good friends with Rectify's producers. True Detective was so lovely. They were just like, "We'll make it work. We'll work around your schedule." I was like, "Really? Okay!"
Do you know why Nic thought of you?
It's so funny: He knows me from Burning Love, this [Bachelor parody] show that Ben Stiller produced. Nic loves comedy. It's kind of a niche to be a superfan of that show.
Rectify and True Detective are both so intense. Are you ready for another comedy next?
Yeah, that's what I told Nic: Can we do a comedy together? Everyone was saying Colin and I deserve a comedy. He and I have a lot of chemistry, for lack of a better word. We really enjoyed working together. I felt like I had an incredible partner.
Was the scene with Colin in Sunday night's episode — when you threaten to take away his son — as intense to shoot as it is to watch?
I feel like it happened to me. It was painful. Nic prepared me very well. He and I really conversed about the history of Gena and Ray. As much as he gave me, he also gave me a lot of freedom to bring all of my instincts to her. I had met with him to audition for Rachel [McAdams]'s part on the show — and she's amazing. I have a lady-crush on Rachel. Nic's a very intuitive, instinctual writer, and he had a sense that I had what he wanted for Gena.
How did knowing Gena and Ray's backstory help prepare you?
Because we'll never see it, it's so important to feel all the pain of what they lost. People don't fight for something when they have a child together if there wasn't deep love and pain and a sense of loss about their lives. Colin and I just jumped into it. There wasn't a lot of conversation. We just kind of knew.
Do you think she means everything she says about how he's a bad man and bad for their son, or does she have some conflicted feelings about him?
I think she's conflicted. That's more interesting to me. What I drew upon personally is you're always hoping someone will make what you think is the right decision, so you don't have to. You're hoping someone will change, or it'll be like, "Let's just get on the boat together." You're always giving someone an opportunity to make that choice. She deeply wants Ray to make the right choice. She just wants to feel that she and her son are safe. She feels pushed to a limit to make some bigger changes.
Is that why she chooses to confront him in person?
When you have a child with someone, you just can't text or email or talk on the phone. When you see someone face to face, it gives you an opportunity to see their humanity. Gena's very human. She's been living for a long time with Ray as a father. So I think there is love under it all.
When he refers to "what I did for you" — presumably meaning killing her rapist — how does that play into her feelings?
There's a lot of inner conflict around that, which is going to play out over this season. All will be revealed about how she feels about that.
Do you expect people will be more or less sympathetic to you or Ray?
I don't know. I hope they feel for both players. That's good storytelling. I hope you can hold space that they're both right and wrong, and you feel for both of them. That would be my ultimate goal. These tragic characters, you're still rooting for them, and you feel divided. That's the complexity of humanity. I hope people feel empathetic and supportive and angry and all of it.