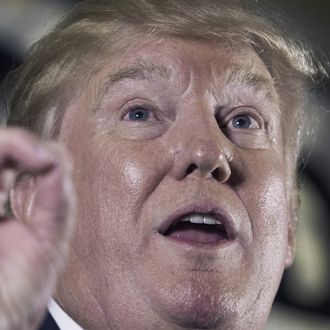 Trump.
Photo: Paul J. Richards/Getty Images
Wealthy American Donald Trump is trying to show everyone he's a man of his word by following through with his threat to sue Univision for $500 million. Trump is seeking $500 million because he claims the broadcaster tried to stifle his freedom of speech and abandoned its contract when it cut ties with him and Miss USA last week, the New York Times reports. "Nothing that I stated was different from what I have been saying for many years," Trump said in a statement, referring to his bone-headed comments about Mexicans, which have quickly begun to turn his allies against him.
He and his team filed their complaint in New York Supreme Court on Tuesday. "We just reviewed Mr. Trump's complaint for the first time, and it is both factually false and legally ridiculous," Univision rebutted in a statement. "We will not only vigorously defend the case, but will continue to fight against Mr. Trump's ongoing efforts to run away from the derogatory comments he made on June 16 about Mexican immigrants." The news comes a day after NBC turned the tables and fired Trump; he's hinted he'll sue NBC too.
As Mashable points out, Trump's pageant is still happening and will livestream July 12 from Baton Rouge. But the hosts are out, including Cheryl Burke, who had this to say:
In light of the recent statements made by Donald Trump and the subsequent decision by NBC to cut ties with Mr. Trump, I cannot in good conscience move forward with participating in this year's Miss USA Pageant as its co-host. Effective today I have withdrawn from my duties with Miss USA. Although I will not be there in person, I wish all of the contestants much luck as I know how hard they've all been working over the last year to try and realize their dreams.
Apparently, this isn't over until Trump says it's over.