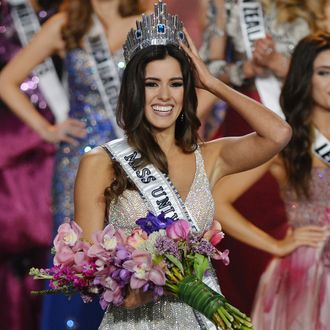 "You're fired!" Univision says.
Photo: Larry Marano/Getty Images
In his quest to become America's next president, Donald Trump used a significant portion of his campaign announcement to insult Mexican immigrants. "When Mexico sends its people, they're not sending their best. They're sending people that have lots of problems, and they're bringing those problems with us. They're bringing drugs. They're bringing crime. They're rapists. And some, I assume, are good people," he said. Since then, Mexico has threatened to withdraw from the Trump-owned Miss Universe pageant, and Latin singer J Belvin canceled his Miss USA performance. Now Univision is sending an even louder message: The world's largest Spanish-language network will not broadcast the upcoming Miss USA pageant or any of Trump's Miss Universe Organization pageants, it announced on Thursday.
In January, Univision signed a five-year contract for the broadcast rights to the the Miss Universe and Miss USA pageants, and the network had planned to simulcast the event in Spanish for the first time.
Trump told Politico that Univision is backing out of an "iron-clad" $13.5 million contract.
Later in the day, he said he plans to sue Univision. "We intend to pursue all legal rights and remedies available to Mr. Trump pursuant to the terms of the license agreement as well as a defamation case against Univision," Michael Cohen, Trump's executive vice-president and special counsel, told Reuters. "The lawsuit is going to be for hundreds of millions of dollars."
Then Trump decided to address the growing controversy in the third person, which is almost always unwise. "They don't want me saying that Mexico is killing the United States in trade and killing the United States at the border," Trump told the AP. "Univision is totally laying down for the Mexican government. … They want to silence Donald Trump. And Donald Trump can't be silenced. … I have great respect for Mexico and I love the Mexican people, but my loyalty is to the United States."
The Miss USA pageant is still set to air on NBC on July 12, and the network has said nothing about pulling its broadcast. However, NBC did attempt to distance itself from Trump (who also stars on the NBC program Celebrity Apprentice). "Donald Trump's opinions do not represent those of NBC, and we do not agree with his positions on a number of issues, including his recent comments on immigration," NBC said.
This post has been updated throughout.