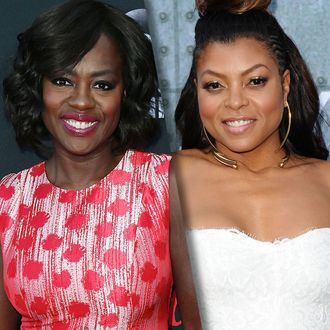 Viola Davis and Taraji P. Henson.
Photo: Getty Images
For The Hollywood Reporter's latest cover story, the magazine gathered a few of the best women on TV — Viola Davis, Taraji P. Henson, Jessica Lange, Maggie Gyllenhaal, Lizzy Caplan, and Ruth Wilson — for a roundtable interview. In it, the A-list actresses had a frank and eye-opening conversation about playing polarizing women, why actors are making a mass exodus from movies to TV, sexism, and their dream roles. ("I want to play a superhero. I want to be a Bond girl. I want to play a man. I want to play a white woman," Taraji declared.) One of the most revealing moments in their lengthy discussion revolved around the topic of how each actress is redefining sexuality onscreen, particularly in how they approach sex scenes. For her first sex scene ever, in Baby Boy, Henson says she "went home and stripped down naked, stood in front of the mirror and looked at every morsel of my body, and I dealt with it. The next day, I was so free. I was so ready." Wilson says that for her sex scenes with Dominic West in The Affair, she wants the sex to feel reciprocated. "There are assumptions that women are always the focus of titillation," she says. "And I wanted my contract to say: 'For every female orgasm, there had to be a male orgasm.'"

The other actresses followed with their own methodology to sex scenes:
GYLLENHAAL: I was never the actress asked to be the hot girl who took her clothes off on her first day of work. I was never objectified that way. But in The Honorable Woman, my character Nessa is so controlled, I wanted the sex to be animal. Unfortunately, it was the BBC and so it couldn't be totally animal. (Laughs.) Also, I wanted to show what a woman my age actually really looks like. I am much more turned on when I see people's bodies that look like bodies I recognize.

CAPLAN: On Masters, there are women of all ages and body types. It's very equal-opportunity.

DAVIS: It's courageous because even when you see sex scenes in the theater, it's like, "OK, she's been to the gym four times today."

GYLLENHAAL: "I'm only going to have a smoothie for breakfast."

CAPLAN: You think you have some control if you have that one smoothie.

DAVIS: I refuse to drink a smoothie for breakfast to get down to a size 2. It's just not going to happen with me. I've done a couple of sex scenes in How to Get Away With Murder, even one where was I thrown up against the wall, and I'm like, "I really don't want to get thrown up against the wall anymore." I threw my back out! (Laughter.) I had to just allow myself to be uncomfortable. I'm not going to stand in front of a mirror, or else Viola will kick in and go, "OK, my titties are saggy and I have stretch marks."
Here's a clip from part of their great conversation.