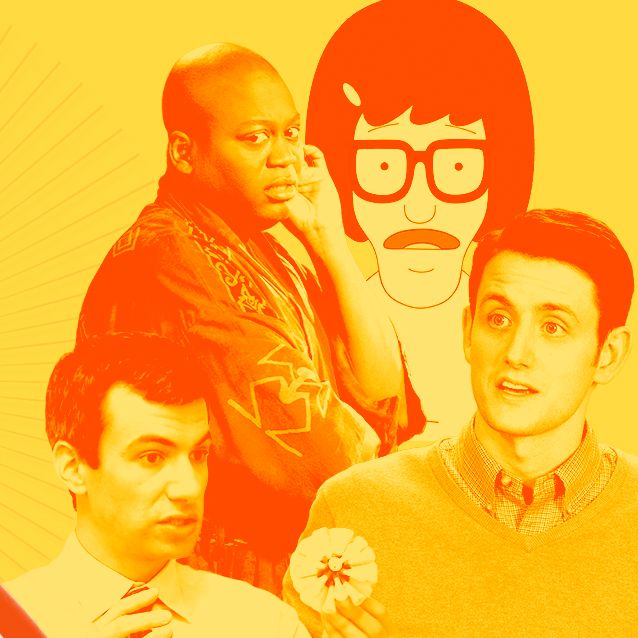 Photo: Maya Robinson and Photos by CW, Comedy Central, Netflix, FOX and HBO
All this week, the Vulture TV Awards honor the best television from the past year.

The nominees are:
Jaime Camil, Jane the Virgin
Zach Woods, Silicon Valley
Tituss Burgess, Unbreakable Kimmy Schmidt
Nathan Fielder, Nathan for You
Dan Mintz, Bob's Burgers

And the Best Male Comedy Performer is …
Jaime Camil, Jane the Virgin
Jane the Virgin had a truly special first season, nimbly managing a humorously convoluted plot, story lines that bounced from preposterous to earnest and back in a matter of minutes, a telenovela construct with a heart of pure joy. Jane is always doing several things at once.
Tone is a tough thing to master. And yet that's what defined JTV's success in so many ways: its ability to be a lot of things all at once, ultimately feeling only like itself. Chalk a sizable chunk of that up to Jaime Camil's performance as Jane's long-lost father, Rogelio, a telenovela star with an outsize ego (and an outsize heart to match). His phone alarm sings, "It's another beautiful day to be Rogelio!" He fears leprechauns and acne. He's goofy, but he's also someone with depth and purpose. Camil's performance has plenty of comic flare, yet he gives Rogelio big feelings that still feel true somehow.
About halfway through the season, Rogelio helps Jane get a job writing for his telenovela, The Passions of Santos. Unfortunately, her big assignment is to write the episode where his character — Santos! — is killed off. ("You cannot have The Passions of Santos without Santos. That is just Passions, and that show failed," he pleads.) We see this death scene that Jane wrote, and it's actually pretty damn good. So good, in fact, that Camil-as-Rogelio-as-Santos made me cry. How do you wring emotional veracity from an absurd character playing an even more absurd character, and make it both affecting and funny? Leave it to Camil and Jane the Virgin to find a way to cram a variety of emotions and series of delights into any given moment.