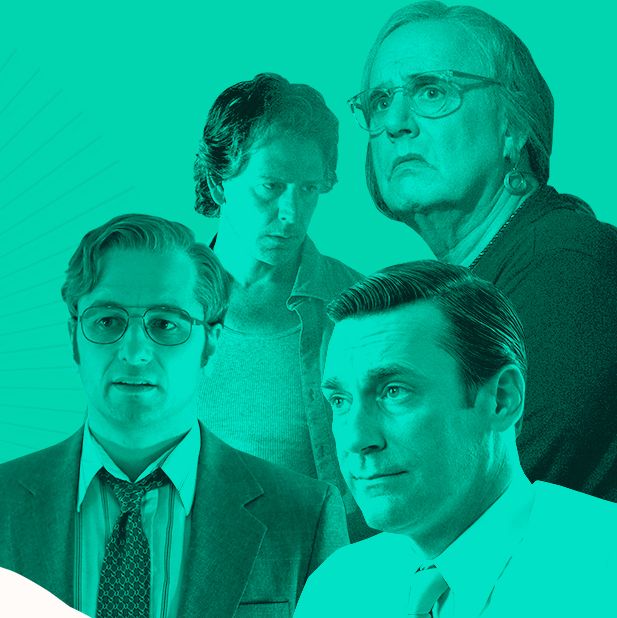 Photo: Maya Robinson and Photos by Cinemax, FX, Netflix, Amazon and AMC
All this week, we're presenting the Vulture TV Awards, honoring the best in television from the past year.

The nominees are:
Matthew Rhys, The Americans
Ben Mendelsohn, Bloodline
Jeffrey Tambor, Transparent
Jon Hamm, Mad Men
André Holland, The Knick

And the Best Male Drama Performer is …
André Holland, The Knick
When did André Holland become indispensible? Sometime in the last year, probably — and it seemed to happen all at once. He went from "Who's that guy?" to "I'll watch that guy in anything" in the space of about three months. I'd liked Holland as Marshall Malloy in NBC's mostly terrible 1600 Penn and as Wendell Smith in the Jackie Robinson biopic 42, but prior to that he'd been cast mostly in small parts that didn't exactly sear themselves into the mind. Then, all of a sudden, there Holland was playing a lead role on Cinemax's Boss Tweed–era hospital drama The Knick: Algernon Edwards, a Harvard-trained surgeon whose race marginalized him even though he was just as innovative and much more focused than his boss, John Thackery (Clive Owen), an arrogant, opium-addicted white man. No offense to Owen, who's magnetically gloomy and often slyly funny as Thackery, but when I think of The Knick, I picture Holland hunched over a surgical table, moving his hands around inside a bloody torso and giving smug co-workers the side-eye.
It's tempting to chalk up Holland's power to good writing and smart casting. Algernon is a great role — maybe the richest one in The Knick's ensemble cast, thanks to his volatile mix of pride, competiveness, moral fervor, and intellectualized machismo. The character is also the closest thing The Knick gives us to that old period-film cliché, the Visionary Born in the Wrong Era, which means he's the closest thing we get to an audience surrogate. The passive-aggressive condescension and blatant racism directed at Algernon earn him instant sympathy, along with a certain amount of tut-tutting from viewers who imagine themselves morally superior to the era that writers Jack Amiel and Michael Begler and director Steven Soderbergh bring to life. Algernon's struggle to maintain dignity in undignified situations has an early Sidney Poitier quality, and when he snaps and lets all of that suppressed anger out, suddenly he's late-'60s Poitier, demanding to be addressed as Mr. Tibbs. But there's more going on here than insults and redress. Algernon is a brilliant man who recognizes that most of the obstacles placed between him and happiness — professional, at the Knick, or romantic, in his secret relationship with the white socialite Cornelia Robertson (Juliet Rylance), who experiences her own variety of discrimination — are social constructs. They are frustrating not just because they exist, but because they are so clearly arbitrary and nonsensical. So maybe Holland is just the right guy in the right role?
Well, no — and it's here we circle back to Holland's sudden promotion from just another name on IMDb to actor you'll follow anywhere. After The Knick finished its first season, Holland could be seen in two major theatrical films, playing civil-rights organizer, future U.N. ambassador, and Atlanta mayor Andrew Young in Selma, then an illiterate drug addict and absentee father named Reggie in Black or White. In each role he was Knick-level perfect; in fact, if you'd seen him as either Reggie or Young, you might also imagine that it was a case of the actor and the part matching perfectly, when in fact what we have here is an actor who is perfect for everything.
He's masterful in The Knick. Just watch how he listens to people, so intently that even when he's way in the back of a wide shot filled with other actors, your eye keeps gravitating toward him to see what Algernon thinks of whatever's occurring in the foreground. Look what he does with his hands, not just in the surgery scenes but in casual conversations; he's much more demonstrative, more free, with other black characters, and only slightly less so with poor immigrants of other races, than he is with the surgeons and administrators at the Knick. He moves more deliberately at the hospital, as if he's instinctively measuring every gesture to make sure it doesn't alarm any of the whites — unless he means it to, and when he does, you know, because you see him thinking before he acts. There's a plot-adjacent, but entirely separate TV series happening in Holland's facial expressions. We aren't just watching a character move through a particular time and place; we're watching him think about what it means to be that person in that time and place, and come to terms with its possibilities and limits. It is more exciting to watch André Holland think than it is to watch almost any action scene I can think of. You always know what his character is feeling, but never what he's going to do next. He's a star.