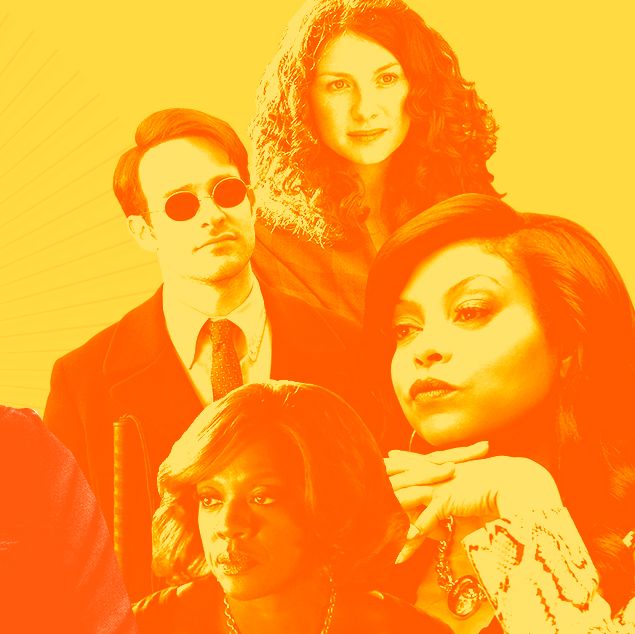 Photo: Maya Robinson and Photos by Amazon, Netflix, Starz, FOX and ABC
All this week, the Vulture TV Awards honor the best television from the past year.

The nominees are:
Outlander
How to Get Away With Murder
Transparent
Empire
Daredevil

And the winner is …
TV doesn't have to be tender, but it can be. It doesn't have to be loving, but it can be. It doesn't have to be naturalistic, or aesthetically beautiful, or deeply invested in finding both the most and the least flattering facts about its characters. TV doesn't have to be a force for social good, but it can be.
And so we have Transparent, Jill Soloway's gently brilliant family dramedy. The show centers on Mort's transition to living as Maura, but that's a loose centering: Every Pfefferman is in transition and noodles with the idea that we all are. Knowing yourself is hard. Knowing other people is hard. When do our lives truly begin: At birth? When we become our truest selves? When we stop caring what other people think? When do our lives truly end: When we die? When we're forgotten? When we fail to live authentically? If you were never really you, were you ever really alive?
Jeffrey Tambor plays our heroine, finally making public what's been a private secret her whole life. But Maura's not squeaky clean; she was perhaps not the most present parent, and yet she marvels at how her own children grew up to be "such selfish people." She's not wrong — they are selfish people — but it's interesting to watch a character who can only see parts of her selfhood clearly. Maura is brave, absolutely. But she's other things, too, and not all of them are good.
The first time I watched Transparent, I was moved by its story, and taken with how substantively the show portrays sibling relationships, the ways in which they'd all say they're nothing alike, even though they're clearly baked from the same batch. The second time through, I noticed how much the show teases out ideas of changing-while-not-changing; "I'm still me," Maura reminds her ex-wife (Judith Light, a treasure). It's a blessing and a curse throughout the series. You can move houses and leave your husband for a woman, but you're still you, Sarah. You can stop dating much younger women and instead fall for a together, compelling rabbi, but you're still you, Josh. You can do drugs and stall out over and over, but you're still you, Ali. The third time through, I noticed much more of the show's slow poetry, the repeated water imagery, how often we physically see characters standing in inner and outer circles (around a dinner table, or standing aside; on a dance floor, or hanging back; pallbearer or not, et cetera). Transparent feels like a linear story in a lot of ways, but I've seen so many episodes out of order, and I'm struck by how well it hangs together, even shuffled. That's how change works, right? You think you've changed so much, so obviously, so dramatically, but it's never really that obvious or permanent or real. Maybe I'm the same as I was four episodes ago.
And maybe not. Maybe Transparent changes TV forever, for trans characters, for trans performers and crew members, for Amazon, for Soloway. Or maybe it's like the show says, and change is one of those things that's very difficult to conceptualize, and it's hard to ever tell where we are because we're always in the middle of things. Cue up the dreamy '70s rock, and enjoy the view from these well-appointed Los Angeles homes. We're all doing the best we can.