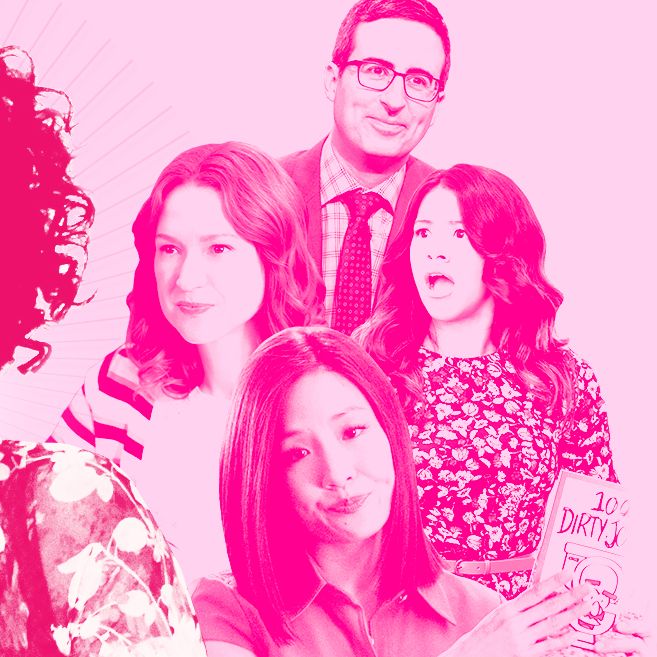 Photo: Maya Robinson and Photos by ABC, Netflix, Comedy Central and CW
All this week, the Vulture TV Awards honor the best television from the past year.

The nominees are:
Fresh Off the Boat
Unbreakable Kimmy Schmidt
Black-ish
Jane the Virgin
Last Week Tonight With John Oliver

And the winner is…
There are a lot of recent sitcoms and sketch shows that plausibly lay claim to the adjective revolutionary, including Key & Peele, Inside Amy Schumer, Jane the Virgin, Fresh Off the Boat, and Transparent. But Black-ish is by far the sneakiest, because when you're watching it, the tone is so disarmingly relaxed that it takes a while to realize that what you're seeing is at all unusual. The show's narrator, advertising executive Andre "Dre" Johnson, isn't just an educated, upper-middle-class black man with a house in the suburbs, three smart-alecky kids, and a beautiful, kooky surgeon wife named Rainbow (Tracee Ellis Ross); he's the anchor for a weekly referendum on African-American life, and race relations generally, that's very specific in its humor but presents every joke in such a brisk, confident way that it feels as though it's been on the air forever. It's the first sitcom that entirely ignores the idea that black characters' stories must be mediated for white viewers' sensibilities. Instead, it assumes that the stories are so inherently interesting and funny and familiar that it can simply tell them, and that an audience of millions will watch and listen. 

First-season plotlines dealt with homophobia and marriage equality, the deracinating effect of white private schools on black teenagers, the ingrained pressure on black men (and all men, to some degree) to act as if they're ready to throw hands at a moment's notice, the generational sparring over the usefulness of corporal punishment, and the racially hypocritical attitudes that parents didn't realize they had until their daughter brought home a boyfriend with a different skin color (and from France, yet). Interspersed with these stories are ones that might've just as easily appeared in a '70s or '60s sitcom: Dre's panic over mortality after hurting himself on the basketball court right before his 40th birthday; Dre and Rainbow's constant low-level struggle to keep their basically happy marriage vital; and the chemistry between Dre's divorced father (Laurence Fishburne) and mother (Jenifer Lewis), who share a physical attraction so powerful that it periodically blinds them to the fact that they can't stand each other. Created by Kenya Barris and briefly overseen by Larry Wilmore (who stepped down to host The Nightly Show on Comedy Central), Black-ish was a vigorously confident series from its very first episode, but it has only grown more assured with each week; by the time its season finale rolled around, it had mustered the gumption to air a period-detailed flashback episode set in Harlem in the '20s. The key to its success is its mix of warmth and directness. It fuses the defiant individuality of The Bernie Mac Show and the knockabout goofiness of Malcolm in the Middle. And if it's this good already, can you imagine where it'll be a year from now?