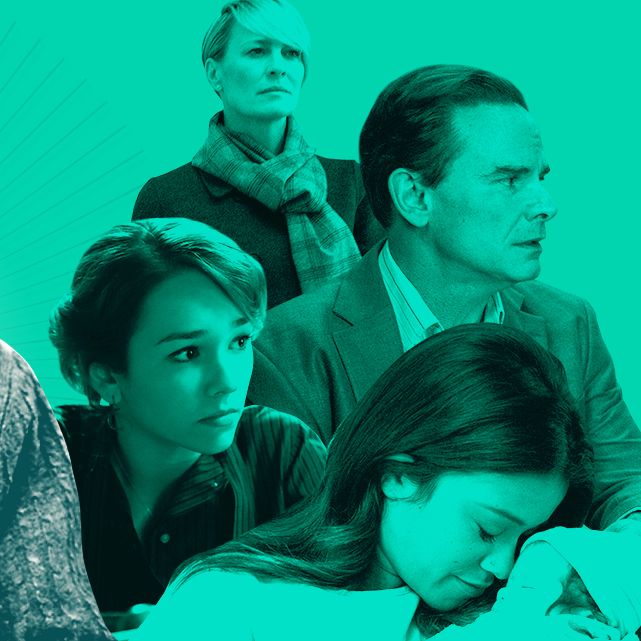 Photo: Maya Robinson and Photos by HBO, FX, Netflix and CW
All this week, the Vulture TV Awards honor the best television from the past year. Here, Black-ish creator Kenya Barris selects the craziest plot twist of the year.

The nominees are:
Jane's baby is stolen, Jane the Virgin
Elizabeth and Philip tell Paige who they are, The Americans
Hannah's dad is gay, Girls
Claire leaves Frank, House of Cards
The Jinx finale
And the winner is …

The Jinx finale
"B-E-V-E-R-L-E-Y." That's when things got crazy. Okay, wait, l'm sorry. I got excited all over again. Let me go back. This year, HBO did something I haven't seen in … well, I haven't seen. They not only entertained us in a completely unique and jaw-dropping way, they caught a murderer!
The Jinx: The Life and Deaths of Robert Durst is a documentary series directed by Andrew Jarecki that follows the criminal mishaps and general creepiness of New York heir Robert Durst, who over the last 30 some-odd years has been a suspect in a series of disappearances, murders, and horrific haircut choices. Week after week, in six riveting episodes, Jarecki managed to build the carved limestone of this weirdo's life into what would eventually become TV's equivalent of the Great Pyramid of Khufu.
In a plot twist no one saw coming, Jarecki convincingly managed to play the emotional equivalent of Mozart's Figaro, with each new bizarre turn hitting like a staccato jab-punch on an operatic music sheet full of clearly defined yet equally nutty moments that crescendoed us through the series until its climactic culmination that left the "Fat Lady" not just singing but saying, "What the fuck just happened?!"
The thing I loved most about The Jinx was that at different moments during the series, you found yourself not only truly invested but genuinely conflicted. The evidence, witness interviews, graphic reenactments, personal interactions with Durst, and overall tone of the narrative were constructed in much the same way a master storyteller would hold court with a salon of his peers. Sipping cognac from a snifter, mixing the fine liquid in front of a fireplace while deftly piloting a tale of intrigue to his compatriots, all of whom are completely enthralled in the yarn being woven but none of whom have any idea where the story is taking them.
By episode four, I, like everyone else watching, found it mind-blowing that Durst, who by this time, in addition to being just generally way-too-arms-length connected to a shitload of various acts of mayhem, had admitted to killing, dismembering, and subsequently dumping a neighbor's body into Galveston Bay but was still somehow out of jail and walking around like the Starbucks-drinking nutcase he is. But then, like any good plot twist, something even more bonkers happens. In episode five, we find out that a close "friend" of his has been murdered in her apartment, and the killer actually sent a letter to the police! A letter! 
This takes us back to where we began. The letter sent to the police notifying them of the corpse had conspicuously misspelled the word Beverly as B-E-V-E-R-L-E-Y in the same exact distinguishing block-lettering that he had used on a letter that he sent to … wait for it, wait for it … the woman's nephew, whom he had befriended! The nephew contacts Jarecki and shows him the two letters for comparison, and Jarecki, in true reality-producer form, says that he can't be positive whether the two (obviously identical) handwritings are the same, and that he needs to do one more interview with Durst, in which we know he'll confront him about the letters. Are you feeling it yet? You should. It gets better. Jarecki sets up another meeting, confronts Durst about the letters, watches his twitching eye-blink of a tell go into spastic blast-off mode, and then concludes the interview. As a viewer, what we have just seen is enough to make us throw the remote control across the room in glee. But then … it gets even better! Durst goes into the bathroom, and seemingly, forgetting he is mic'd, confesses to all the murders! If you had thrown your remote, this moment is enough to make you go pick up the broken device, glue it back together, and throw it again. 
There's never been a moment like this in history. In fact, as a series, The Jinx was so successful that it has launched an almost new form of television genre under the subset of reality television, ironically coined by Durst's own attorney as sensationalized docudrama, or, as I like to call it, thrill-ality TV. Interestingly enough, The Jinx owes a lot of its initial attraction to its digital podcast cousin, the equally addictive "Serial," from the creators of "This American Life." But where "Serial" left off, The Jinx picked up and carried the ball in for a game-winning touchdown, complete with a spike and end-zone dance the likes of which we haven't seen since the Ickey Shuffle.
The Jinx finale was by far, without question, the best plot twist of the year.