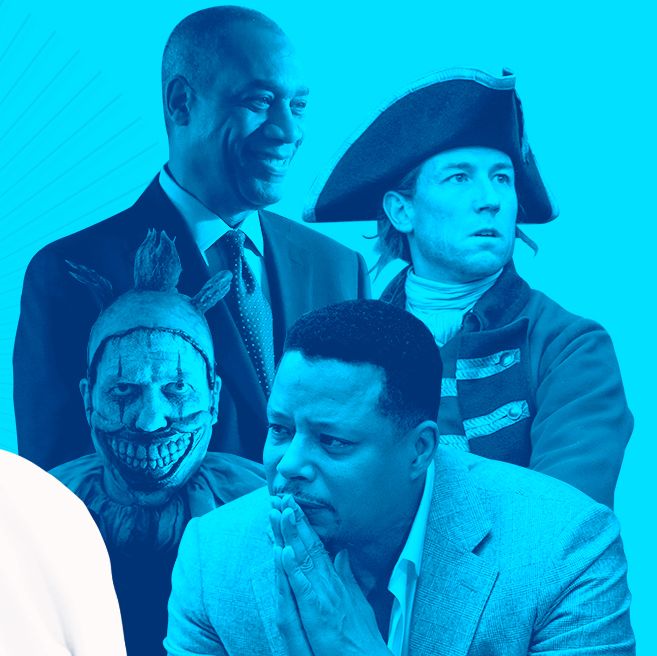 Photo: Maya Robinson and Photos by Netflix, FX, ABC, Starz and FOX
All this week, the Vulture TV Awards honor the best television from the past year. Here, longtime Buffy the Vampire Slayer producer and UnREAL co-creator Marti Noxon selects the best villain of the year.
The nominees for Best Villain are:
Eli Pope, Scandal
Twisty the Clown, American Horror Story: Freak Show
Black Jack, Outlander
Lucious Lyon, Empire
Reverend Richard Wayne Gary Wayne, Unbreakable Kimmy Schmidt
And the winner is …
Reverend Richard Wayne Gary Wayne, Unbreakable Kimmy Schmidt
Jon Hamm. Because nobody has the right to be that handsome and multitalented. Let's face it. We all love him. And somewhere deep in our dark, pirate hearts, we hate him. He's like the supermodel who stops hearts and traffic just by existing — but is also smart, funny, lovely, and humble, and who raises money for starving kids and lonely monkeys. And he pretty much kills in every role he takes on.
This year, you need only look at his performance in the final season of Mad Men, and his fantastically surprising turn as Reverend Richard Wayne Gary Wayne on Unbreakable Kimmy Schmidt.
On Mad Men, Hamm manages to walk an incredibly fine line, like a Wallenda. By all rights, Don Draper is pretty villainous. Lots of people have shitty upbringings. Okay, maybe we weren't raised in a whorehouse by hateful relatives — but bad stuff happens to folks. That shouldn't be an excuse for lying, cheating, relentless boozing, abandoning, and traumatizing your children (Sally Draper, God help you) and knowingly playing on people's emotions to sell them crap they don't need. And even ultimately turning his potential spiritual awakening into a Zeitgeist-savvy way to sell Coke.
Yet Hamm's performance is so nuanced, so full of genuine conflict, that we not only ache for him, we want to endorse his morally questionable choices. Did I want Don Draper to spend his second chapter peacefully wearing caftans and leading encounter sessions? Hell, no. I wanted my Don back. The tortured evil genius of Madison Avenue. Whatever Draper was selling, I wanted to keep buying it. Even at the cost of Draper's soul. Matt Weiner's brilliance wasn't just in his writing, it was in casting Hamm. He made a character who might have been simply hateable into an icon of American manhood, with all its adherent contradictions.
Now on to Kimmy Schmidt. This is where Hamm has excelled throughout his run on Mad Men — he popped up intermittently in comic roles and turned out to be amazing at that, too. In almost all of them, he lampooned his own square-jawed charms by playing a goofball or a jerk who gets away with murder because — duh, he's a dreamboat.
Nowhere has this been used to greater effect than on Unbreakable Kimmy Schmidt. The series itself is perfection, managing to turn the bleakest possible scenario into wry comic satire while also being genuinely warm-hearted and inspiring. And the build-up to meeting the depraved Reverend Richard Wayne Gary Wayne was masterful. What kind of monster would do such a thing?
That monster would be one very hairy, guitar-strumming, karate-chopping Jon Hamm. I'm reminded, as I often am, of one of my favorite film moments of all time: Albert Brooks's description of the devil in Broadcast News: "Nobody is going to be taken in by a guy with a long, red, pointy tail! He will be attractive! He'll be nice and helpful … And he'll talk about all of us really being salesmen. And he'll get all the great women." I don't think Brooks meant here that the Devil would get all the great women in an underground bunker, but still, much of his theory applies to Hamm's Reverend.
We know what we're in for when an eager Tituss tunes in to watch the Reverend on trial, and after only a few moments of taking in his self-defense, mutters: "He sure is … watchable." It was a great meta moment. Hamm wins America's Most Watchable — always. Hands down.
Hamm's villainy shines most brightly in court. Where the now-clean-shaven and ultra-handsome reverend's self-defense is based solely on invoking conservative American "values" and the name of "Gosh" as he seduces the court. With mostly utter nonsense. Like singing "Purple People Eater" about another preacher named Jesus, and defending his kidnapping of the women as just being "bad at math" around the date of the apocalypse. Despite being clearly insane, he's just so … watchable. The only reason I wanted him to be found guilty in this scenario was simply because Kimmy is pretty damn watchable, too. And not a psycho. That is until, defeated, the Reverend yells: "If God wanted women to talk, he wouldn't have made their mouths look so much like their privates." Finally, Hamm made me want one of his villains to pay for his crimes. But just a little.
So there's my vote. And let me say that the TV academy voters will be the villains in my book if Hamm doesn't finally win best actor for Mad Men at this year's Emmys. Don't blame him for being beautiful, people. It's time to give him his due as one of the greats of this generation. Damn it!