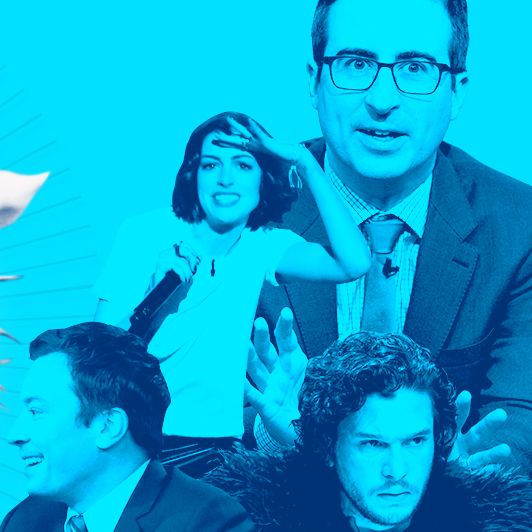 Photo: Maya Robinson and Photos by Adult Swim, NBC, BET and HBO
All this week, we're presenting the Vulture TV Awards, honoring the best in television from the past year.

The nominees for Best Viral Moment are:
Nicole Kidman on The Tonight Show Starring Jimmy Fallon
Jon Snow at a dinner party, Late Night With Seth Meyers
"Too Many Cooks," Adult Swim
Anne Hathaway's "Wrecking Ball" performance, Lip Sync Battle
Australia takedown, Last Week Tonight With John Oliver

And the winner is …
When "Lazy Sunday" first aired on Saturday Night Live back in 2005, the TV universe seemed to shift a bit on its axis. (Perhaps because it really did: The Lonely Island video, one of the earliest professionally created YouTube sensations, helped usher in the age of internet-TV convergence.) It would be a stretch to suggest Adult Swim's "Too Many Cooks" will end up having a similar impact, but for a few weeks last November, Casper Kelly's masterful 11-minute deconstruction of dozens of TV tropes dominated the pop-culture conversation in a way nothing else from the world of late-night TV did last season.
Scroll down for a never-before-seen cut of Too Many Cooks.
It's not that "Cooks" racked up some incredible number of online views. The short, which debuted on the network at 4 a.m. one morning, has been seen about 15 million times between postings on YouTube and Adult Swim — impressive, but only about a quarter of the views something like Jimmy Fallon's lip-sync battle with Emma Stone generated. But Cooks wasn't yet another celebrity "moment" cooked up to promote a new movie or an on-air accident that momentarily caught our collective attention. It was, as our Jesse David Fox wrote at the time, "peak Adult Swim": an audacious, absurdist masterpiece that married increasingly insane visuals with a mother-effer of a musical earworm. (You've got the song stuck in your head again, don't you? SORRY!) While it's become cliché to talk about clips "breaking the internet," "Cooks" prompted an almost embarrassing amount of online gushing from some very big comedic names. "Time for me is now divided Pre-Too Many Cooks and Post Too Many Cooks," tweeted Thomas Lennon. And the biggest sign of its impact? "Cooks" parodies (like this one from Sesame Street) popped up within days, and they're still being created.
While Kelly told us last fall that he was open to the idea of a "Too Many Cooks" sequel, as of now, Adult Swim says no such plans are in the works. (Not that the network would signal as much: The original debuted with pretty much zero advance notice.) But if all this talk of "Cooks" has made you suddenly hungry for a new helping of Kelly's tasty video stew, you are very much in luck. When we informed the writer/director that his creation had snagged a prestigious Vulture TV Award, we asked if he might be willing to share any unused footage from the production — and he said yes. Behold, a previously unseen scene from "Cooks," including what Kelly says is "an earlier version" of the song, along with footage not used in final cut. "Some of the shots were too much of a good thing, and we didn't have time before we moved on to the next section," Kelly says of the new video. One part of the scene — spoiler alert: It's a flaming juggler — "just didn't feel quite right," he adds. "I can't explain why. A mood thing." Perhaps; but you can never have too many COOKS.