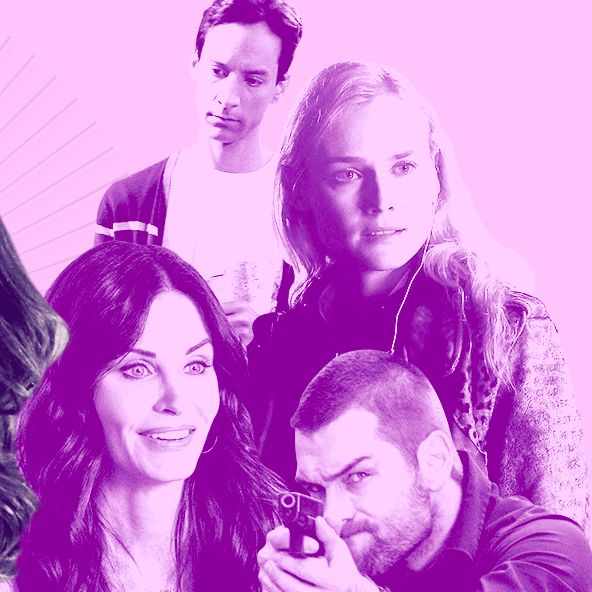 Photo: Maya Robinson and Photos by FX, TBS, Yahoo and Cinemax
All this week, the Vulture TV Awards honor the best television from the past year. Up next, Jane the Virgin creator Jennie Snyder Urman makes her pick for the most improved show.
The nominees are:
The Bridge
Cougartown
Community
Banshee
The Americans
And the winner is …

The Americans
Oh, dear. I'm cheating a little. Because my pick for Most Improved Show is not a show with good bones that finally clicked into spectacular. Or a show that faltered and then found its footing again. This is a show that started great. And continued to be great. And then somehow — improbably, remarkably, stunningly — got greater.
I'm talking (as I always seem to be doing) about The Americans, which — after an epic third season — has positioned itself as the most nuanced family drama on television while simultaneously excelling as an edge-of-your-seat spy thriller. Oh, and it's also a painstakingly detailed period piece. And a smart, philosophical musing on the intractable nature of faith. It's disturbing (oh, how disturbing!), moving (oh, how moving!), and twisted (you get the point!) all at once. But this season, the tension at the heart of the show for the past two seasons exploded, and in one of the most heart-cracking scenes I've seen — as Paige begged her parents for the truth. And they told her. And it's fair to say, I couldn't breathe.
And from there, the tension only intensified; the stakes only got higher. Could Paige keep that secret? (In the end: no.) Was it fair to ask her to? (In the end: no.) Does it matter that it's not fair? (In the end: no.) Because somehow — despite all the questionable choices Philip and Elizabeth have made (and, yes, "questionable" is a stand-in for "stuffing bodies in suitcases") — I am still rooting for their family. My sentimental heart yearned for a good ol' mother-daughter, "I love you no matter what" conversation — no matter how unrealistic that was. And they didn't give it to me, dammit! And I'm glad they didn't, dammit! But man — the fact that they made me want that happy ending for the Jenningses — well, it only underscores how masterfully Joe Weisberg, Joel Fields, and their writing team has executed this tightrope of a show.
In fact, I was so gripped this season that I found myself caught up in my own domestic drama — one centering around a big secret as well. My husband Jamie and I would usually catch up on our shows on the weekends, but slowly — as the season progressed — I couldn't wait. So, I'd swear to my husband that I hadn't watched ahead of him as I swallowed The Americans whole every Wednesday night. And then, of course, I'd rewind the DVR back to "tart" so it didn't look as though I'd watched.  Hey — it's not exactly Jennings-level subterfuge, but we all start somewhere …