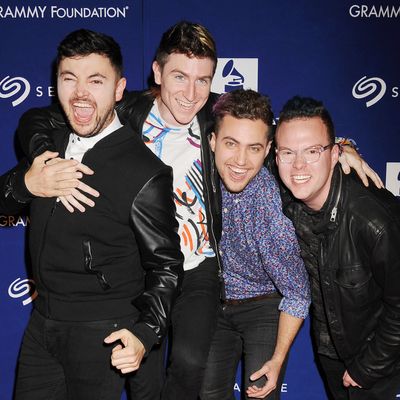 Left to right: Eli Maiman, Nicholas Petricca, Kevin Ray and Sean Waugaman.
Photo: Jeffrey Mayer/Getty Images
Two of this year's Song of Summer contenders sound like bonus tracks plucked from a "Now That's What I Call '80s Dance" compilation: "Shut Up and Dance" by Walk the Moon, and "Want to Want Me" by Jason Derulo. Is that a good thing? It depends on how honest you are about your addiction to John Hughes movies and big hair. If you're really honest about it, you know you'll be listening to Walk the Moon a lot this summer.
"Shut Up and Dance" — Ed Sheeran's personal Song of Summer selection — opens with a shimmery arpeggio that reminds me of a guitar sequence from U2's 1987 track "Where the Streets Have No Name." This is not a bad thing, and after one listen to Walk the Moon's recent album, Talking Is Hard, it's very clear that the Ohio-based band really, really likes the '80s, too. Speaking over the phone, the band members were open about their love of the old-school and how it influenced their runaway single.
"There's a club in L.A. called the Echo, and they have this great throwback dance night," says lead singer Nick Petricca. That dance night also inspired a lyrical scenario: Boy meets girl in backless dress and some beat-up sneaks. Girl tells him to shut up and dance. "It was one of the last songs we wrote for the record, and it sort of came together, in a way, by that chance happening," says Nick. The music video is a retelling of those events — except that it looks like it was filmed in a laser-tag arena instead of a nightclub.
But what about fellow '80s homage-payer Jason Derulo's "Want to Want Me"? "I'm pretty partial to that track," says guitarist Eli Maiman. "I really have a soft spot for that one. There's something about it that really puts me in a good mood. That's my front-runner [for Song of Summer] right now."
"Both songs are kind of about possibilities," adds Petricca. "Like the possibility of love, or of sex, or whatever. And that's such a feeling that's associated with spring and summertime. The possibility of possibility." Since this is a competition, though, Eli points out that Jason Derulo is probably "too busy judging So You Think You Can Dance" to win this year's Song of Summer race. "We're out here playing gigs! C'mon, man!"
Talking Is Hard was released in December, but "Shut Up and Dance" only found its way to the top of the charts in the last couple of months. Eli and Nick know that the song may have peaked too late to claim true summer dominance, but in order to keep the momentum going, the band is pounding the pavement on a massive tour. They're not sick of playing "Shut Up and Dance" just yet, they say, but they would like to remind people that they do actually have other songs — surprise, surprise.

"'Shut Up and Dance' kind of carries this torch of our dorky spirit," says Maiman, "but 'Different Colors' is a chance for us to speak to something that's really important to us, which is diversity and sort of empowering people, especially kids, to have the courage to be themselves and to stand out and celebrate differences." (So sort of a United Colors of Benetton thing.) Walk the Moon released a new video for it earlier this month. The song has lots of ebullient synths and oooh-e-oooh-e-ooohs. It kind of sounds like it was written about 30 years ago, but, again, that's not a bad thing.