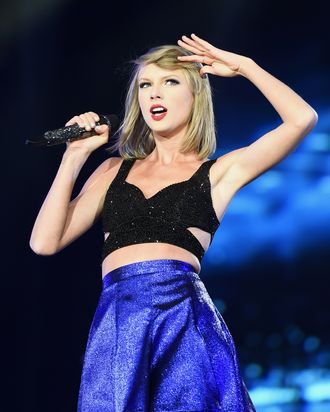 Photo: Robyn Beck/AFP/Getty Images
T. Swift is on tour, and she has her own hashtag. Since the #1989WorldTour kicked off in Tokyo last month, tweets, Vines, and Instagrams have flooded social media with videos and images from devoted Swifties. Although it might be annoying to attend a concert surrounded by cell-phone-wielding teens, their dedication makes vicarious living easy. We creeped social media to put together a virtual Taylor show, from the tour trucks pulling in to the fireworks finale. Here's what you're missing out on.
The surest sign that Tay is near are the enormous trucks with her face on them. If these pull into your town, steel yourself.
In Baton Rouge, Taylor's mom came out to greet fans before the show …
… and took so many selfies.
Before the show, Tay usually does a meet-and-greet with fans, and it's usually adorable.
Every concertgoer gets a wristband that look like an alien mind-control device but actually just lights up in sync to each song. (They also save lives.)
Then, depending on the venue, the audience files into a stadium that looks roughly like this. (Thanks to the wristbands, the crowd looks less like people and more like majestic fireflies. Good thinking, T.)
Vance Joy opens at Tay's North American venues and Shawn Mendes pops up at "select performances," but if you're in Europe, Canada, or Australia, you're totally in luck because no one will distract you from T. Swift's glory.
She opens by reminding everyone she was born in 1989 (in case you forgot), and then explodes into "Welcome to New York." Everyone screams.
Next up, she sheds the jacket for "New Romantics …"
… and executes a sultry left-leg kick in "Blank Space." Chalk one up for choreography.
Next on the set list is "Trouble," which of course involves lots of shoving male backup dancers and angry smoke explosions.
With so much live performance experience, Taylor is an expert at stage banter. In Baton Rouge, she told the crowd what she'd do as mayor for the day. Hint: It involves cats.
The mind-control bracelets go crazy during "I Wish You Would."
And Tay herself lights up during the super-sweet Singin' in the Rain–esque "How You Get the Girl."
Then she switches back to fierce vixen mode, donning all white and thigh-high heeled boots for "I Know Places" and "All You Had to Do Was Stay."
Tay breaks out the acoustic guitar for "You Are in Love." Then, while everyone's still in cry mode, she launches into an emotional speech (complete with acoustic background music) that turns out to be the intro for "Clean."
"After learning for 25 years, the one thing I do know is that pain makes you a stronger person." Preach.
Did we mention she's singing on a flying scaffold?
She stays there to sing "Love Story." If there's one thing she's learned during her years of touring, it's how to arm-gesture.
Next she sings "Style" and "This Love" in a gorgeous sparkly silver flapper unitard thing.
And then — you all saw this coming — a dramatic rendition of "Bad Blood." Even though she's missing her girl gang, Tay still dresses out in head-to-toe black leather.
Let's revisit that stage writhe, shall we?
She goes full punk-rock for "We Are Never Ever Getting Back Together."
Afterward, everyone takes a deep breath. Taylor changes into a flowing white tulle gown, takes a seat at her giant silver space piano, and sings a fab mash-up of "Wildest Dreams" and "Enchanted."
She changes into a full-body glitter catsuit for "Out of the Woods." Should we be suspicious that not one of her costumes shows her belly button?
And then, via some wormhole in the space-time continuum, she pulls on another romper decked out in green fringe before her final number, "Shake It Off."
Which she and her dancers perform on a moving scaffold.
With fireworks.
And the bracelets go wild!
It might seem like the show is over, but afterward, there's still so much to see and scream about … Taylor leaving her tour bus, for instance.
Another great thing about T. Swift is that she has friends, and sometimes she brings them along to perform at her shows. For instance, in Detroit, she surprised the crowd with a rendition of "Radioactive," accompanied by Imagine Dragons' Dan Reynolds.
That same night, she performed "Style" with her supermodel BFFs Gigi Hadid and Martha Hunt. Keep an eye out for guest stars at future stops on the tour. (Our best guesses are Ed Sheeran, Lorde, and Karlie Kloss.)
Although the dad crowd might not be super into T. Swift's current tour …
… fans agree that the 1989 World Tour is pretty much the peak of their existence.