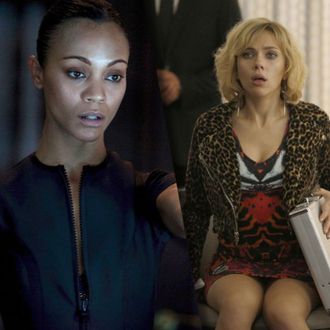 Our new action overlords.
Photo: Sony Pictures, Universal Pictures
EuropaCorp, the largest film studio in Europe, revealed its upcoming schedule today, and it includes the news that sequels to both Lucy, Luc Besson's  super-brained Scarlett Johansson film from last year, and Colombiana*, the 2011 Zoe Saldana vehicle, are in development. A Lucy sequel seems like a no-brainer — it was one of summer 2014's biggest sleeper hits — but the Columbiana news comes as a slight surprise, as the film was little-loved upon its release and is almost forgotten now. But, hey, in this new post-Furiosa world, anything is possible! Male stars have been making crappy action franchises for years — when the world has room for Colombiana 7: Bogotá Drift, we'll know equality has truly been achieved. 
* This post originally misspelled Colombiana.