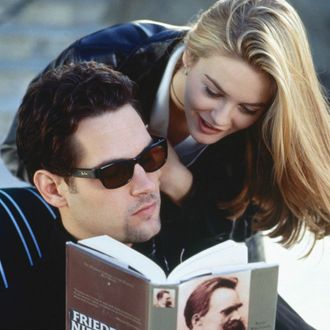 Now imagine Reese Witherspoon and Ben Affleck.
Photo: Paramount
What's better than playing "What if?" castings with nostalgic '90s classics? Vanity Fair provides the fodder for our collective imagination in this oral history of Clueless, where writer and director Amy Heckerling, Fox casting director Carrie Frazier, and the rest of the cast discuss the casting process, which could have led to some mind-blowing combinations. Heckerling had her heart set on Alicia Silverstone, but Fox wanted her to consider other options, like Reese Witherspoon, Angelina Jolie, Gwyneth Paltrow, or Keri Russell. For the part of Josh, Cher's stepbrother-lover, they looked at Ben Affleck and Zach Braff before settling on Paul Rudd. For the part of Murray (played by Donald Faison), they looked at Terrence Howard (!) and Dave Chappelle (!!). You may imagine an alternate timeline where Dave Chappelle went on to star on Scrubs.
Cher: At the behest of the studio, Heckerling considered the following women for the role that would eventually go to Alicia Silverstone: Reese Witherspoon, Angelina Jolie, Alicia Witt, Tiffani Thiessen, Keri Russell, and Gwyneth Paltrow.
Josh: Carrie Frazier was "really trying" to get Ben Affleck the part. Zach Braff read for the role while he was still a student at Northwestern.
Murray: Terrence Howard was a "top contender," and while Heckerling was a fan of Dave Chappelle, she decided he was ultimately "too edgy" for the part.
Amber: Sarah Michelle Gellar had been offered the part, but she was filming on All My Children, and they wouldn't let her out for a couple of weeks to film.
Travis: Seth Green was up for the part against his BFFL Breckin Meyer.
Tai: Alanna Ubach was Seth Green's girlfriend at the time, and sadly, they both lost out on the chance to transfer their IRL romance to the screen.
Mel: Jerry Orbach. Detective Briscoe!