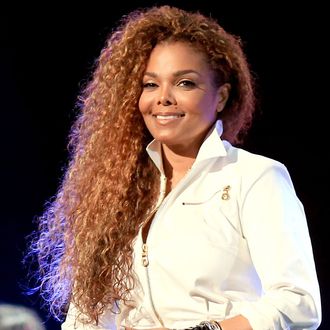 Janet Jackson.
Photo: Christopher Polk/BET/Getty Images
Sunday night, BET held its annual celebration of everything you love and hate about black celebrity culture — the 15th year of monotonous Debra Lee state-of-the-black-union addresses, awkwardly placed gospel medleys, never-ending tributes, and the occasional award. This year, Black-ish's Tracee Ellis Ross and Anthony Anderson played hosts, while Rihanna and Diddy played the night's best entertainment — whenever BET could take the camera off Chris Brown. (By my watch, he accounted for about 95 percent of the broadcast.) In case you were watching True Detective, or your nearest gay bar was showing The L Word reruns instead, we've got all the night's highs and lows — from Janet Jackson to Nicki Minaj, and much more — in way under four hours. Thank us later.
HIGHS
Jussie Smollett: During a medley of Empire's hits (yes, "Drip Drop" happened!) and on the weekend of Gay Pride, Jussie Smollett interrupted his own performance of "You're So Beautiful" to deliver a passionate speech about why the fight for LGBT rights can't end with same-sex marriage — "when a man loves a man" verse included.
Tracee Ellis Ross: As co-host for the night with her Black-ish husband Anthony Anderson, Tracee Ellis Ross killed it. Whether she was suspended midair, impersonating Cookie, or having a rap battle with Kevin Hart (#TMurda), she extended her reign as America's most underappreciated comedian. And she was at her best while expressing how pretty much everyone feels about Chris Brown and Tyga in one deliciously shade-filled introduction:
Bad Boy Records reunion: If Big Sean's Martin parody didn't already make you nostalgic for the '90s, this Bad Boy reunion probably had you full-on Diddy Boppin' all over your living room. But before French Montana and Diddy himself come along and ruin the medley of hits, first take a moment to kneel before the Queen Bee.
Rihanna: Wanna know what Rihanna, a domestic abuse survivor, thinks about being seated next to Floyd Mayweather, a repeat domestic abuser? Allow her duct tape to do the talking. Even if this is just more "Bitch Better Have My Money" promo, it's worth reading between the lines.
Kendrick Lamar: King Kendrick hates the police. If that wasn't already common knowledge, here he is performing his soon-to-be hit "Alright," a song about black resilience during trying times, atop a vandalized cop car. It's his best awards-show performance to date.
Janelle Monáe: Watch out, Taylor Swift: Someone's come for your title for Best Awards-Show Reaction, and her name is Janelle Monáe.
LOWS
K. Michelle and Tamar Braxton: You can always count on BET to stage a reality-show intervention between two singers with beef absolutely no one cared about, and this one was mediated by none other than Patti LaBelle. Had K. Michelle and Tamar Braxton been Anita Baker and Cheryl Lynn, I would've been all ears. Instead we got our new favorite meme.
Janet Jackson tribute: The only person who can truly do a Janet Jackson tribute justice is Miss Jackson herself. But we can't fault Ciara for trying — and mostly succeeding — to give Janet's iconic Rhythm Nation choreography her best shot. Jason Derulo, well, that's another story.
Nicki Minaj: The BET Awards run far longer than they have any right to. So long, in fact, that nearly four hours into the show, Nicki Minaj couldn't even remember what award she was onstage accepting. Maybe her Myx Moscato is more potent than we think?
Diddy: Accidentally Diddy Bop too hard and you might just fall in a hole. Watch and learn.
Rihanna: RiRi only showed up to the BET Awards for two reasons. One, to introduce the trailer for her "Bitch Better Have My Money" video, and two, so she could see Smokey Robinson receive the Lifetime Achievement Award. But it's probably best never to make Rihanna wait four hours to do anything. Here she is chucking a wad of cash at BET's president of programming, Stephen Hill, and uttering what appears to be something along the lines of, This is why I fucking hate coming to BET.
Both Rihanna and Hill appear to have moved on from the disagreement — at least according to their Instagrams — while BET says the whole incident was staged. But we wouldn't hold our breath for a Rihanna appearance at a BET event anytime soon.
Diddy, again: When you're the owner of two liquor brands, occasionally having a little too much to drink at an awards show shouldn't come as a surprise. Unfortunately for Smokey Robinson, it appears that Diddy hit peak drunkenness just as the King of Motown was in the middle of accepting his Lifetime Achievement Award. Take a shot of Ciroc every time Diddy's hilarious facial expressions in the background make you forget what Smokey's preaching about.